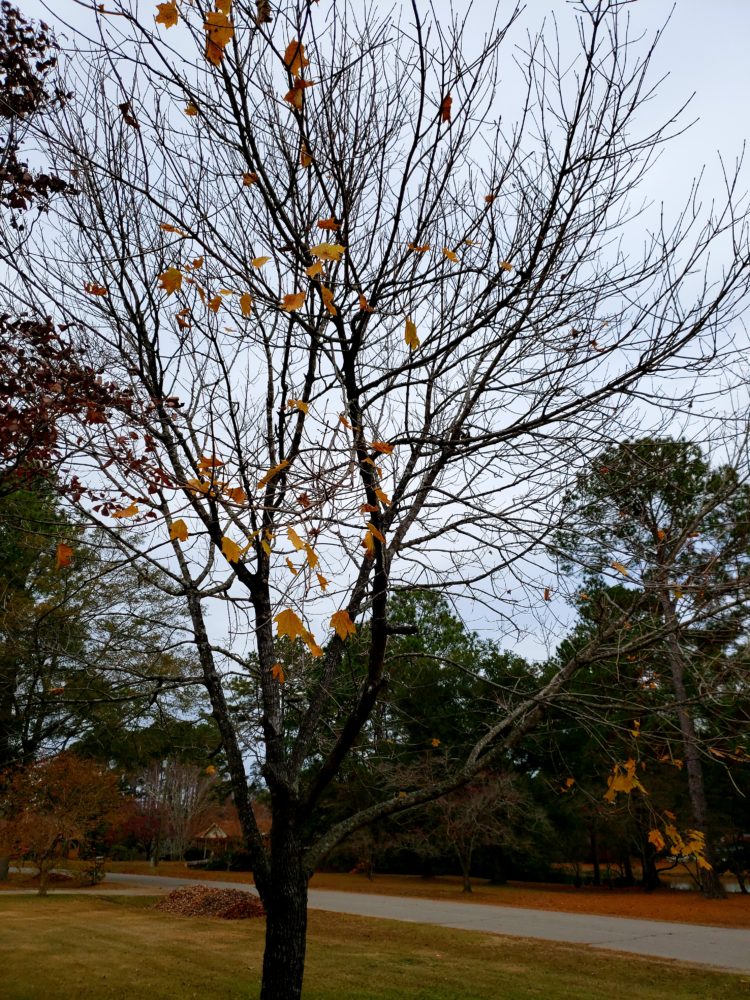 I've watched her over the past few weeks, preparing herself for a new season. Her golden brilliance was ours but for a few days, or so it seems. Without resistance, she's released her color to the earth. Valiantly she stands, as she always has, tethered to the soil by her roots and tethered to her purpose by God's design. Quietly and most sacredly, her posture poses a challenge to my soul …
Find your place in the moment, Elaine.
I spent my morning walk mulling over her prompt in my spirit.
Find your place in the moment.
It's not always easy. My inclinations often move me elsewhere, sometimes ahead of the moment, sometimes behind. Instead of surrendering to the blowing of the wind, I often fight it, trying desperately to hold on to my color even though the shifting season demands for its release. In doing so, my emotional reserves are spent, leaving little behind to nourish the "dressing down" of winter—the nakedness and barrenness of a season designed to empty so that the re-dress of spring may come without hindrance.
Out with the old. In with the new. And so it goes, or so it should.
I've a lot to learn about finding my place in the moment. How about you?
Perhaps this is the message for the season in front of us as we make our way to and through another Christmas. To find our place in the moments that come to us, whether planned or unexpected. Whether welcomed or uninvited. To not rush past them or fall in behind them but, to instead, stand steadily in the middle of them, even if it means surrendering a final leaf or two or ten in order to more fully open up ourselves for the greater work of the season.
Whether naked or fully dressed, the maple tree in my front yard stands ready and available for the seasonal plans of her Creator.
I pray for a similar stance. I pray the same for you.
Find your place in the moment, friends. Linger long enough to hold it and then, in faith, to let it go so that you might embrace the next one. God is with you in all of your moments, and he will give you the grace and grit to find your place therein. I'll meet you somewhere in the middle. As always…
Peace for the journey,