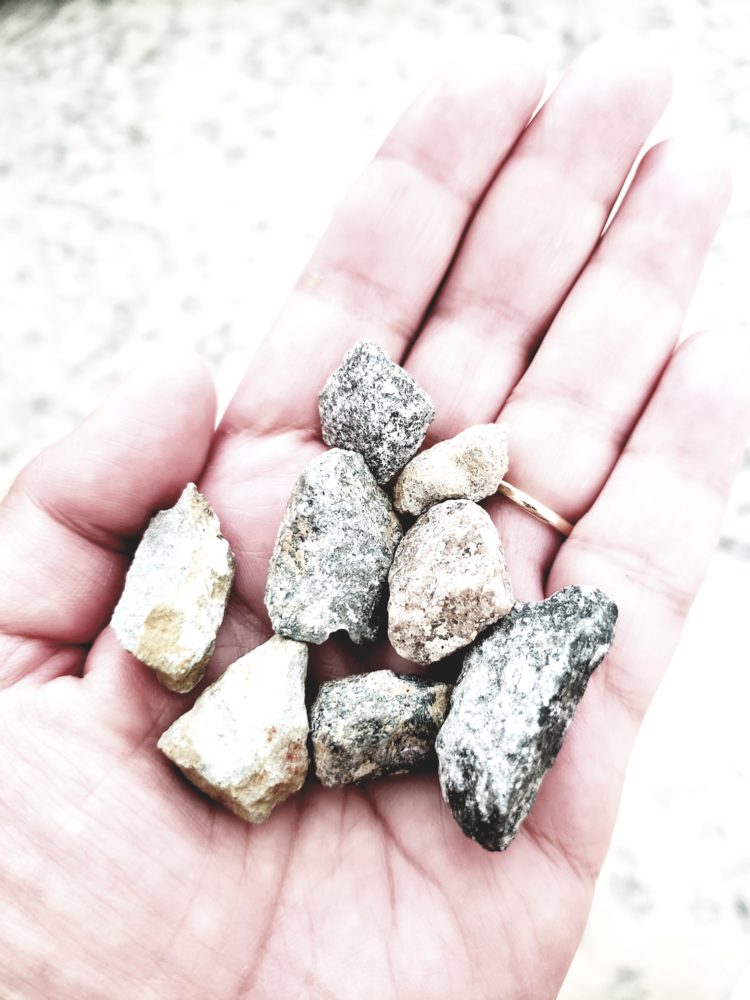 I picked up eight stones in the first few steps of my walk this morning. I've been walking this street for a week now; it's my new route in this new chapter of living. Whereas my former neighborhood boasted several streets full of twists and turns and lots of scenery, my current neighborhood includes a single, straight street dotted by a dozen or so homes. On my former route, two laps around the neighborhood meant I had completed my course. Now "completion" requires eight.
Those eight laps should be easily counted … easily remembered. But I am easily distracted and often lose count. A stopwatch marking the minutes comes close to measuring my steps, but my pace isn't always consistent. My steps don't always measure out evenly. Sometimes I walk more slowly. Sometimes more briskly.
For me, time isn't the truest measure for knowing when my course is completed.
Distance is.
And so, this morning I picked up eight stones. I carried them in my left hand, and each time I passed my driveway, I transferred one of them to my pocket. Carrying and counting stones is a tangible way of measuring distance. An empty palm and a full pocket signals completion.
As it was for me this morning, so it was for the Israelites as they made their way across the Jordan River to enter the Promised Land (see Joshua 3-4). Along the way, God instructed twelve men to pick up twelve stones from the middle of the Jordan and to carry them over to the other side. Joshua (the new leader of God's people) then took those twelve stones and built an altar at Gilgal to serve as a memorial to the faithfulness of God. In the future, each time the Israelites looked at that altar … counted those stones … they remembered their mighty God and their mighty walk through the Jordan on dry ground.
Twelve stones counted and carried by the Israelites, measured the distance of how far they'd traveled with their faithful Father. As they walked onto the pages of a new chapter in their history as his people, God made sure they had a memorial to serve as a reminder of the previous steps taken. He didn't want them to forget that faith walk.
He doesn't want us to forget ours … the steps we've traveled with him.
Time isn't the truest measure for knowing when our course is completed. Distance is. Our steps won't always measure out evenly. Somedays we'll walk more slowly; somedays faster. Somedays (thanks be to God) steady as we go. Time cannot accurately measure the length, width, depth, and breadth of our faith walks with Christ. But a few stones carried in our palms and in our pockets deposited as grace at the end of a life's laboring?
Well, that's a pretty good measure of the sacred distance we've traveled with God.
And so today, let me encourage you to pick up a stone or two–a faith moment between you and Christ where you have known, seen, and felt the mighty arm of the Lord working on your behalf. Start building an altar unto the Lord so that in the future, when your children ask you or when you ask yourself, "What do these stones mean?", you'll remember the day when you walked through your Jordan on dry ground because of the strong arm of the Lord.
That altar … that distance … is the measure that matters eternally.
Step on in faith, friends. I'll meet you in the riverbed. Together, let's continue to build a living witness to the faithfulness of our God. As always…
Peace for the journey,