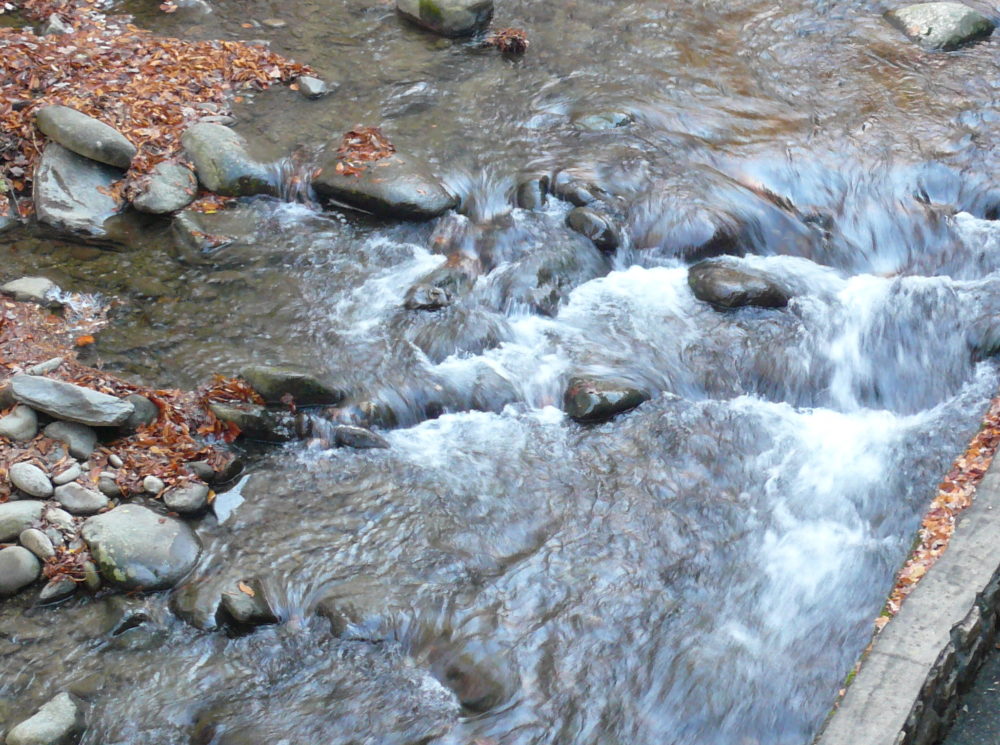 My students and I have just finished reading Song of the Brook by Matlida Nordtvedt. As literary prose goes, it doesn't measure up to the classics, but it does serve a purpose in our classroom. It's one book in a continuing series of books presented annually to students who use the Abeka curriculum; they seem to enjoy keeping up with the Johnson family from year to year.
The main character of the story is Hilda, a young girl from Bellingham, Washington, who is learning to live with change: a move to a new community, the disappointment with that community, discord amongst extended family members, bullying on the playground, overcoming insecurities, and the like. Despite the chaos in Hilda's new life, she finds solace in an unexpected place – the babbling brook running beside her dilapidated house. At night, she sits next to the open, bedroom window and listens as the brook "sings" her a song. Repeatedly throughout the story, the brook impresses upon Hilda's heart various phrases to soothe (and sometimes to meddle with) the aches within her heart. Her brookside meditations are Hilda's way of spending time with God and hearing his voice therein.
Even though Hilda's story is set in time nearly 100 years ago, the problems she faces back then are not unlike the problems we face today. Who of us haven't known the ache of relocation, the tears of disappointment, the fracture of beloved relationships, the taunts of a bully, and the crippling of insecurity? Today's troubles aren't much different from yesterday's harms; the scenery simply has changed.
Unlike Hilda, I don't have the beauty of a singing brook running by and next to the parsonage in Laurinburg, NC. I don't raise my windows in the evening for fear of unwanted critters (or humans) disrupting my night's slumber. The sounds of my city at night are no match for the idyllic evening lullabies of the countryside, those wide-open spaces that seem to more easily host the voice of the Creator.
Still and yet, I hear the Father's voice. His words speak to me as I take the time to listen in, to open up the window of my soul and to meditate upon the scriptures he has written to me in his holy Word. Sometimes God's melody soothes the aches within; sometimes his refrain meddles with my will. At all times, his song is truthful. God cannot lie; neither will he sing a song over me that will lead me down a wayward path. Instead, his song … his words are for me, for my good and, most importantly, for his kingdom good.
Lately, his holy refrain has been crystal clear:
As I have done for you, Elaine, so you must do for others. Wash their feet.
Over and over again, for the past several weeks, these words have cycled repeatedly throughout my mind, like the lyrics of a song you just can't shake.
As I have done for you, Elaine, so you must do for others. Wash their feet.
In living out this obedience from John 13, there are always ample challenges. Stinky feet aren't my preference. It's easier to touch cleanliness than dirtiness. It's less problematic to embrace the feet of a friend than it is to embrace the feet of a betrayer. Even so, the Father sings…
As I have done for you, Elaine, so you must do for others. Wash their feet.
I don't know what this will look like for me in the days to come, how this yielding will play itself out. But of this I am certain … it will play itself out. Whether at school, at church, at home, and maybe even at Wal-Mart, stinky feet are everywhere – walking in front of me, behind me, next to me, over me, and, yes, sometimes within me. We all get our feet dirty from time to time. The Father's basin and towel are equal to the cleansing task, yet another undeserved grace from his heart to ours that allows us to get clean and then to offer that same cleansing to others.
As I have done for you, Elaine, so you must do for others. Wash their feet.
The window of my soul is open. The song of the brook is singing. Even so, Father, I am listening.
As you have done for me, Lord, help me to do so for others. Amen.