Joy comes.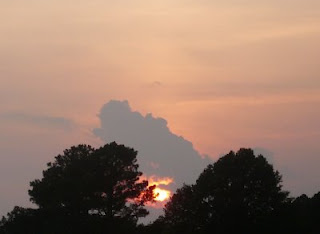 It came for me tonight as I chased the sunset to its rest. This evening, my feet carried me far and fast with the gentle breeze of a better wind. Tonight I ran with the Spirit, and we were moving in praise to the God who authors each day and scripts it with his living witness at every turn (you wouldn't have believed my pace, Runner Mom).

It came for me this morning in a Sunday's worship service. Today, I chased the ice-cream truck (thanks, Laura, for your post); my son led me there. He gave us all a glimpse into his heart as he chronicled a few memories from the pulpit about his recent trip to Bolivia.
It came for me in the hugs from my church family, all of whom genuinely enjoy being together in worship on Sunday mornings. How many churches can say that? Today we needed to be there for so many reasons, not the least of which was to gather our hearts in tender pause as we try to gather our bearings after experiencing such a tremendous grief.
It came for me in you, dear friends. The collective mass of you who took the time to pray for us all and leave your comforting thoughts in the comment section. Your time before the throne has been profoundly felt by me and by Beth's family. You didn't have to, but you did; I'm continually amazed by the way God is using our cyber connections to bring praise to his Name. He, alone, is worthy of our pens.
We could write about many things, and, indeed, we should. Our lives are not immune from the "everydayness" that creeps in and takes over. But God is there in every one of our days. The key for us is to be more intentional about looking for him.
As my son put it so well this morning…
"We may not always see God coming, … but boy, once he crosses your path, he sure is a sight to behold."

Joy comes.
On Sundays. On Mondays. In Bolivia. In church. In hugs. In a graveyard. In a run. In a sunset. In sleep. In the rising of the sun. In the resurrection of the Son!
Joy comes.
Look and see; behold and believe. There's more to this moment than meets the eye.
As always,

PS: I'm adding a video clip from this morning's service. Unlike his mother, my son has a softer tone to his speech, so turn up the volume if you want a listen. I realize that most of you won't have the time; that's fine. I've put this here, as I put many things here on my blog, as a "touchstone" of remembrance. My "thus far, the Lord has helped us." So I do this for our family (paps, are you watching?) and for you if you would like to listen to the witness of an amazing God who is ever in the process of shaping his children and bringing his joy. Shalom.