I burned some words yesterday.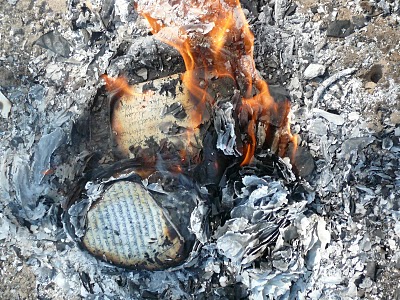 My words.
Three journals worth of words dating back sixteen years to a season in my life that walked wildly and in selfish pursuit of sin. I didn't call sin, sin back then… didn't name my thoughts and, consequently, my resulting actions as sin. Instead I named them as "reasonable reactions"—the natural, resulting overflow from a life that was seemingly void of the love that I longed to hold as my own. Rather than going to God with my sin in that season, I went to my "pen" and spent a great deal of my evening hours trying to justify the choices that I was making.
I don't know who I was writing to back then… journals are kind of open ended in that respect. It's probably a really good thing that I didn't have a blog sixteen years ago. Some words… some thoughts of our hearts are better kept as private, between us and God. Not everyone needs to know the "everything" that's wrestling itself out upon the stages of our hearts and minds, especially those who stand in the direct line of consequence—our families and our friends.
Writing words can be a healthy way of working out our thoughts, feelings, and questions. But when those words serve as our personal justification for sin, well, where's the merit in that? What can be gained from going public with that kind of nonsense? I suppose we'll always be able to find someone who is willing to stand in our corners and champion our "reasonable" choices for sin, therefore adding some credibility to our decisions to reveal the inner chambers of our thought life. But the pay off is temporary. Any pats on the back that we receive for our sins are a stumbling block—both for us and for the one who is doing the patting.
When we replace God's truth with the enemy's lies, we stunt our spiritual growth. In some cases, we altogether shut it down. That is exactly what I was doing sixteen years ago—making a deliberate choice to disengage from the pursuit of holiness. I didn't clearly see the egregious nature of my decision back then, but I see it now, and I am sickened by it. I barely recognize the woman behind those words. I recognize the handwriting, but I do not champion the heart behind those words. Nothing written in that season deserves a pat on the back. Nothing. My heart was rotting from the inside out, filled with the sin-sick disease named "self." But for the grace of God, self nearly killed me.
Nearly.
I don't know why I've held onto these "words" for so long. To be honest with you, I haven't seen or thought about them in the six years since moving here. I only found the journals yesterday while cleaning out a bottom drawer of my nightstand. I recognized them immediately and bravely allowed myself to go there… one more time. To open up the pages and to relive a bit of that season and the pitiful nonsense that infiltrated my thought processes which, eventually, sent me down a treacherous path of sin. The results were devastating. Sin should never be underestimated. The toll it takes on a soul and on the souls surrounding its witness is far worse than originally billed. I know. I've lived that payment; so has my family.
It would take a long season before I willingly looked back over my shoulder to see God's grace chasing after me… an even longer season before I allowed it to catch up with me, but it did. He did, and my life no longer carries the sin of my words from sixteen years ago… maybe a memory or two along these lines, but I am no longer held in the grip of those memories. Thus, my willing walk with my husband yesterday afternoon to a make-shift fire pit in our backyard.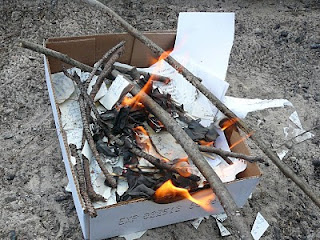 I'm not a fan of burning words, friends. Our personal words are a precious gift to us from God. They mirror the inward pulse of our hearts. But the words I burned yesterday no longer reflect the pulse of my heart; they only seek to diminish it. They aren't in keeping with my current pursuit of holiness. The only worthiness that can be found in their existence now is in what remains after their holy burning upon the altar of God's intention.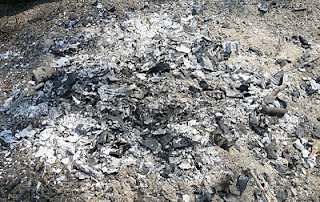 Ashes. This is what remains.
Which brings to my remembrance an important word I received from Dr. Steve Seamands regarding my ashes during an Ash Wednesday service that closely followed the penning of those journals some sixteen years ago. You can find the story in its fullness on pages 18-20 in "peace for the journey: in the pleasure of his company":

"God loves ashes [elaine], because ashes can be blown anywhere by the wind of his Spirit."
Yesterday, I burned some of my words; today, all that remains of those words is a soft pile of gray which is more than willing to be picked up by the wind of God's Spirit and to be blown in accordance with his will. Burning our words is sometimes the right thing to do, friends, especially when those words are keeping us separated from God and from his perfect plan for our lives.
Perhaps today, you have some lingering "words" from your past—hidden away thoughts that are buried deeply within the corners of your heart. You've almost forgotten them, but every now and again a "move" requires your attention to their presence in your life. Perhaps today, you're writing some of those words… maybe living them all the more. You're making a willful choice for sin, justifying your cause and pleading your case before any available ears that are willing to listen. You've long since given up on reasonable understanding and have begun to accept the lies that the enemy is sugar coating in your defense. He seems to be on your side, and if you haven't already taken a bite from the apple, your lips are close to breaking its skin.
I understand where you're at, because I've been there. I made my home there for a long season. The ash heap in my backyard is living proof of that season. Thankfully, I no longer have to carry those "words" with me any more. Long ago I surrendered the sin behind those words to God; yesterday, I surrendered the temporary remnants. Tomorrow? Well, maybe God's wind will come along, pick them up, and carry the witness of their final defeat into the lives of those who need a similar victory… who need to know that they were meant for more than apples. That they, in fact, we meant for the kingdom of God. That maybe it's not someone else who needs to know, but that maybe it's you who needs to know.
The day is fast approaching when our surrendering our sins to the flames of God's purifying grace will be no more. Many people are counting on that more… believing that more days will follow this one and that tomorrow would be a good day to make good on today's sin. Make no mistake, friends. We're living on borrowed time—God's time. Today is the day of salvation. Today is the day to clean out the drawers of our hearts and minds and to dump the baggage into God's fire pit. There are no words you can offer to justify the sin of your heart. None. And while there is great grace to be found on the other side of willful sin, there is great grace to be found on the front side of sin's full invasion upon the soil of your heart.
Take hold of that grace today. Surrender your thoughts, your words, and any precursors to eventual sin to God and allow him to replace the enemy's apple with a rich portion of his divine, sustaining strength and power that is more than capable of moving you past the apple and onto the heavenly feast that's been prepared in your honor… in my honor as well. I'll meet you at the table, friends. And when you get there, don't be surprised if you smell the lingering scent of smoke on my skin and see a few fragments of gray on my fingers. God loves ashes, and this day (well beyond the days of my sixteen years ago), I'm burning brightly for the King and his kingdom. As always…
Peace for the journey,

Copyright © May 2010 – Elaine Olsen