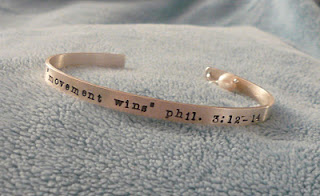 Movement wins.
So whispered the Holy Spirit to my heart while I was out walking a couple of days ago. His strong encouragement came to me as I struggled to complete my customary three miles of moderate walking. In the last nine months, I suppose I've logged in nearly 700 miles. For the record, I've felt every one of them. There's been some damage to my nerve endings as a result of the chemotherapy. In addition, my current medication, Arimidex, brings with it the side effect of joint pain … especially in the legs.
And so, there is this great contradiction that exists within my flesh—an inconsistency between what is reasonable and what is risky. Reasonable because, with a choice to forego exercise, I have a better chance of keeping personal pain at a minimum. Risky because, with a choice to work through the pain, it's likely that I'll "pay for it" the rest of the night—Epsom salts, hot baths, muscle cramps, and pain meds serving to salve my achiness. Thus, this discrepancy between reasonable and risky. Thus, two words from the Father in the midst of my deliberations.
Movement wins. Despite the pain involved, movement wins.
Movement moves me forward from where I was previously. Movement represents progression. Movement advances me beyond current stagnation and launches me down the path of heart-health. I know this to be true as I've witnessed my physical strengthening over these past months. Still and yet, what is true isn't always an easy decision, especially when the decision is a guaranteed choice for additional pain. One really has to want to stay healthy when choosing risky over reasonable. Choosing the risky route can be a costly decision, but in the end, movement wins. So says God.
Could it be the same for our spiritual condition even as it is for our physical one? Is movement the key to securing the kingdom? Is risky over reasonable the only reasonable choice for our Jesus-hearts? Is a choice for more pain, more struggle, and more contradiction the way through to a break-through? To freedom?
Perhaps.
From the very beginning, we've been a people of movement. First from God's Garden. Every step since those initial ones, mostly ones taken in anticipation of finding our way back there. Without our forward progression, we stay put … stay anchored to known realities, unwilling to venture beyond safe borders, fixed parameters, and reasonable guidelines. Those who choose to linger there are often those who get left behind, remaining as is. Unchanged. Unmoved. Underdone according to God's plan for victory. Instead of allowing their struggles to refine them—shape them and move them—they allow their stagnation to define them—keep them and limit them. When that happens, their hearts aren't winning. Their hearts are subsisting.
I suppose it's a good enough existence to live with … die with … move on home to Jesus with, but these days I'm not much concerned about good enough. Subsistence living has lost its flavor. I want to give my heart a good work-out, to push it to beyond its current limits, even though there is certain pain attached to those limitations. I want to walk another 700 miles with my heart exposed to the outdoor elements so that it can be moved and manipulated, stretched and strengthened by Jesus for his kingdom purposes.
Is this a reasonable choice? Not really. When has God ever placed reasonable demands at the feet of his children? Moving ahead with Jesus will be, perhaps, the most unreasonable movement of our lives.
Is it a risky choice? Most definitely. Not because God is not definite, but rather because the world says he is definitely not. And who of us isn't easily shaped by the world? When we allow the world to dictate our choices, we forfeit movement. We risk stagnation. We live as lesser people.
Movement wins, friends. One step from where you are today—whether one inch outside of the box of your security or one foot beyond the perimeter of the garden you're so carefully guarding—any small step of faith will be enough to move you forward. Reasonable? No. Risky? Yes. Painful? Probably. But in the end, a guaranteed win with the Father.
I need to move today. Maybe you do as well. Something tells me that the risk will be worth the reward. Someone reminds me as well.
Movement wins.
May God grant you and sustain you with his Peace for the journey as you move forward in his direction.
~elaine