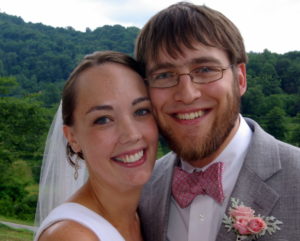 My eldest son got married two weeks ago. It was a grand affair. Quaint. Intimate. On a mountain and in the company of family and friends. I thought a lot about my son that day while sitting next to his father in our designated, front pew. We had the best seat in the house, but then again, in sharing life with this extraordinary twenty-five-year-old man we call "son", we've always had the best seat in the house. What a privilege to watch him grow over the years and to witness him standing before his bride and speaking his oath to love her for the rest of his earthly days. It's a day I won't forget, one that sows deeply into the soil of my heart and that heralds a grand "hallelujah" for the grace that has passed ahead, within, and behind us, low these many years.
It takes a lot of grace to grow a boy into a man. Our story is no exception. In fact, our story begs for grace, has relied upon grace to get us to this season in our lives – a day when two parents, who once made those same sacred vows to one another only later to break them, were able to sit side-by-side and celebrate the child born out of their love. You can imagine the baggage that I carried into that chapel two weeks ago, the internal wrestlings that were begging to take the stage. But it wasn't a day for baggage and wrestlings. It was a day for grace and for making peace with a past that I cannot change but, instead, can honor for the fruit that has blossomed despite my disobedience.  
This was and continues to be my wedding dance with redemption, when the past works for me instead of against me. When the glass is less dim and more transparent. When I can see clearly through the brokenness to gather up some wholeness. When the Groom extends his hand and his heart in my direction and repeats the oath he spoke to me in the past saying:
"I have loved you with an everlasting love; I have drawn you with loving kindness.

I will build you up again and you will be rebuilt, O Virgin Israel.

Again you will take up your tambourines and go out to dance with the joyful.

Again you will plant vineyards on the hills of Samaria; the farmers will plant them and enjoy their fruit." (Jeremiah 31:3-5)
This is my "again" . . . again – one of the many agains I have known because of the mercy-filled, extended hand of my Groom, Jesus Christ. His love is timeless, knows no boundaries, and never tires of the grace-dance. Instead, his love is ready.
Ready to draw me in.
Ready to rebuild me.  
Ready to re-teach me the sacred melody.
Ready to sow within me the seeds of eternity.
Christ's love is ready, and Christ's love is enough to carry any broken and burdened soul through to present wholeness. He loves his bride, and his oath is his word. No sin and no shame are a match for his strong affection and sacred affirmation. Love wins the day, and the Groom takes his Bride.
A wedding dance with redemption. The grace-dance with the Redeemer. My dance. Your dance. God's dance.
Won't you take hold of his hands, friends, and take hold of your tambourines? The music's been cued. The wine's been poured. And the Groom has given you his word . . .  
This is for forever.
Hallelujah! Amen. So be it. As always . . .
Peace for the journey,