Jesus replied, "A certain man was preparing a great banquet and invited many guests. At the time of the banquet he sent his servant to tell those who had been invited, 'Come, for everything is now ready.' But they all alike began to make excuses.… Then the master told the servant, 'Go out to the roads and country lanes and make them come in, so that my house will be full. I tell you not one of those men who were invited will get a taste of my banquet.'" (Luke 14:16-18, 23-24).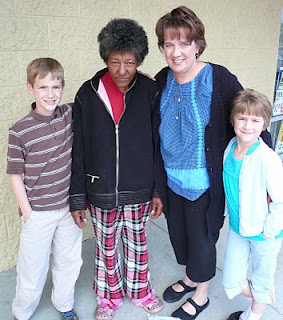 On the heels of my previous post, many caring friends have asked me regarding "how things went" this past Wednesday evening. For the record, "things" went fine … better than I had anticipated. The new clergy family will be a lovely addition to this church. Long before my family ever set foot in this community, God considered the length of our tenure here and planned accordingly. He's got it covered and will continue in his faithfulness to minister to the needs, dreams, and desires of this congregation… of this, I am certain. But this post really isn't about "how things went" Wednesday evening. Rather, it is about "how things went" in the moments prior to Wednesday evening.
Before we get there, let me set the stage by relaying to you a conversation I had with my daughter a few weeks ago. It went something like this…
"Mommy, when you last saw Gayle, did you tell her about Jesus?"
"Yes, honey, I told her."
"Did she understand? Does she know Jesus?"
"To the best of her ability, I think that she does, Amelia."
"Then, mommy, you have a crown in heaven."
"Oh precious one, there's nothing I'd like more than to cast that crown at the feet of Jesus one day."
"Mommy, promise me that the next time you see Gayle, if I'm with you, promise me you'll stop so that I can meet her."
"I promise. I think she'd like to meet you."
***

I had the opportunity to make good on that promise this past Wednesday evening. We were traveling home from a quick dinner out when, from the corner of my eye, I spied her familiar "gait." She was headed into the tobacco store; we were headed in the opposite direction. I whispered to my husband regarding her presence and then asked him to turn the van around. Truth be known, we didn't have much time. Perhaps I would see Gayle on another day when the schedule wasn't so pressing and when I wouldn't be so stressed regarding the "big event" of my evening. Truth be known, God didn't much care for my excuses. A parsonage "showing" isn't necessarily in keeping with kingdom living. Thus, we stopped in front of the store and waited for Gayle to emerge.
When she did, she immediately recognized me. We hugged, and I introduced her to my family. She was quick to show us the contents of her plastic bag—her blue, Gideon bible. She's been carrying that one around since the first time I met her on a bench last summer. After exchanging a few pleasantries, Gayle asked us for a ride. My husband nodded his approval, and together, the five of us made our way to a "questionable" section of town. Wary of our surroundings, I prayed a silent prayer for the security of my family. Gayle directed us to a low-income duplex. My impulse was to get her out of the car as quickly as possible and to move on. Instead, I pulled the van over and asked Gayle if we could pray for her. She willingly surrendered the moment to my request, and the four of us laid our hands on Gayle, thanked the Lord for her presence in this world, and petitioned him for his watchful care over her in the days to come.
Gayle told us good-bye and made mention of the next time we would meet… that perhaps we might consider coming to be the new pastors at her church.
The car was silent for much of the drive home. There was something prophetic about the words she spoke—words so closely tied to the truth of what we're currently living that I was rendered nearly breathless, certainly speechless. And then, as if on cue, God broke through that silence with a gentle rain that began to fall upon our windows. It was the kind of rain that is sometimes accompanied by sunshine—the kind of coupling that normally produces a rainbow. I asked the kids to be looking for it… that this was just the kind of moment when we could expect its reminder. Almost immediately, Jadon cried out, "There is it, mom. In the rear window. God's rainbow." Again, we pulled the van over so I could get a better look. Rainbows are fleeting. Better to take them in as they take the stage.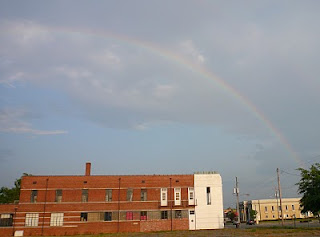 Tears pooled in my eyes, and my husband took my hand. No words were spoken between us, only knowing glances of the truth that was being revealed in our spirits—
We were not forgotten. Gayle was not forgotten. The "big event" of my day—the parsonage "showing"? Well, temporarily forgotten—less important as it pertained to the living out of the kingdom on the pavement of everyday, real life. The kingdom never lives more effectively and profoundly than when it walks the streets with the King in mind, with his invitation to the banquet in hand, and with our "making them come in so that his house will be full."
Making. A word in the Greek language that means "importunate persuasion"—a troublesomely urgent persuasion that is persistent in its request (Zodhiates, "The Complete Word Study Dictionary NT," AMG Pub., 1992, 145). Why persistent? Why urgent? Why the need to compel the invited to RSVP? Because the kingdom of God is near, closer now than it has ever been, and the Master isn't selective regarding his guest list. The way that we flesh out our kingdom callings sometimes indicates that we think that God is selective and conditional regarding his eternal invitation. But God doesn't put conditions on who does or doesn't receive an invitation. He's interested in a full table, a full house, a full forever. What he's not interested in is our excuses regarding our refusal.
Excuses serve as the foundation for our being excused by the Master from the heavenly banqueting table. Excuses wear thin when eternity hangs in the balance. And in case you've grown complacent regarding eternity, both as it pertains to where you'll be spending it and where your neighbors will be spending it, it's time to wake up. Time to take a look inward and to realize that Jesus Christ paid a high price for your chair at the table. We don't get to choose who sits beside us, friends. We do, however, get to choose what we will do with the invitation that God has placed into our hearts and hands and has asked us, through importunate persuasion, to deliver to others. Thus, I ask you today, even as I asked Gayle this past week, even as I have asked you countless times before in this place that you've come to know as my cyber address,
Do you know that you know that you know my God and his truth? Have you surrendered your heart to his, and have you accepted his calling upon your life to go and to make disciples of all his people? Is grace your portion? If so, is grace your offering to others? When did you last hand out an invitation to the banqueting table? When did you last use sacred, importunate persuasion on behalf of the kingdom?
There are some occasions that will come to us this week that will matter for all of eternity—moments that teeter on the edge between heaven and hell where you and I will be given the opportunity to push "things" forward in favor of God's forever. Some of us will make excuses; a rare few of us will live it out as God intends for us to live it out. When those moments come, I pray for the eyes to see, the mind to conceive, and the heart to be amongst the latter group.
No excuses. Just more of Jesus for me and for the Gayles of the world who've yet to realize that a chair has been set in their honor at the King's banqueting table. It's a good day to live with the King. It's a good life to be trusted with such a gracious grace. May you know the richness of God's bounty this week, and may you have courage and faith enough to dispense it liberally to every single soul who crosses your path therein. As always…
peace for the journey,
PS: To read more about my journey with Gayle click on the links within the post or here:
Post One: A Worthy Pause… God's Worthy Cause
Post Two: A Tender Ache
Copyright © April 2010 – Elaine Olsen