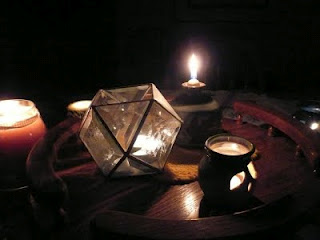 '
"This is a time of abundance in your life. Your cup runneth over with blessings. After plodding uphill for many weeks, you are now traipsing through lush meadows drenched in warm sunshine. I want you to enjoy to the full this time of ease and refreshment. I delight in providing it for you."
(Sarah Young,

Jesus Calling

, entry for November 12th, pg. 331).
Surely she isn't writing these words to me; she's missed the mark on this one, Lord. Abundance? Lush meadows? Ease and refreshment? Are you talking to me, Lord, about the current season I'm in or regarding the one I knew a few seasons back? Sure, I'd like the romp of lush meadows and warm sunshine right about now, but currently it all feels more like a slow crawl through the dismal swamp. Maybe next season, but right now, I think I'll save Sarah's words … your words … for another day. Another time when abundance seems a better fit with my current living conditions.
This is the conversation I had with God a few days ago after reading my morning devotional. Ever felt this way? That somehow the words written don't quite match up with the dailyness of your life? It kind of bothered me… this "imagining" by Sarah on my behalf regarding the current condition of my life. After all, we've never met. She isn't wearing my shoes, and she certainly isn't holding the pen for my book—my journey with Jesus. If she were holding the pen, her words would have read more like a tragedy rather than a triumph. Why?
Because these have been some hard weeks for me. Not devastating, just hard. Just more crawling than running. More questions than answers. More frustrations than smooth sailing. As I write this tonight, my heart is full of ponderings and wonderings and hopes that one day soon, all will make sense. But right now it doesn't, and I realize that I don't have a clue about how all of my "this" is going to work itself out in the days to come.
And mostly, I'm OK with the not knowing, but sometimes the not knowing fills my heart with heaviness, keeping the lush meadows of God's goodness seemingly out of reach. But then, something like what happened around our dinner table tonight happens.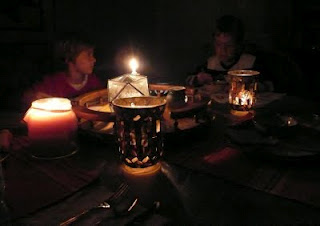 A reminder to me about the goodness of my life. About how for every "thing" contrary and difficult that wanders into my world, none of it is enough to diminish the worth of my day. That, in fact, there is lush and warm sunshine and abundance in my every day because I don't live my days in isolation. I live them with Jesus. And wherever Jesus is, cups runneth over with blessings ten thousand beside. That for all of the ways I could call this day "less," there is One who calls my day "more."
Not because I live in temporal pleasure, but rather because I live with eternity in reach.
I don't wake up each day because I did something to deserve another day's privilege. I wake up each morning because my Father holds my life and breath in his hands and has decided that another day is worthy of my embrace. I get the bounty of this day because he's given me this day to enjoy, to ponder his abundance in my life and to find my thanks despite the chaos going on around me.
Life rarely makes sense to me. I've long since given up trying to put tidy parameters around my day in-day out. I simply live my days. Sometimes in thanks; sometimes with complaints. But tonight as I sat around a makeshift candlelit dinner brought about through the imaginations of two young children, I quietly confessed my discontent with my day … my life … and asked God for more tea-light treasures to be my portion.
This is my life today, and it is enough … more than enough to warrant Sarah's pen on my behalf. I feel God's warm sunshine despite the coolness of my season. I taste God's abundance despite the famine of my season. I walk the lush meadows despite the rocky soil of my season. And I drink the cup of overflow despite the thirst of my season.
Seasons come and go, friends, but our God? Well, he never leaves. He is the same in all our seasons. Never once has he diminished in his covenantal goodness to us. We may be blinded by the conditions of our seasons in seeing that goodness, but his presence predicates his overflow. His presence assures us of his participation in our dailyness.
And wherever God is, is a place of good living. In my heart. In yours. We are the carriers of an extraordinary "good." Let us spend this week acknowledging our lives for what they are.
Good.
He has declared us accordingly because he is good eternally. And that is enough to warrant my heart's thanks in all the seasons of my life. May it be the same for you. As always…
peace for the journey,
PS: The winner of the Gatlinburg give-away is #17 Saleslady 371. Congrats to you! Please send me your snail mail via my e-mail, and I'll have this to you this week. Shalom.