"In the presence of God and of Christ Jesus, who will judge the living and the dead, and in view of his appearing and his kingdom, I give you this charge: Preach the Word; be prepared in season and out of season; correct, rebuke and encourage–with great patience and careful instruction" (2 Timothy 4:1-2).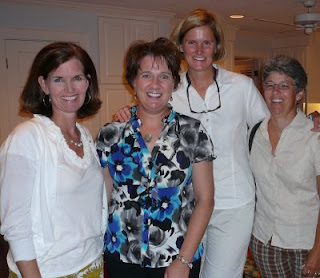 I spent last evening on the Pamlico River, sharing my heart with a group of women about Moses' "walkabout" of faith. It was a night of pleasure for me—a time of fellowship with friends, both old and new, all the while in the company of our Father who spoke to us through his Word.
I don't think I'll ever get over the fact that God has allowed me any type of platform for sharing his truth. Like the apostle Paul, I bring little eloquence and even less knowledge than him to the table. Like Paul, I feel unworthy of the calling; still and yet, God bestows the privilege upon me—upon us all as partakers in the kingdom that is now and is to come.
Today I called my dad to talk about my experience; we talked about preaching—about his experience behind the pulpit, his nerves regarding the pulpit, and his preparation for the pulpit. He told me something important as it pertains to the "handling" of God's Word. He's been a professor of preaching for nearly forty years. I think, perhaps, he holds some wisdom in the matter.
"I tell my students, Elaine, that they should write their sermon outlines, write out their entire thoughts word for word if they like, early in the week. They should get their sermons down on paper by Thursday noontime and then spend the rest of the weekend reading them, pondering them, praying over them. And then, when Sunday morning comes, they should walk away from their notes (not needing them) and preach the story with all the confidence of heaven to back them up."
A sermon well-preached is a story well-lived. My dad's been preaching that story for fifty years now … living it a bit longer. This past Sunday marked his golden anniversary in the pulpit. It is my privilege to share with you a few words he shared with his readers regarding this treasured milestone.
A seasoned minister, upon hearing that I was going into pastoral work, asked me this question, "Chuck, when you get up to preach, where will you be standing?" My first thought was "What a strange question." Was there no better question to ask than that—the geography of where sermons will be preached?
I responded, "Behind the pulpit, of course." He paused and, slightly shaking his head, replied, "No, no, they tell me when one stands to preach, they do so between heaven and hell."
That was a stopper! Karl Barth, noted theologian said to the preaching students in his class, "Upon what grounds do you assume the role of mediator between heaven and earth? You will be standing between God's grace and human need." I have to admit, this business of 'standing' in that location has haunted me every step of the way. On the other hand, I have discovered inexorable delight and joy, knowing full well that I would have been missing 'the mark' had I done otherwise. My only boast was that I stood on "a Rock that was higher than I." That made the difference!
This past Sunday, I preached at the ACTS United Methodist Church, which marked the anniversary of a fifty-year journey that started off at a little country church in Darke County, Ohio. It was during my senior year at Marion College (now Indiana Wesleyan), that I commuted to that unincorporated little village called Longtown. My congregation was African American, and those people loved, supported, and challenged me to stand up and "do it."
My ministry has been 'bookended' by Longtown Wesleyan Church and ACTS United Methodist. The in-between years, all fifty of them, have fled swiftly by, like a weaver's shuttle. And on this Golden Anniversary I can say without exaggeration or embarrassment, that it has been a 'good stand'. And for the rest of the trip, I have several more corners to turn until I get home.
~Chuck
I suppose the "fruit" of my father's "good stand" is the living witness of the countless lives he's touched along the way. He's touched mine. He's taught me what it is to stand between heaven and hell as a mouthpiece for the truth of Jesus Christ. I stood there last evening, and by God's grace and only his grace, I'll stand there again.
So for you, dad, here are a few words of living witness to let you know just how wide and long and high and deep your reach has extended for the kingdom of God. It reached to the Pamlico River last night; I imagine there are several more corners it will turn before we all get home. This I do know … we'll get there together. I love you.
(This portion of my talk last evening came at the end. It is a bit blurry and the sound not high quality. Please forgive. Remember…we're a low budget operation over here.) Copyright © June 2009 – Elaine Olsen