"From the rising of the sun unto the going down of the same the Lord's name is to be praised." (Psalm 113:3).
It's nearly a new day.
Nearly.
Before I say good-bye to January 30, 2009, I wanted you know that I loved it … this day given to me simply because God's grace allowed it.
By his breath, he has sustained me and measured my steps accordingly. Not because he had to, but rather because he delights in giving good gifts to his children. And while every day should be chronicled with my glad tidings and thankful cheer, most of them slip by without notice and without applause.
I should do better with my gratitude. Not because I have to, but rather because it is my privilege to do so. Thus, allow me a moment to tell you what I loved most about this day.
It wasn't the trip to Raleigh to pick up the "Esther" books at the Lifeway store or the new Meredith Andrews CD that I managed to sneak into the pile at the check-out counter.
It wasn't the extra visit to Kohl's where I was able to pick up a good bargain on a black jacket.
It wasn't the stop at Andy's on the way back into town for the $4.99 cheeseburger special, complete with crispy fries and a diet coke.
It wasn't the trip to Wilson to watch my senior son play basketball, although he did make my heart skip a beat or two.
It wasn't the Parker's barbeque or the accompanying hush puppies while on my way to Wilson.
It wasn't even the return of my college-age son who's been MIA for three weeks now, although he's always a good punctuation to a weary week.
No, the best part of my day wasn't measured by the doing and partaking of all these things. Indeed, they were good, and I loved them each one. But what made them even better, what made them cause me to sit back and find a moment or two or even ten of thankful pause, was the fact that I shared them all with the man I call husband. The man who took my hand a season back, along with the hands of my two young sons, and promised to take care of us all of the days of his life and ours.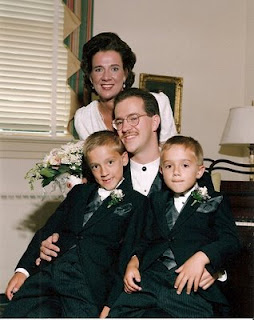 It's not our anniversary. Today is not a day of any calendared significance in the lives of Billy and Elaine. It was simply a day that we shared with one another, rather than living our separate identities as is so often the case.
We laughed together. We walked together. We ate together. We worshipped God together with our new CD's. We cheered together. We even yelled at the game officials together. We rode home together. We close this day together.
Together is a good way to spend a day. It's a good way to love a day. It's not always been the way I walk my days, but today? Well, today I did better at loving and at being in love. Today I stepped in rhythm with the man who's been keeping pace with me for nearly twelve years now.
Not because he has to, but rather because he delights in being God's good and gracious gift to me.
I didn't deserve his love. There are times when I'm most confident that he doesn't deserve mine. Still and yet, we choose to do love … to live love … to fight for our love because we love the life that God has given us together.
Indeed, I am a blessed woman who loved her day. I hope you loved yours. If not, there's still time. Another day rests within your reach. Find someone you love and do some doing together. Let not today slip by without your notice or without the applause of your gratitude. This is the day that our God has made for you. He's entrusted you with its unfolding.
Live it well. Love it better. And do it all in the name of our Lord Jesus Christ. It is your sacred privilege to do so.
As always,
~elaine