"She is like the merchant ships, bringing her food from afar." (Proverbs 31:14).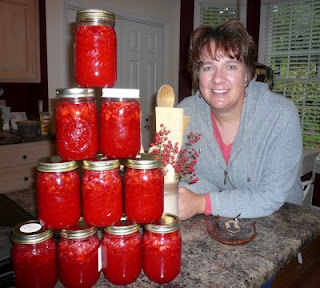 In 1957, my mom walked across the stage of Bob Jones University and received her degree in "home economics." You heard me … "home economics." She would later go on to share her wealth of wisdom with less than appreciative junior high and high school students. She wouldn't teach long, at least not within the walls of a school building.
But today, some fifty years down the road, class was, once again, in session. Mom still teaching; a student still learning. The classroom? Her kitchen. The subject matter?
Freezer jam.
Strawberry jam. Jam that's been rolling around on my taste buds for the past thirty years. I suppose that I should have learned her techniques earlier. Heaven knows, I've been ringside to the canning process on multiple occasions. But rather than learning her secrets as my own, I've been content to simply "borrow" from the fruits of her labor and to stock my freezer accordingly.
She's always been willing for me to do so. That's what mother's do … feed their children, at least they should. My mom has been faithful to that doing for forty-three years now. I can always count on her to give me her best when it comes to both the bounty of her table and the overflow of her heart. She is generous on both counts.
Mom has always had a knack for making the most out of our dining table. Undoubtedly there were seasons throughout my growing up years that required her creativity alongside a fledgling budget. Meals were always balanced with ingenuity and, on occasion, were beautifully decorated by some extras. But the jam? It was always in ample supply at mealtime.
I am thankful for that. We all need some staples in our lives—some things around our nightly tables that can be counted upon to be in attendance. The main course might vary, but the "sure and the certain" should remain. Why? Well, because we are a people in need of some sure and some certain.
When we arrive at the end of our "9 to 5's" and gather up our "empty" for the "feeding", it's good to imbibe the comfort of some certain. A mighty woman … a woman worthy of a ruby's bestowing … is a woman who brings some sure and some certain into the lives of those who sit under her influence.
She searches for it; watches for it. Runs to the market for it; banks on it. The intention behind her labor springs from a heart that understands that her table serves better when it is dressed with the comfort of certainty.
My mother gave that to me; she still does. She did so today as she watched and hovered and taught and sowed some of her wisdom within the soil of my understanding. Every now and then, I saw a glint in her eye; I certainly heard it in her voice. There was something insistent and purposeful about it all, and I was blessed to sit under her tutelage.
After the process was finished, I found a scrap sheet of paper and began to write down all the "extras" that weren't scripted into the recipe. Extras that add to the mix and make for a better outcome. Extras that belong to a mother's wisdom and a mother's love that are willing to share tips and secrets and "how to's" for the dressing up of an extraordinary table. Extras that I hope to one day share with my daughter when, in a season to come, she sits in my kitchen to receive her heritage—
the sure and certain of a family's faith that's been sitting down at the table of grace every night with the sure and certain of some jam alongside.
Jam and Jesus. An acceptable conclusion to a day's doing. An ample seeding for a night's rest.
May it be so for each one of us this day. Thus, I pray…
Bring us, Father, the sure and certain of heaven's wisdom and truth as we gather our hearts in worship around your table in this hour. Teach us for we are stubborn in our learning. Show us for we are blind in our seeing. Sow into us all of your extras that make our lives shine with the witness of having sat under your tutelage. Thank you for bringing us your "food from afar" and for feeding us with all the tender care of a Father's great love. Strengthen our hearts to mirror the same for our families, our friends, our country, our world. Amen.

Copyright © May 2009 – Elaine Olsen

PS: Please join us for more Ruby Tuesdays' post over at Refreshmoments. We'd love to see more participation. Mary explains it all over at her place. Also, the winner of Celia Whittler's "One Wish for You" is skoots1mom. Please send me your snail mail, and I will get your book/cd to you in swift order. Shalom.