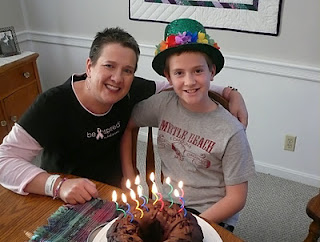 My son came home sobbing yesterday.
"I can't do it again, mom. It's not fair. I missed one problem on my Math test… one problem, and she's making me take it all over again. And she said it would be harder … 28 problems instead of 12. I made a 92%, and it wasn't enough, mom. I can't do this."
He kept repeating the phrase as he collapsed onto his bed in a heap of tears.
"One problem… one stupid problem."
It was then that I had a problem… an angry kind of problem. A problem that wasn't going to work itself through quietly. This time, I would not ignore the injustice. This time, I would speak up on behalf of my son and his diligent efforts at trying to "make the grade"… his grade … the fifth grade.
Jadon has a learning disability, not unlike many of his peers. It's been difficult to adequately diagnose his issues over the years. Some term it dyslexia; others ADHD. Still others, a combination of both and then some. I'm not convinced about his labels. There doesn't seem to be one that accurately describes his problem. Consequently, I spend a lot of time trying to educate his teachers about how to best educate him. This learning process, both for him and them, doesn't always flow smoothly. Case in point? Yesterday's debacle.
We'd spent a lot of at-home hours preparing for this Math test. Angles, parallel lines, polygons and the like had been on the after-school menu for several days. S.E.V.E.R.A.L. D.A.Y.S. Those of you who have kids with similar issues get this one. No small amount of blood, sweat, and tears were shed in preparation for this test, not to mention all the other tests that are being crammed into these final days of the nine weeks. Accordingly, we would have been happy to take our 92% (yes, I said "ours" as this learning process is a collective effort) and walk away with a smile. Instead, Jadon's achievement was met with disapproval and with his tears as he realized, yet again, that a 92% was not enough to appease his teacher's expectations. Those who scored a 100% received a pass on a second test; those who didn't score perfectly will sit for another try at it this morning.
And I am angry. Not because there isn't merit in trying to do better (especially for those who bombed the test) but because a 92% is Jadon's better and should be celebrated rather than diminished.
Is this where it begins, readers? When did we start believing that our 92%'s aren't good enough? Did it start in our younger years at school? Maybe even earlier in our homes when the beds weren't made perfectly, the toys weren't organized correctly, the dishes weren't rinsed properly, the clothes not folded correctly? When did our best efforts at living life, accomplishing life, become not good enough? Further still, who gets to make that determination?
I've spent my lifetime feeling the weightiness of my 92%'s. Rather than celebrating my achievements, I've languished in my desire for perfection. Rarely have I been satisfied with the outcomes of my efforts, and there have been others who've been all too willing to agree with my personal assessments. There have been times when a 92% just didn't cut it.
As a daughter.
As a sister.
As a student.
As a wife.
As a preacher's wife… twice.
As a mother.
As a friend.
As a writer.
As a homemaker.
As a teacher.
As a speaker.
As a patient.
As a survivor.
As a Christian.
Time and time again, when my best efforts didn't warrant personal celebration. Times when I was forced to take a second test, a third one, in hopes of getting it right, making my grade, all the while choking through my tears,
I can't do this … it's not fair. One stupid problem … one stifling obstacle keeping me from a 100%. I'm not good enough, not smart enough, not spiritual enough to past this test. My learning disabilities are preventing my perfection.
Perfection. Isn't it time we move past our notions regarding our 100%'s and start living in the realities of our 92's? Sweet ones, hear me on this one. Our perfection is coming. Each day that we live with Jesus Christ and his Holy Spirit as our compass, we move further along in the process of our perfection. From glory to glory, one beautiful, God-shaped step at a time. We're getting there, being conformed into his likeness with every deliberate faith-filled choice we make and with every heaven-filled grace we're given. We're getting there. But, until we do, wouldn't it be gloriously freeing if we could celebrate our best efforts … our 92%'s? Why must we continually force an expectation on ourselves and others that is impossible to achieve on the front side of heaven?
Would it be alright for us to celebrate the gains today rather than to unnecessarily focus on our almost's? Is one stupid problem tripping you up and limiting today's effectiveness, today's joy? I know that we should always strive to be and to do our best, to be God's best. To tell you to live lesser would be a false teaching and not in line with biblical standards. But when our best levels at a 92%, couldn't we just acknowledge that achievement with joy and call it a win? Call it enough?
I don't know what test you've recently scored a less than perfect grade on. I don't have to look too far back in my history to find mine. But as I see it today, I'm willing to afford some grace to the situation and to realize that all is not lost with my 92%. In fact, there's been some great gain because of it. I'm not perfect, not yet, but I'm closer today than I was yesterday, and so are you.
Give your best at living life today. Give it all in the name of Jesus Christ, and then let it be enough. A 92% in God's book is pretty darn close to glory. Keep to it, friends, knowing that the grace of God is working in your heart and life to finish you home perfectly. Look toward that end while taking the time to celebrate the progression. I love your 92% and so does our Father. As always…
Peace for the journey,