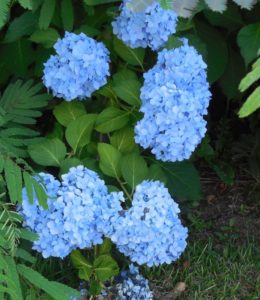 These are days of plenty. This is a season of more-than-enough. This is holy generosity dispensed to me by the King.
This isn't a season of less-than, although as of late I have been tempted to argue otherwise:
• Aging parents and accumulating needs making their withdrawals from the ledger.
• Financial interruptions that dip into the "summer fun" account.
• A lingering infection that coughs abruptly, heats up sporadically, and labors diligently to take hold of instead of break free from the flesh.
• Fractured conversations with the children I bore … the children I adore.
• Marital miscommunications that unearth seemingly forgotten pain and an oft-spoken question … (Again, Lord?)
• A sadness that sometimes sneaks quietly into my spirit, taking a long summer nap in the shade of my heart.
• High cholesterol, creaking knees, hot flashes, and a body that has failed me.
Cumulatively collected, it seems as if a detour around the poke-and-prod of summer is in order. Cumulatively and currently lived, however, I think I'll stay right where I am. Why?
Because today, knee-deep in the might-be misery of my summer, I shared a bag of McDonald's fries with my daughter, and I thought to myself …
This is good. This is grace. This is generosity. This is pure, untainted joy – an everything moment often uncalculated during a tabulated struggle. My life is filled to over-flow with everything moments. God has not short-changed me on anything. Instead, he's lavished me with his holy everythings:
• Conversations and time spent with parents that cannot be replicated.
• Financial blessings that leave some wiggle room for summer fun.
• Prayers and medication that release me from my flesh, not keep me bonded to it.
• Enough love to mend fractures.
• Enough love to salve old aches and old conversations with a fresh helping of God's mercy.
• Enough peace to awaken sadness.
• Enough laughter and humility to forgive the aging process.
God's holy everythings are everywhere. It takes a holy heart to seek them out and then to hold them up to the light despite the shadows of a dimly-lit life. In doing so, in giving these everything moments a place of illumination while suffering through the pokes-and-prods of summer, we keep the life-ledger balanced.
Does a new pair of eyeglasses cost more than a bag of McDonald's fries? No doubt, and it is one of the reasons behind my nagging worries this afternoon.
But to hold the attention (and the heart) of the one whose eyes rest behind those eyeglasses for a few moments? Well, folks, the ledger is more than balanced. The ledger is dripping with eternal abundance.
The Father who made us, knows us. He understands our summers … all of our seasons. He knows what will bring us peace, even as he knows about the turmoil that leads us toward unrest. Accordingly, along the way and as we go, he's planted everything we need in order for our minds and hearts to push beyond the mayhem in our lives. He's sown a garden of everything moments, so that we might be able to step outside of the temporal and to see his eternal. When life is measured through that set of lenses, life is duly celebrated.
So today, I raise a toast to my everything moments. To yours as well. Further still, I pray for eyes wide-enough to see them as they arrive, for wisdom enough to lift them up as illumination, and for a thankful heart to God for being so very generous with me. Would you join me in celebrating our everything moments today? I'd love to hear about some of yours in the comments below. Shalom. Be well.
Everything Moments (© F. Elaine Olsen, 6-28-2016, allrightsreserved.)

A spontaneous hug, a lingering kiss,
A ride through the park, a sunset unmissed.
A morning unhurried,wrapped safely in sheets;
An afternoon rain, an evening walk through the streets.
A tub full of bubbles, a gerbera in bloom,
A bird sweetly singing, a new bride and her groom.
A dip in the pool or a dip of ice-cream,
A nap in the shade, colored by the wildest of dream.
A smile round the table, for there's corn to be shared;
Warm bread and soft butter, enough room to be spared…

For more love, more grace, more moments face-to-face.
More comfort, more strength, more confessions at-length.
Less guilt, less blame, more skin in the game.
Less hiding, less fear, more room for a tear…

Gently released, gently received,
Gently embraced, gently grieved.
Gentle hands, gentle souls,
Gently walking, fewer holes…
Left wide-open, left unguarded,
Consequently, less bombarded…

By nothing-moments that shouldn't count,
By worldly standards that rate discount.
By devil's schemes that work their ill,
By temporal needs that rarely fill.

Instead, by everything-moments that fruitfully amount,
By godly standards that take into account…
A Father's love that heals all ill,
Eternal grace that lavishly overfills…

Everything.
with his moments.