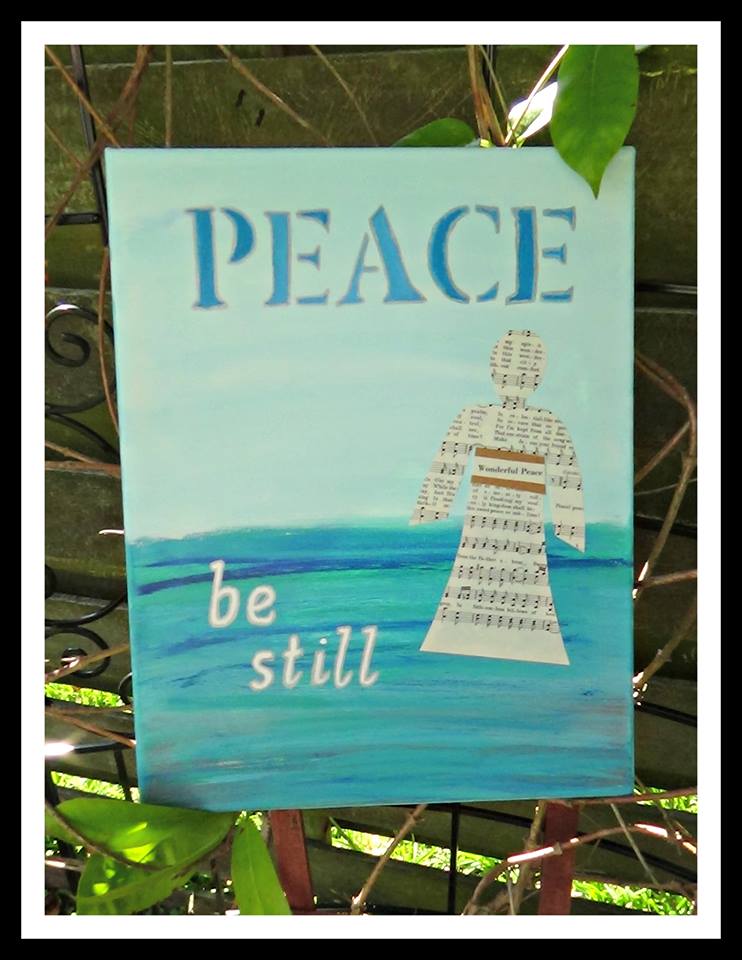 **CONTEST IS CLOSED! Thanks to everyone who took the time to peruse Melanie's work. Amelia just drew the winner – SKOOTS 1 MOM. Congratulations, Skoots. Please shoot me your mailing address so that I can pass it along to Melanie.
Then He arose and rebuked the wind, and said to the sea, "Peace, be still!" And the wind ceased and there was a great calm.  -Mark 4:39
Jesus spoke these words to the tempestuous waters that raged around his disciples on a night some 2000 years ago. He continues to speak these same words over us in our nights of troublesome sailing. 
Peace. Be still.
Peace. How desperate we are for God's daily allowance to be ours! I cry out for it in times of personal struggle. I cry for it in your times of great tribulation … for God's peace to be our portion regardless of the strains that come against us.
The good Father has never forsaken my prayers along these lines. While I've not always received the desired outcome of my specific prayers, I've never been denied the peace of Christ. It is possible to bear the seemingly unbearable when God is in the boat. Wherever God is, so is his peace.
Not long ago, my friend Melanie Dorsey began to paint her heart-words onto canvas. Bravely, she allowed the world a window-peek into her giftings to see, first hand, how God is moving her faith forward. How blessed I've been to watch this unfold – a new dimension to further develop her words of witness. I couldn't be more inspired. So …
I asked Melanie if she would be willing to apply her creativity and her paint to this verse from Mark. This portrait is the finished product. And this, friends, will be given to one of you.
"Peace be still" is a mixed media, 11 x 14 canvas. The sides are painted and suitable to hang "as is" or framed. The canvas has a sealer for a finished look, and the character is cut from an actual hymn page, Wonderful Peace (belt displays hymn title).
I love it. I hate to part with it, but it's been in my heart to do this for a few weeks now with the idea of sending one of you a little peace for your journey.
If you are interested in winning this treasure, take a moment to peruse some of Melanie's other work at her webpage. In the comment section below this post, please tell me which ones are your favorites. Your name will then be entered into a random drawing for a chance to win this "Peace be still" canvas. For additional chances to win, please share this particular post link on your facebook and/or twitter pages. Indicate in the comments below your additional participation. This contest will close at noon on Friday, October 25th. A winner will be announced on Friday afternoon, and Melanie will send the canvas directly from her studio.

Now, for those of you unfamiliar with this beautiful hymn, Wonderful Peace, I've included a rendition of it sung by one of my favorites, Gary Chapman. Sing your way to worship, friends, and remember that our Jesus has not left the boat. He who superintends the waves is the Peace who superintends our hearts. Be not afraid. Peace … be still.
I love you dearly,