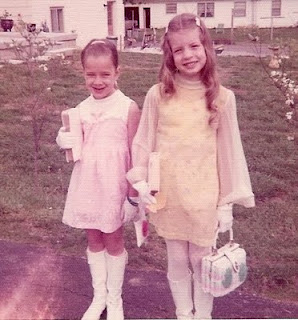 {me and sis in a simpler season}
"Could you just come for me?"
The clarity of his question startled me. I wasn't expecting it in my early morning hours. Instead, I was content to marinate the thoughts that assaulted me as I awoke from a restless night's slumber, one enhanced by the fact that my young adult sons arrived home around 2:00 AM following a U2 concert.
I'm not a good sleeper. On any given night, I'm glad to receive a solid, four to five hours. So when the routine tumbles out the window for any number of reasons, I'm toast. Add to it a lot of miscellaneous extras and a Sunday morning routine that calls for more chaos than usual, well, you can imagine the thoughts I was harboring.
Cranky thoughts. Deliberate thoughts. Thoughts that serve no good purpose other than to whip me into an emotional frenzy prior to my car ever arriving in the church parking lot. And while this attitude isn't a good fit for any of us who hold worship as sacrosanct and as a deeply-rooted tenet of our Christian experience, the truth is that there are some Sundays when I approach church with resentment rather than with expectation.
Some Sundays proffer more like work rather than worship. Anybody else?
When I was a child, I loved going to church, and most days, I still do. My parents didn't have to twist my arm or coax my participation. Church is what we did; it still is. Not because we're bound by legalism, but rather because we're bound to the One who entreats our communal participation with other believers.
While growing up, church seemed less complicated. For me, it meant seeing my friends, sharing some laughs, and celebrating the simplicity of being together… and actually liking it. Somewhere along the way and as I grew older, church became more tricky. More problematic. More thorny and more self-centered. As my intellect grew alongside of my flesh, so did my ideas about how things should work. How church should be. How services should flow. How people should act and how preachers should preach.
After forty-three years of "doing church", I've amassed a rather lengthy list of "shoulds". I recognize this in me, and for the most part, the list has been drastically reduced and tempered by the gracious grace of God. But every now and again, it flares, and rather than approaching church with sacred expectation, I come through its doors with an expectation of failure—my deciding on the front end of worship that the "menu" for the morning's events aren't going to pass muster with my prerequisites. On those Sundays, my heart is hardened by the preliminary thoughts preceding my arrival, thus blocking my heart's soil from the tilling of a Father's love.
I don't like it. It's not pretty. It's certainly not befitting for this woman who is in desperate pursuit of her God; still and yet, this is where I found myself this morning. A struggle I don't want and one that sometimes gets the best of me.
Sometimes, but not today. Today, God interrupted my preceding thoughts with a thought of his own. A question he voiced early on in the unspoken banter that was taking place between me, myself, and I.
"Could you just come for me?"
A clear, simple, direct question posed to me from the heart of God, just as clearly as I've ever heard his "voice" within me. And with those six words, the matter was settled.
"Yes, God, I'll come for you."
I cannot tell you much else about my morning other than those six words from him and my six words of response. They kept repeating themselves over and over again throughout the morning and the rest of my day, drowning out any refrain to the contrary. It's been a rich gift to me and helped me to refocus my thoughts around the true meaning of worship.
Today hasn't been about coming to church. Today has been all about coming to God. About responding to the call from the King for an intimacy that cannot be found via our "shoulds" and menus and the complicated ways we approach the worship process. True intimacy and worship comes from an obedient heart that is willing to push aside cranky thoughts in order to receive the hand of fellowship from Almighty God.
Today, my church experience found its way back to a simpler season… a time when Sundays didn't require my work, only my willing participation. My expectations were exceeded, and my hope was renewed.
Couldn't we all use a dose of sacred simplicity? Of getting back to a basic understanding that church isn't all about us, and instead, really is all about our coming to God? I know you've heard it before (I'm pretty sure it was the premise of a recent, best-selling Christian book…), but today, I've lived it again fully, with a fresh perspective and a newness of heart that have stoked my heart for continuing compliance.
"Yes, God, I'll come for you."
May all of our thoughts, cranky and otherwise, be settled by these six words of chosen and joyful obedience, not just on Sundays, but on everyday that is given us through the gracious grace of Father God. Walk your week well, friends. Walk it toward Jesus. As always,
peace for the journey,
PS: My good friend, Elizabeth, has written a post regarding her Sunday worship. Apparently, we've had a similar day. You can read it HERE!