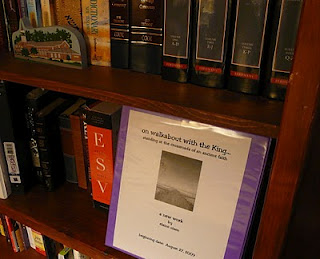 It mocks me from a distance; sits on a shelf in my den, begging for notice while collecting dust. A purple, three-ring binder containing 50,000 words, personal words. Words written from a place of noble thought and understanding. Words that took nearly a year to write. Words that I thought would surely play a bigger role in my "next" than they currently are. Words that serve as a reminder to me of where my heart was twelve months ago…
A woman completely in favor of faith and the pursuit therein.
I thought I had it figured out… my faith. Little did I know that the greatest challenges to my previously rehearsed faith were dancing on the horizon, hidden from me in the moment, yet soon-to-be unveiled with the passage of time. Most of you might reason (even as I have reasoned) that, as my struggles came into view, I would take hold of the earlier written 50,000 words. That I could and willingly would apply "noble understanding" to the strife at hand. That I would pull the binder from the shelf, shake off the dust, and dig into the thoughts, precepts, and strength from my earlier season. But I didn't. I couldn't. I wouldn't.
Why?
Because maybe, just maybe, I wasn't ready to fully trust these words to see me through. They were good words, right words, words in keeping with all that I know to be true, but in many ways, words untested by the pulls and strains of a stressful season. Accordingly, I left the purple binder untouched, leaving it in the same place where it had been residing for the past eight months. That is, until today.
Today I dared to take it down off the bookcase. I began reading those 50,000 words again and wondering if the faith that I wrote about back then would match up with the faith steps I'm taking right now. Where did I get it wrong? Where did I, by the grace of God, get it right? Are these "old" thoughts in keeping with my new reality? Is this manuscript worthy of a second read-thru with the further goal of publication?
It's a daunting task… this survey of a previously written faith, yet one I want to apply myself toward. In doing so, I expect my faith perspective to evolve into fuller understanding. I know some things now, hold some things now that I didn't know or hold a year ago. Today, my faith lives and breathes at a higher level. Today, I can better address the issue of faith, because mine has been tested with the purifying flames of God's eternal love. Today, I can hold the purple binder in hand with deeper clarity about the words printed therein.
Today, and in the days to come, I want to sit with my words before God and examine them under his microscope. I want to finish that which I thought was finished a year ago. I want my faith to live even as it writes… truthfully. Thus, I get to it. No timetable this go around, just a willingness to fall into some words, sentences, paragraphs, until the work is complete and up-to-date with my faith.
Along those lines, I want to ask you a question or two, even as I ask them of myself:
1. What would you hope to learn/gain by reading yet another book on faith? (I just typed in the word "faith" under the book tab on Amazon and the results are 93,862 currently listed titles regarding faith). Who needs another book on faith? What can be written about faith that hasn't already been written? What is the take-away value for this book?
2. What format/style works best for you as a reader? Longer, fewer chapters? Shorter, more chapters?
3. What keeps you interested as a reader? Stories, anecdotes, scripture study?
4. Are application questions at the conclusion of each chapter important to you as a reader?
5. Any further thoughts on faith that would help me as a writer better understand what you as the reader wants…
I'd love your input; no need to answer all the questions, but your insight is valuable to me as I shake off the dust from my 50,000 words and attempt to edit them in this new season. For the record… I'm still a woman completely in favor of faith and the pursuit therein. This old, purple binder and a freshly tested faith seem like a good place to start.
Thank you for joining me on the road, and thank you for your prayers this week. I'm recovering, and I am at peace.