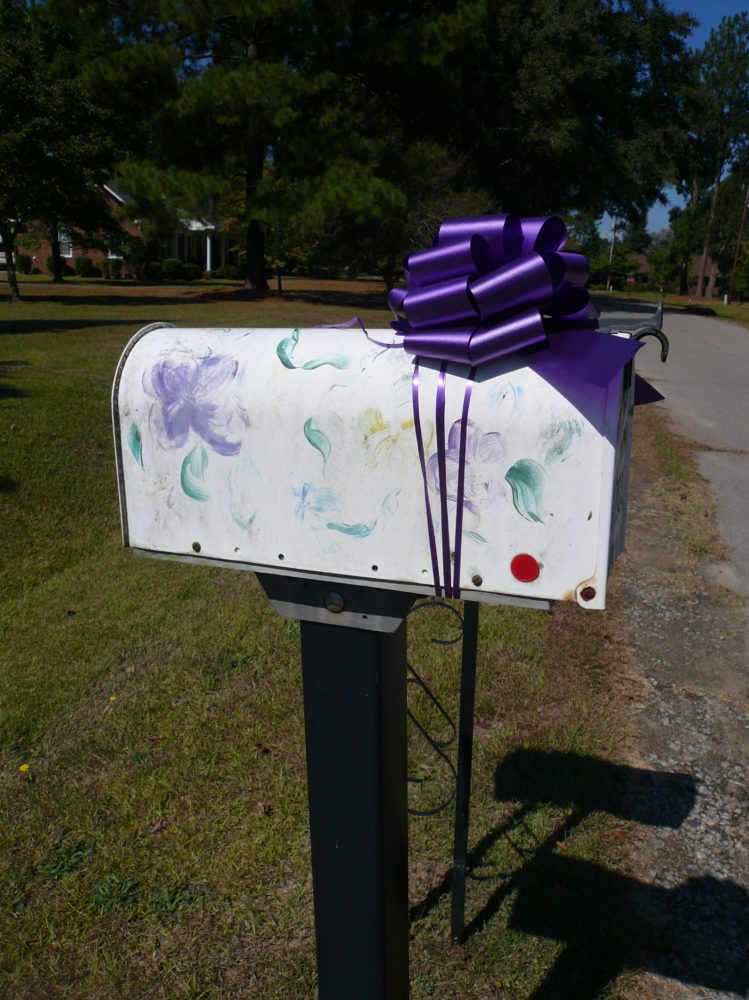 "Once more a remnant of the house of Judah will take root below and bear fruit above. For out of Jerusalem will come a remnant, and out of Mount Zion a band of survivors." (2 Kings 19:30-31)

 ~~~~
I attached the purple ribbon to my mailbox as a reminder to myself:
A survivor lives here.
It feels slightly self-indulgent, putting the focus on me. A season ago, I displayed these ribbons in honor of loved ones who journeyed the cancer road, but this year I boldly make this declaration on my behalf because I'm taking my own advice … practicing what I so bravely proclaim.
Being a survivor isn't about defeating the disease. Being a survivor is about defeating the silence that often attaches itself to the disease.
For me, this has become a rallying cry of sorts. I emphasized it again yesterday during the morning messages at Saint Luke's annual Relay for Life service. It's one of the main reasons I agreed to speak. You see, there's a silence that has been settling in on my spirit for the past several months.
Sometimes, silence is a good thing, a golden kind of thing. I remember my 9th grade English teacher writing in my yearbook, "If silence is golden, Elaine, you can forget it!" I also remember my daddy telling me, "Elaine, not every thought you're thinking needs to be verbalized." I knew what they meant. In hindsight, I celebrate their words, because I fully understand the intent behind them. They represent life—a living, breathing witness of a young girl who wasn't afraid to be heard and to err on the side of verbal expression. It's been a delicate dance these past forty-seven years, learning when to speak and when to keep silent.
But what about those times when silence isn't golden, when words should be spoken but, instead, remain buried, hidden beneath layers of self-doubt? Prolonged silence can become a breeding ground for destructive behaviors rather than a resting place for instructive growth. I recognize these dangers, and so I made a choice to use my words on Sunday morning and on this Monday morning. Not just any words, but words that have been bathed in grace and baptized in prayers for God to use them, once more, to move the kingdom forward. To move my heart forward.
Maybe today you're stuck in your silence. A soul-eating something has taken its toll on your witness. Your voice no longer boasts the confidence of your sacred endowment. No purple bows tied to the mailbox. No holy proclamations tied to your lips. Instead, drop-dead silence. You're at a loss for words, and your survivorship seems in question.
I hear you. Your silence couldn't be clearer.
Today is the day to start talking again, start putting words to your struggle, thereby putting words to your faith. Pick up the phone, pick up the pen, pick up a friend, and pick up a bow. Tie it on the mailbox, tie it on your computer, tie it on your lips, or tie it on your heart. Let the whole world know that …
A survivor lives here.
A soul-survivor. A woman, a man living each day with the Soul-Creator, Soul-Stirrer, Soul-Lover, Soul-Keeper … Jesus Christ.
"Once more a remnant of the house of Judah will take root below and bear fruit above."
Today might be the beginning of your once more. Break the silence within and watch your roots grow deeper into the soil of God's kingdom garden. Our Father will not waste your witness. Our Father intends to cultivate it for his glory and his renown. Your survivorship is not in question. Your survivorship remains safe and is certain in his hands.
Keep to it, soul-survivors. Our best days are in front of us. As always …
Peace for the journey,