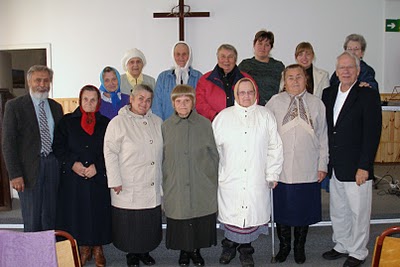 Today, I write to you from a point of sheer determination and will, not from my feelings. If I were operating from my feelings, I'd leave the pen where it resides and forget about yesterday's prompting in my spirit. Yesterday it would have been easier to write my faith; today a bit more strained. Why? Because today I am weak in body, and a compromised immune system doesn't always cooperate with faith's expression.
No matter. I keep to it, because my name is Faith Elaine, and faith doesn't shrink back in the face of difficulty. Faith forges onward. Faith presses through. Faith lives even when faith is challenged. Faith speaks even when the taunts of the enemy seek to keep her silent. Thus, a word or two from my heart this morning—a thought, really, that has been marinating in my soul over these past couple of months since I first received my diagnosis on August 23rd.
Cancer gives back.
An odd thought really, maybe even an offensive one to some, especially for those of you who are currently carrying a tremendous grief because of the price that cancer has exacted on your hearts. If that is you, then I want you to know that I write this with tenderness and from my own personal perspective—my own way of choosing to live with my diagnosis, come what may.
Cancer is an ugly beast; so is any disease that has "entered" into our flesh in order to eat away at what is good in hopes of replacing it with everything bad. Cancer is a formidable foe, one that must be taken seriously and contended with ferociously. Believe me when I tell you that I have my boots strapped on and my weapons at the ready for the next battle that looms on the horizon. That being said, I've also made a choice to embrace the fullness of that battle. To receive its merits, along with its costs.
Every battle has its merits, for with the struggle comes further clarity about who we are, what we're made of; Whose we are, what He's made of. When called to battle, we are called to more than weaponry and strategy. We are called to completion—a though and through kind of process that allows us our sacred shaping and molding at every point along the way. Knowing this, and in the spirit of James 1:2-4, I made a deliberate decision on that first day of hearing my diagnosis:
I will look for the blessings of my cancer. Thus far, what cancer has given back to me has far exceeded what it has taken from me. What is has taken from me is a pound or two from my flesh… literally.
So what.
From the moment I made entry into this world, I began my exit therein. My life is a mere vapor, and I'm currently living on borrowed time—God's time. So are you. This doesn't mean we get wrapped up in the morbidity of it all; it simply means that we concede our life journeys to the time table of the One who knit us together in our mothers' wombs, who steps the road with us along the way and as we go, and who will walk us home in due time.
Our steps belong to our Father, and if my cancer is going to be of any benefit to me on this odyssey of faith that I'm traveling, then I must be willing to receive its merits as well as its detractors. I will not stay hung up in the pain. Instead, I make a deliberate choice to be suspended in the promise of what it can do for me instead of what it longs to take from me.
One of the richest ways my cancer has given back to me is being the recipient of sacred intercession—the earnest and fervent prayers of the saints. Unless you've stood on the receiving end of such a gift, it's hard to explain. I will tell you this… the daily peace I know and feel in my heart has a direct connection to the prayers that are being offered on my behalf. They have been genuine, heartfelt, spoken, and heard by God. And while I don't know all of the stories surrounding those prayer moments, I do know the details of one. My father tells it best, so I leave you with his remembrance of a recent visit to small church in Estonia:
~~~~~~~~~~~~~~~~~~~~~~~~~~~~~~~~~~~
Over the past fifteen years, Jane and I have made eight visits to Estonia. Those incredible people have always made me feel 'at home' among them. In many ways, our faith-journey has intertwined itself with those wonderful people in spiritually formative ways. It happened again this past Monday.
One of my former students there, Viktor Batov, pastor at Aseri, invited us to worship with his congregation on Monday, at 2 p.m. It was the only time we could 'work it in' the schedule. It was cold and rainy, but the small church was about half-filled. When we arrived we could hear them singing. And I knew I was home.
There were twelve worshipers there! Twelve disciples, you might say. When I was introduced, I brought greetings to them, and then asked Jane if she would like to speak. She looked at those elderly Russian ladies and remembered how our daughter, Elaine, had mentioned her ministry with the 'ancients' (the older women at her church). Jane saw another congregation of ancients, and simply asked them to pray for our daughter, Elaine, who had been diagnosed with breast cancer.
She no sooner mentioned that, when the pastor asked, "Chuck, your daughter?" I nodded and he immediately began to weep. He stood up and said, "Let us pray right now." There was no altar to kneel at, so Viktor and I knelt, prostrating ourselves on the floor, and the praying commenced, with everybody praying aloud in Russian. We could not understand a word, but we understood full-well what was happening! Upper Rooms are like that.
These 'twelve disciples' felt our pain, knowing that we were four thousand miles away from the one we love so much! Their hearts were 'breaking' on our behalf, as they carried our daughter to God's healing mercy and grace. As I lay there on the floor, I don't recall the words of my prayer. I was weeping, trying to pray, but all that I could muster was, "God, you are in charge. Only you can fix this." And a peace that 'passes all understanding' came and confirmed that reality in my heart. God is in charge!
When the service ended, one of the 'disciples' came and gave Jane a slip of paper, torn out of her prayer journal, simply stating September 20 (the day of our service)…Thursdays at 2:30 (the time and day of week) she would be praying for Elaine. That nameless Russian believer was added to a host of names interceding for our daughter. It was like hearing, "We are all in this together, separated by thousands of miles, language, and culture; but all getting together at prayer time!" I'm so glad I'm a part of the family of God!
{by Chuck Killian, my father}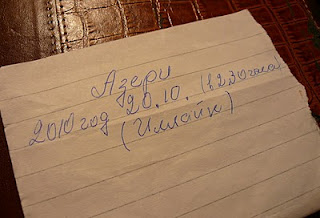 ~~~~~~~~~~~~~~~~~~~~~~~~~~~~~~~~
Thank you, friends, for your continuing prayers. Tomorrow, I will have my port placement, and chemo will begin on Tuesday. Accordingly, I'm not sure how often I will be here to visit with you. My precious friend, Juanita, will be arriving just in time to walk me through the aftermath of my first round of treatment. I count it a joy to have friends both near and far who are willing to step this path with me. Take good care of your hearts in this season; keep praying for one another, and if I can be an intercessor for you, please let me know. As always…
Peace for the journey,