"When he had finished speaking, he said to Simon, 'Put out into deep water, and let down the nets for a catch.' Simon answered, 'Master, we've worked hard al night and haven't caught anything. But because you say so, I will let down the nets.'" (Luke 5:4-5).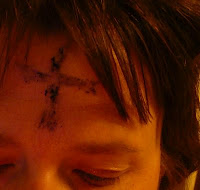 I just returned from our church's Ash Wednesday service. My husband used this passage from the Gospel of Luke as the scripture focus for his brief, albeit powerful meditation. And while I didn't intend to come "off the bench" this week with my words and my sweat accordingly, I must at least come into the midst of our huddle and offer you a thought—a word that struck me profoundly and pointedly at the moment of its hearing.
Could it be enough to simply obey the voice of the Master because he "says so?" Could his "say so" be as much as we'll ever need to warrant our "because you said so" in all our many matters? Whether it be…
To cast our nets into deep waters because he says so.
To anchor our boats in the harbor and to follow because he says so.
To walk a top the raging seas because he says so.
To be prepared in season and out with an answer because he says so.
To feed the 5000 because he says so.
To embrace the least of these because he says so.
To carry our cross because he says so.
To feed his sheep because he says so.
To wash feet because he says so.
To love because he says so.
To pray about everything because he says so.
To go into all the world because he says so.
To _______________________ simply and profoundly because he says so.

Isn't his "saying so" a worthy enough word to necessitate our awe and our immediate obedience?
It should be.
God's words via his Word are life and breath and the stuff of eternal and lasting significance. And if for some reason in this season of beginning pilgrimage to the cross where God made good on his word once and for all, if you're choosing the words of man over the words of God, then you have chosen less. You've obeyed the cravings of your sinful flesh, and your life and heart will be found wanting at the end of the day.
At the end of this life.
You will walk to the grave missing out on the deepest catch of your sacred and intended purpose, and you will forsake the overflowing grace of God's intended sacrifice that was always meant for your keeping. And to miss that, friends, all because his "saying so" isn't good enough to yield our "doing so," is to miss everything.
Let it not be so my fellow pilgrims. Instead, let us willingly concede our wills, our wants and our words, to the One whose word never fails, is always true, and is guaranteed to lead us home into safe harbor where the unseen faith and trust of our "now" gives way to the sights and the splendor of our "next."
It's enough for me; I pray it enough for you.
Thanks for the huddle time, my good and kind readers. May God be with each one of you as you take up your cross this Lenten season and carry it all the way to Calvary. He is so worthy of the climb. As always,