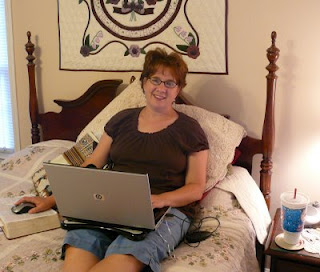 The next post.
This is it … the one following the last one. I sometimes wonder when the next post will be the last post. I'm not there yet, but I sometimes wonder. After 220 posts, is there really anything left to say?
A year and a half's worth of ramblings has chronicled a full cycle of family birthdays, anniversaries, holidays, and vacations. Does any one really need to hear about that stuff again? While it's all very important to me, I'm not sure it's important to you.
I've divulged most of my "junk" … at least the stuff that's worthy of print and remains reader appropriate. Recipes, fashion trends, and scrap booking aren't my thing, although I very much appreciate those of you who make them all a worthy pause in my day. Sex really isn't my writing forte nor an area of personal expertise; I'll leave that up to the girls over at Adding Zest in your Nest. And parenting? Well, while I've done it for over twenty years, I don't claim the market on the best technique. I simply parent as I go, and in the last eighteen months, I've found a nugget or two to share with you because of that "going".
Thus, it seems to me the ground has been mostly covered here. What's left? What more could be written that hasn't yet been said? What might this next post be beyond the fact that it's the "next post"? I struggle with this every time the obligatory 2-3 day post-interval cycles around and asks me for my thoughts.
Some of you don't. Some of you are compelled to keep the ink flowing and do so in beautiful measure. But as for me, I struggle. Not because I don't want to be here, but because when I am here, I want to say something worth saying. Some words that leave you thinking. Not thinking just about anything, but words that leave you thinking about God. This has always been the purpose behind "peace for the journey"—to pause from the everyday ordinary in order to partake of our extraordinary God.
Yesterday, I listened to an on-line seminar hosted by Sheila Wray Gregoire on How to Launch a Speaking Ministry (the best $10 I've spent in a long time and well worth the hour investment for anyone with a heart stirred along these lines). In her talk Shelia lays out some initial, foundational principles about how to shape and hone a "signature talk", one that directly pertains to our own personal story. We all have one; yours isn't mine and mine will never perfectly fit into yours. God created each one of us with a story in mind. You are the one best equipped to write its witness.
Sheila also drove home the point that "speaking" isn't necessarily the same thing as "teaching" or "preaching." According to Shelia, the goal of a good speaker is "to bring other people to a place where they are open to hearing God's voice." And while she was referring to a speaking ministry, I would echo the same for my writing ministry; as for that matter, my life's work!
To bring others … to bring you … to the place where you are open to the possibility of hearing God's voice … of knowing God more. If I'm about anything, I'm about knowing my God more. Why? Because knowing God is the benchmark of a vibrant, growing faith. God places a premium on our pursuit therein.
"This is what the LORD says,
'Let not the wise man boast of his wisdom
Or the strong man boast of his strength
Or the rich man boast of his riches,
But let him who boasts boast about this:
That he understands and knows me, that I am the LORD who exercises kindness, justice and righteousness on earth, for in these I delight,' declares the LORD.'" (Jeremiah 9:23-24).
A life verse, I suppose. At least one that has gripped my heart for these past few years. Knowing God and boasting in that knowing is the only worthy pursuit of my heart. Wisdom, strength, and riches are fleeting. But knowing the LORD in rich, intimate measure is the well-spring of my journey. To know God, I must be with God. And one of the best ways I've found to be with God is to spend time with him and his written Word—his everlasting witness to his everlasting presence.
As long as I'm there, hunkered down somewhere in between a Genesis' beginning and a Revelation's end, I'll always find a reason to be here. I won't have to wonder where the "next post" will come from or if it will be a worthy read. Boasting in the Lord is always a worthy use of my words. It may not make me the most popular blogger in cyberspace, but it keeps my Father's attention. In the end, what's more important? Man's applause or God's attention?
I choose the latter every time because I understand that it is the Latter who holds the keys to my forever and who'll be waiting for me when my race has finished its course.
The next post.
If the Lord allows me a few more days, it's coming, and if you'd like to join me in the journey, you'll find me, along with Jesus, walking Solomon's Colonnade—a story found in John 10. I invite you to take some time to read its substance prior to my next post. I've been there recently, and because of my obedience along those lines, I know my God more today than I did yesterday. I want the same for you.
Wherever you are this night, whatever tugs at your heart and pulls at your emotions, whatever plans you have for this week or whatever struggles await your fretting in the days to come, there is peace to be found in your journey. His name is Jesus, and if you're willing, he's more than willing to be known by you, to be loved by you, and to be worshipped by you.
That, friends, is the next post worth writing. Write him well; with God's help, I will endeavor to do the same. I'll be back with you on Tuesday to get the party started at the Feast of Dedication; Jesus is there, and wherever he is, a party is sure to follow. At least it should.
As always,