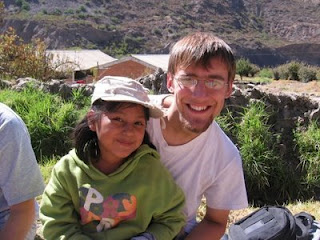 Hey Blogland! Instead of getting Elaine's daily dose of "Peace for the Journey," I'm afraid today's entry comes from her 20-year-old son, Nick. I know, I know…in no way can I match my mom's conciseness, clarity, and writing panache, but I'll give it my best shot (And I won't hold it against you if you stop reading now and check out someone else's blog…)
I recently returned from a 10-day mission trip to the South American nation of Bolivia. Twelve of us went through an organization named Curamericas and were led by a bilingual 22-year-old volunteer named Andrew Herrera. A majority of our time in Bolivia was spent in the village of Tacachia, nestled cozily in the Andes Mountains about 35 miles from the capital city of La Paz. We worked at the Kory Wawanaca Children's Home, an orphanage with 18 children and several staff members. I had the unique privilege of having this be a "return" trip to Bolivia, as I went last year with a group from our church.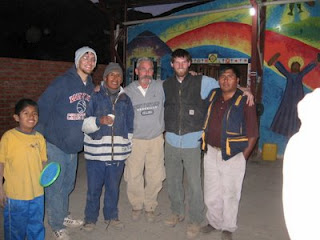 Our team of twelve set out on a Tuesday at 3 p.m. with plans calling for us to arrive in La Paz the next day at 6:00 a.m. It seems that nothing ever goes according to plan, though. We missed a connection flight in Miami and then had to change our plans on the fly in Miami. As an occasionally hotheaded 20-year-old, I grew frustrated and impatient very quickly, and worried a lot about our new travel plans. Long story short, we did some South American globetrotting the next day and went through Venezuela, Peru, and finally reached La Paz at 12:45 a.m. on Thursday morning after 35 straight hours of travel (that's the southern tip of the U.S., the northern tip of South America, the western tip of South America, and the highest capital city in the world for those of you keeping track…not too bad, eh?).
Already God had taught me a basic lesson in Christian living: I had to trust Him, and realize that everything was in His hands.
Exodus 33: 12-18
Moses said to the Lord, "You have been telling me, 'Lead these people,' but you have not let me know whom you will send with me. You have said, 'I know you by name and you have found favor with me.' If you are pleased with me, teach me your ways so I may know you and continue to find favor with you. Remember that this nation is your people.
The Lord replied, "My presence will go with you, and I will give you rest."
Then Moses said to him, "If your presence does not go with us, do not send us up from here. How will anyone know that you are pleased with me and with your people unless you go with us? What else will distinguish me and your people from all the other people on the face of the earth?"
And the Lord said to Moses, "I will do the very thing you have asked, because I am pleased with you and I know you by name."
Then Moses said, "Now show me your glory."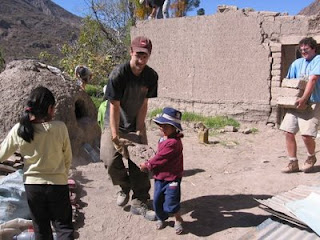 In the days leading up to our trip, this passage from Exodus was a daily prayer and inspiration for me. Countless times during our trip, it would come to mind as a source of comfort. I always ended my prayers by echoing Moses, "Now show me your glory."
There were two definitive moments when I witnessed the glory of God in Tacachia—two "passing-by" moments. Sure, the entire experience was glorious, but two were the kind of glory that I'm sure Moses witnessed there on Sinai with the Lord. These two have seared themselves into my memory and will not soon be forgotten.
The first came during a Sunday lunch at the orphanage. 10-year-old Roy, who was an avid chess player, had brought his set out and was looking for an American to play against. He had already done battle with Frank Ferrell, an adult on our team, earlier in the week; Frank had been victorious, but not without some difficulty. By the grace of God, I knew enough Spanish to help set up the first contest between the two; neither was very knowledgeable of the other's language.
I was able to then witness the rematch on Sunday, sitting next to Roy and being able to translate somewhat for both parties. The match was a tight and silent one, with both players extremely focused on the task at hand. With a pair of brilliant moves, however, Roy was able to checkmate Frank and claim victory. Here were two people (completely polar opposities) from different age groups, neither speaking the other's language who were bound only by a common knowledge and love for the game. Sensing Roy's excitement, I leaned over to Frank and said, "tell him 'buen hecho'" (Good job, well done…). Frank tapped Roy, who was walking away, on the shoulder and said, "Roy…Buen hecho."
And as he walked away, the grin that exploded across Roy's face was, without a doubt, the most vivid and radiant smile I have ever seen.
The second "passing-by" moment came at our departure from the orphanage, a morning that was one of the most difficult mornings I have ever experienced. My week of getting to know the 18 kids at the orphanage was over; I bonded with all of them, but to a higher degree with some. I enjoyed a special bond with 13-year-old Miguel, in part because I saw so much of myself in him. He, like me, was the oldest of four siblings, had an avid interest in athletics, and a penchant for sarcasm at times. We talked one night about how much I enjoyed being at the orphanage and getting to know Miguel and his family. The most enduring image I will take from Tacachia, and the one that tells me that God worked through us in this trip occurred during our tearful goodbyes (there were some tears, and some floods).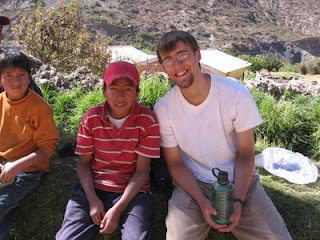 My last goodbyes were Miguel and Roy, who were standing around the monkeybars. I told them I really enjoyed meeting them and would miss them. Roy asked if I was going to return with such a pleading look on his face, and I said I hoped that I would. Miguel was silent as his and Roy's eyes began to fill with tears. I looked in Miguel's eyes and said, "Somos hermanos. Dios te bendiga" (We are brothers. God bless you.). We got in the cars and pulled out, but not without me taking one last glance at Miguel and Roy, still standing next to the monkeybars with their heads down; spasms of heartache at telling these kids goodbye have bothered me ever since.
For the days leading up to and during the trip I, like Moses, had been pleading with God in my prayers, "If your presence does not go with us, do not send us up from here. How will anyone know that you are pleased with me and with your people unless you go with us? What else will distinguish me and your people from all the other people on the face of the earth?"
Only the presence of God can bring out those two images. Only the presence of God can help one overcome language and altitude and attitude barriers to serve Him. Only with the presence of God can we, like Moses, witness the glory of God.
I truly feel at home in Tacachia, and hope to return there again next year to further strengthen the bonds I've formed this year, as well as to cultivate new ones. This trip, as is most often the case, stands as proof that yes, God worked THROUGH me. But he worked so much more IN me, and for that I am eternally grateful.
In the days since returning from the orphanage, Relient K's song "I'm Taking You with Me" has been running through my head. My heartfelt pledge since returning to the United States is found in these lyrics:
"If home is where the heart is then my home is where you are;
But it's getting oh so hard to spend these days without my heart.
So I'm taking you with me anywhere that I
Could ever wanna be for the rest of my life.
I want you there with me, and If there ever comes a time
When I should have to leave, I hope you know that I,
I'm taking you with me."

So may you, blog readers, go with the presence of God, may you witness His glory, and may you take Him with you wherever you go.
Paz para el viaje (peace for the journey)
~ Nick
PS: Elaine here… just checking in and wanting to add my own postscript to Nick's thoughts via a song that he introduced to me last year at this time, after his return from Bolivia. Brandon Heath's "Give Me Your Eyes." Thanks, Nick, for opening up your eyes and heart to the hurting–God's children in Bolivia. I love you.

You might also like: