I am reminded of something this morning… something so small that if not carefully looking for that something, it is easily missed. Something so seemingly routine and mundane. Something we usually take for granted.
Footprints.
Ours and others.
Every one of us is leaving an indelible impression upon the ground beneath our feet. Some of those impressions but a whisper—unobtrusive and gentle.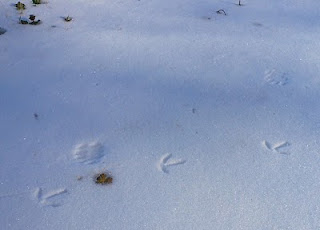 Some a bit louder and more invasive.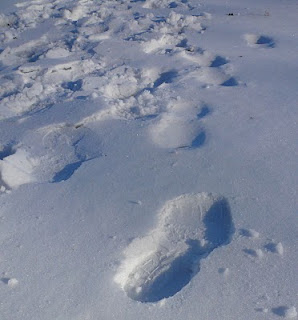 Regardless of the size and scope of out imprints, we cannot escape the fact that they are ours to walk… to share, to leave. To say that we've been here, that our lives have touched the parcel of ground beneath our feet. Our footprints stand as a witness (both for us and against us) as to how we've invested our energies on planet earth.
And while others may not be paying close attention to the paths we are marking, there is One who is well aware of our tracks. He sees them from above. He walks them with us as we go. Whatever the soil beneath our feet, we carry the unshakeable kingdom of God with us. We are the fleshy temple of his eternal pulse.
When we get that, when we begin to see our footprints as something other than ours, then we begin to walk more carefully, more intentionally, more fully aware of just exactly how important our lives are to live each and every day.
Today, my footprints land me in close proximity to my front door. Another snow day has claimed my "to do list", and I won't lie to you. I'm not thrilled about it. I need my children to be in school today. But they're not. They're here with me and already beginning to wonder if I have plans to walk in their direction at some point. They are the kingdom soil beneath my feet in this moment, and I am praying for the grace and the patience to tread lightly and tenderly to their need so that they can better understand the love and grace of God that has been assigned to them via my flesh. So that they can follow my lead and begin to leave their personal footprints on a world that desperately needs the witness of God's love and grace via their flesh.
Footprints.
Something to think about.
Where are yours walking? What impression are they leaving?
Currently, my feet are headed to the kitchen to look for batteries. Miss Amelia's "air hog" is out of juice. Jadon is standing bedside with a newly assorted collection of baseball cards ready for my perusal. I'm not sure how my acquiescing to Amelia's urgent need for batteries or looking at Jadon's baseball cards will point them to Jesus, but I'm fairly certain that the way in which I respond to their "immediate" will speak a witness all its own.
How desperate I am for more of Jesus in me in this very moment! Now. He is my immediate need so that I can better respond to theirs.
May God grant us, each one, more of his wisdom, his love, his kindness, and his grace so that we might leave some lasting, kingdom footprints upon the lives of those who sit under our influence in the next twenty-four hours. I'll see you on the other side of our snow day, friends. As always…
peace for the journey,

You might also like: