"The Lord appeared to Abraham near the great tree of Mamre while he was sitting at the entrance to his tent in the heat of the day." (Genesis 18:1).

This day, I invite you to sacred participation—an opportunity for you to come alongside your God and partake of a privilege given to you as a believer in Christ. It is privilege that, unfortunately, is often forsaken for the need of the immediate. Making time to absorb God's Word into your very core is a pursuit of intention. The seeds of his truth will never embed within a soul's soil without some cultivation. And so, this week, I want to dig, to plant, and then to water some of the seeds of Genesis 18:1-14 into my soil and to allow you the opportunity for the same. Thus, the invitation to sacred participation is open. Come and feast on God's Word.
Take a moment now to read Genesis 18:1-14, out loud if possible, and posture your hearts to receive.

Posturing the heart to receive the promise of God is today's focus.
For nearly twenty-five years Abraham had been wandering in the land of Promise…waiting for God to make good on his word. A word that had earlier promised him a night-sky filled with the lineage of descendants. So far? Only one star. A boy named Ishmael, birthed through the plans of man rather than through the promise of God.
Abraham believed God…believed that somehow all things would work out for a good and perfect end. But at this particular moment…on this particular day…in this particular season of aged living, Abraham did, what I imagine that he did on most days as he wandered within the heated boundaries of promise. He waited beneath the shade of tree. And thus begins the "posture" of an expectant heart.
An expectant heart…waits. (Genesis 18:1). Abraham's heart waited under the great oak trees of Mamre…a word in the Hebrew language meaning "strength or fatness." He picked the right location in which to do his waiting…a place of rest and shelter from the heat of the desert. Can I say the same? Most days, my "pausing" for the promises of God is couched within the heated sands of my current chaos, as I offer up my quick prayers amidst an even quicker pace. Rather than finding my rest beneath the strength of a shade tree, I posture my heart for a quick fix beneath the heat of a sun that blinds and blisters and bleeds a soul dry.
And so I say…teach me, father Abraham.

An expectant heart…asks. (Genesis 18:2-3). Abraham, upon noticing his visitors' approach, invited his visitors to remain. "He said, 'If I have found favor in your eyes, my lord, do not pass your servant by.'" Scripture gives no indication that Abraham was immediately aware of God's identity, but Abraham was quick to realize that a visit from a "stranger" held more excitement for him than the usual of his routine. And so he asked for God to pause and to find his rest beneath his tent.
And so I say…teach me, father Abraham.

An expectant heart…attends. (Genesis 18:4-8). Abraham made ready for his guests. He monitored the surroundings in order to create an environment of sacred fellowship. It was his custom to feed and to water his guests from the abundance of the land. He brought his best as an offering of his heart. No left-overs for God. No "less than" laid before the feet of his Father. Abraham attended this particular visitation with selective and choice provision. He did what he needed to do to make sure that his guests felt welcomed.
And so I say…teach me, father Abraham.

An expectant heart…lingers. (Genesis 18:8). Abraham lingered with his guests. He did not rush a visitation. He allowed them their rest within his tent while he stood in close proximity. When God, by sacred invitation, comes to our tent…when God finds his rest within our hearts and through our attending…we would be wise to linger within earshot. The closer we get to him…the clearer his voice. And when God speaks, I don't want miss his words because of my distant lingering. I want to press my ear to his lips and feel the breath of promise as he breathes it over my frame.
And so I say…teach me, father Abraham.

An expectant heart…receives. (Genesis 18:10, 14). Abraham listened as God, once again, spoke promise over his and Sarah's life. God reminded him of a night sky and of the stars that would illuminate its darkness. A star that, in accordance with his perfect timing, would make an appearance in a year's time. Abraham received the words. So did Sarah…sort of. Her laughter spoke the witness of her receptive heart, but that is another story for another day. Regardless of their response…both received God's promise. A spoken promise that visited their tent because their lives were postured with expectation.
And so I say…teach me, father Abraham.
The posture of an expectant heart is a heart that…
Waits. Asks. Attends. Lingers. Receives.

So often we miss the visitation of God because we neglect to posture our lives with sacred expectancy. Expectations frame our forever, and when expectation is couched in "less than" limitations, then promise is never tasted as God meant for it to be tasted. Not only tasted…but absorbed down deep into the marrow of our want…to the birthplace of our dreams, our hopes, and our sacred possibilities.
God means for our lives to breath with promise, and so this day, I pray…
Come to my tent, Lord. Today I wait for your arrival. I ask for your presence. I attend to our time by offering you the best portion of my heart. I linger close to hear your voice. I bow ready to receive your promise into my life. You have taught me through the witness of Abraham. Thank you, Father, for your words of covenant that breathe true and that call me to shine as a starry witness to their current and sure fulfillment. Amen.

Feel free to share your thoughts about the "posture of an expectant heart" by clicking on the word "comments" below. If you don't have a blogger account, you can add your comments as an "anonymous" contributor.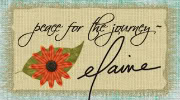 (allrightsreseved, elaineolsen, April – 2008)