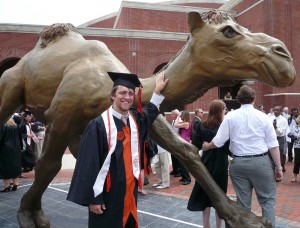 "One must not only believe in miracles, one must rely on them."
So says Dr. Barbara Walker, commencement speaker at my eldest son's college graduation this past Saturday.
It was a beautiful day; one of the best days of my life. Over the past twenty-two years, I've often wondered if we'd make it here—to this one moment in time where ABC's, 1-2-3's, and 16 years plus of learning would culminate into rhythmic chorus to "sing" to me this mothering refrain that I shall never forget. The depth and witness of this memory has seared into my soul and birthed in me a fresh perspective about my remaining days, mothering days and otherwise.
One must not only believe in miracles, one must rely on them.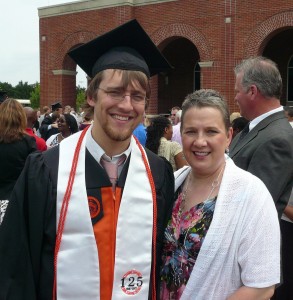 Where would we be without the daily, miraculous intervention of our God? Miracles come to us, most days without our ever acknowledging their worthiness. Certainly the big ones get the press—miracles of physical healing, relationships restored, prodigals returning home, financial blessing prayerfully sought after and received. But is that it? Are miracles limited to sacred flashes of light and bold strokes of God's heavenly paintbrush? Can miracles birth outside the limelight of the spectacular and yet still hold the potent witness of the Divine?
Yes, I think that it is in these lesser staged moments when our reliance upon miracles bares its witness most profoundly. Our everyday living serves as the backdrop for some of the most weighty miracles ever given to us as God's children. We may not recognize them as miraculous when then arrive on the scenes of our lives, but they are holy relevant and deserve a moment of prayerful, thankful, and humble recognition of the One from whom all miracles initiate. Accordingly, I take a few moments today to give praise for the miracle I witnessed over the weekend.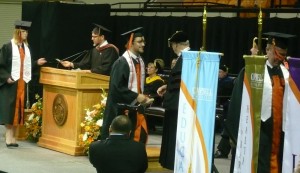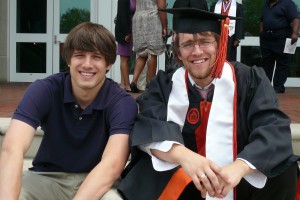 Some of you might not think that a child graduating from college is any kind of a miracle. I might agree with you if I wasn't the parent who had lived out these last twenty-two years with my boy. But what would you say about this?
What about a child graduating from college whose parents are both cancer survivors? A boy whose father's initial prognosis nine years ago didn't grant him much hope beyond two years? A boy whose mother heard the devastating news that both of her breasts would be removed because cancer had taken up residency within her body? A boy who, at age five, navigated the critical, stinging pain of his parent's divorce and who has, in recent days, navigated the pain of their life-threatening illnesses? A boy who's changed addresses nine times in twenty-two years and who changed schools eight times before graduating from high school? A boy whose anger at an early age had his mother wondering if he'd ever cycle around to kindness? A boy whose strong willfulness would have James Dobson writing a second book on the matter? A boy who had to adjust to a step-dad… to live by his rules and to learn by his love? A boy whose bent toward perfection might have crippled his growth? A boy whose introversion might have kept him behind closed doors?
What would you say about him, especially if you knew him now?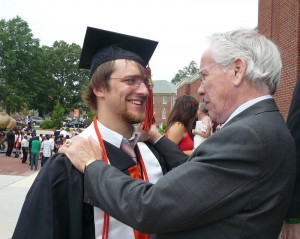 No longer a boy, but a man named Nick. A man who, now, has cycled around to immense kindness. A man whose anger has turned into humility. A man whose will is tempered by his Father's. A man who moves outside his introversion to skillfully function in an extroverted world. A man who is willing to live with one "B" on his transcript despite the "A's" that surround it. A man who lives, loves, and laughs with all of his parents—biological and step. A man who honors his father and mother, his grandparents, and who actively invests his energies into the shaping of his younger brother and sister. A man who loves the Lord, serves the Lord, and wants nothing more than to be a man after God's own heart.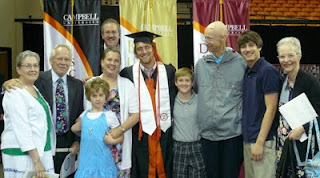 Would you call that a miracle? Would you say that, despite all odds, his daily reliance upon God has given him a miracle? That his mother's daily reliance has given her one as well?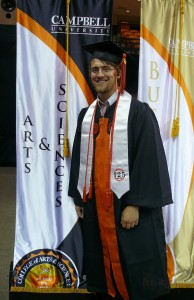 I would say so. I do say so. I've relied upon the miraculous, keeping, daily grace of God over these past twenty-two years, and my heart tells me that I've just witnessed one of the greatest miracles I will ever know as a human being—
the miracle of growing a boy into a man.
There were days and seasons when I didn't fully believe it would happen; but always did I rely on the greater heart and hands of God to get us here.
One must not only believe in miracles, one must rely on them.
How is your reliance in miracles living this day? I pray that the witness and abiding treasure of my recent miracle will be more than enough to buoy you along in your belief. Rely on God with your everyday understanding and trust him for the outcome.
This one really blew me away!
Congratulations, son. I love you.
As always…
Peace for the journey,
Mom, aka ~elaine