"Meanwhile we groan, longing to be clothed with our heavenly dwelling, because when we are clothed, we will not be found naked. For while we are in this tent, we groan and are burdened because we do not wish to be unclothed but to be clothed with our heavenly dwelling, so that what is mortal may be swallowed up by life." (2 Corinthians 5:24).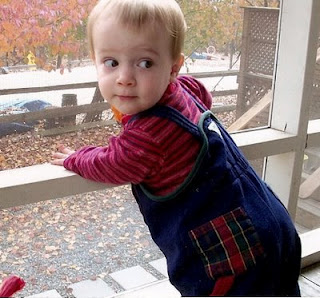 November 2001
He didn't deserve my stern rebuke. He deserved something, but not the severity of my harsh response. What I should have offered him was some grace amidst a teachable moment. What he received, instead, was a portion of judgment leveled at a heart too tender for the verdict … too innocent for the label.
Why?
Because my nakedness refused God's dressing. Because my flesh is still so very much in tact.
I don't recall the specifics of that occasion. I only remember a few words that quickly seared their way into my heart and forced me to my knees in humble apology. It is a message I carry with me, even some three years down the road. Not because I delight in the boast of my sin but rather because I want the lesson from it for always. A lesson intended for my growth; not only as a parent, but as a keeper of God's truth.
Jadon, young in years and full with a "me first" mentality, was wearing on my already thinned nerves. Me, older in years and still so often filled with a "me first" mentality, responded to his continual fussing by sending him to his room. It must have been a hard send because his response to me was a soft and sorrowful obedience.
With tears rolling down his cheeks as he surrendered to the upstairs climb, he simply turned around for a final glance and spoke these precious words of conviction over my soul:
"Mommy, God sent you here to be our lover."
I don't know if it was the tears or his gentle way of his administering God's truth to me, but regardless of the emotional mixing, his words cut deep and immediately shrouded my heart in heavy conviction.
Guilty as charged, son. Naked and exposed, yet again.
I've never forgotten that moment. I think my Father would have it remain firmly entrenched in memory. He used my sin and my son's broken spirit to teach me a valuable and consecrated lesson about human life and about the responsibility that I bear in loving each one toward his kingdom end. An end that is best served…
through love rather than shame.
through grace rather than judgment.
through mercy rather than punishment.
through selfless rather than selfish.

Oh, the groanings of my flesh! I am naked in my want for the righteous clothing of my God. He's been dressing me for over forty years now, and still there are moments of raw and real exposure that are mirrored in my body. I am housed within a tent that isn't well pegged to the ground and that blows wide and open at the whim of a temporal wind.
My life of faith is a literal peep show for the world to observe, and quite honestly, I'm not sure if anyone is coming back for a second look. I'm not sure I want them too. When I can't love with grace and mercy and selfless intent, I can't expect a good review. From the world. From my own family. And most importantly, from the perfect Lover of my soul—the God who created my frame with an eternal cloaking in mind.
A dressing that does not include my fleshy imperfections, but rather a perfection that will swallow up the old with the life-giving breath of heaven's new. Until then, I groan all the more because I know that what awaits me on the other side of this pilgrimage unto death, is a life fully clothed with the righteousness of my salvation.
Flesh living is painful living. There are no short cuts to perfection. God uses the lives of other pilgrims toward that end. The groans of our sacred shaping may come to us through a stranger, a friend, a co-worker, a parent, a spouse, and some days…through the tears and honest words of a child.
God did indeed put me on this earth to be a lover of my children. Period. No matter their wrongs. No matter their mess. No matter their pursuits toward self-interest. I am the one who has been given the sacred privilege of loving them to adulthood. I don't always do it right, but I always do it real. As it comes, even when God turns the table and allows my young son the sacred privilege of loving me into my adulthood.
If faith is to be raised in this generation, then our nakedness must be embraced—even when it's humbling and especially when it exposes the truth of a neglected imperfection.

Perhaps this day, you know the groanings of a "yet to be finished" cloaking. I understand, for I am woman who shares your exposure. All of us, every last one of us, are as naked before God and before one another. We might mask it well in the temporary, but as you and I stand before our Father, there is nothing hidden from his view. No portion of our flesh that he cannot see. This truth, alone, is worthy of a few painful utterings.
The greater truth? God sent his Son to be the Lover of our souls. And with Jesus, there is always grace. There is always mercy. And there is always a love rooted in the selfless sacrifice of Calvary's cross. It is more than enough to lead us all home to our heavenly dwelling where the mortal will, once and for all, be swallowed up by the eternal life that is ours through Jesus Christ our Lord. Thus I pray,
Thank you for loving us perfectly, Father. For sending your Son to his own cloaking of flesh that has enabled us to one day drop this tent in trade for another—an eternal dressing worthy of the streets of gold. Thank you, also, for the sacred shaping that comes to us through our exposure. Give us the grace and the wisdom to receive our teaching, even when it comes to us through a child and forces us to our knees in humble confession. Today, we groan in holy expectation for what is promised to us in our tomorrow. Come quickly, Lord. Even so come. Amen.
Copyright © October 2008 – Elaine Olsen. All rights reserved.