"By faith he made his home in the promised land like a stranger in a foreign country; he lived in tents, as did Isaac and Jacob, who were heirs with him of the same promise. For he was looking forward to the city with foundations, whose architect and builder is God." (Hebrews 11:9-10).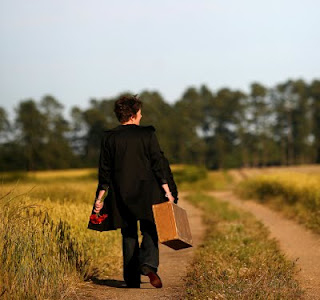 I've been thinking about home this morning; not this one, the one where I currently lay my head at night, but that one … the one I'm headed toward.
In many ways, I'm already there. My heart resides with God. The older I get, the stronger my clarification in the matter that this life is but a walk-thru and, accordingly, about my need to keep the tent pegs pliable—moveable and sitting on "go" for the road up ahead.
I cannot see far down the path, but I can see enough to know that there is coming a day when I will sit with Father God, look back over all of this mess I've called my life, and label it done. Completed. Perfected and well-lived. In this immediate season of my crazy mixed-up life, I can't imagine that moment of final clarity, but I can trust God to make all of my "current" count toward a better good, a greater plan, his kingdom gain.
I want to be on the move with God; not mired down in the frailty of my flesh which is content on keeping me comfortable. I want a heart and life that boasts the faith of a pilgrim journey—a stepping forth and stepping on so as to keep in step with a forward God. Sure, I've got a past that follows me and therefore invites me to an occasional backward glance, but the closer I get to home, the lesser my desire for an over-the-shoulder, looking-behind lingering.
I'm not into "stalled" living, friends. There was a time when I found some immediate gratification in my compliance to stay stuck, but not anymore. Perhaps age has something to do with it; statistics say I'm at the half-way point of my pilgrimage—my journey home that began 43 years ago. I'm not one to put a lot of weight into statistics; I've witnessed the fragility of life first-hand, and I no longer hold any assumptions in the matter.
The measure of time I've been granted on this earth matters little to me. What matters the most is that I walk my time forward, with God and with few possessions to weigh me down. Like the ancients of old, I want to live with the perspective that no matter how good things look here … feel here … seem here, things are going to be better there. Thus, I keep my bags packed, my boots on, and the tent pegs of my heart loosened for the next time when God says "move".
In many ways, I'm hearing his summons along these lines. One or two big "moves"; a multitude of smaller "moves", but all "moves" intended to keep me on the move with God's plans for my life. One of the minor forward "moves" was making some changes to my blog. I resisted the "move"; I'm not one for change along these lines.
When I began blogging eighteen months ago, I had no inclination of moving past a few posts to whet my appetite. I quickly came to the realization that blogging (at least for me) was more than a casual journey into cyberland. Blogging has become the venue for me to creatively express the thoughts of my heart. Accordingly, I don't take my "canvas" lightly. If I'm going to "paint" my heart, I want the brushstrokes to land in a beautiful place—a home that reflects the penchant of my longing.
For a while now, I've quietly sat on the sidelines, admiring George & Ashley's work at tekeme.com. Believe me when I tell you that I've "searched" long and wide for just the right designers. Many of them weren't a good "fit" for me because I'm a bit of a "designer" myself, therefore not easily pleased. But there was something unique about the Weis' work. Something that clicked with me and allowed me the freedom to trust them with my canvas. Together, we talked and worked and shuffled around some ideas until we came up with this… a new look for peace for the journey.
The message will remain the same. Peace never loses its cutting edge. The author? Well, I'd love a make-over of my own, but alas it's still the same elaine you've come to know. The canvas, however, is fresh and marks the beginning of a new chapter in my journey of faith. A faith that is pushing me forward and pulling me ever closer to the place of God's intention.
Home.
My suitcase is well tagged, don't you think? (Thanks, George, for thinking of it; I didn't really catch the magnitude/analogy of it all until I saw the final product.)
The prayer of my heart for the future worth of this canvas exceeds the money spent on a new design. God will determine the worth in the end, both of my words and my heart. How I pray to always be found on the road with him, moving forward and with the Great Commission as my guiding strength.
Thank you for indulging my thoughts this day. If it wasn't for you, my faithful readers, my words read in isolation. C.S. Lewis once said, "We read to know we're not alone." By you being here, and by my being there … with you at your cyber address … we share in the great fellowship of believers realizing that, in fact, the road home is crowded with kindred pilgrims. Let's continue the walk with our Lord and with one another. What a privilege to carry my suitcase alongside all of you! As always…
peace for the journey,
PS: Please take the time to visit George & Ashley over at their website, tekeme.com. They do beautiful work and have the servants' hearts to go with! They are "come alongside you" kind of folk–two people who are content to work behind to scenes to bring about positive changes and progress for God's kingdom gain. I am the better person for having had our paths cross at this season in my journey. Thanks, again, Weis family, for your integrity in the process and for allowing God to hold the pen of your creativity. Blessings and then some…
PSS: Some of you have let me know that you aren't able to clearly "see" all the elements in your web browser. Ashley has sent me this link for you to update your Internet Explorer. She thinks this is where the problem lies: click here. Hope this helps.