I had the privilege this evening of praying with a friend. The focus of our prayer? Our children – hers grown, mine half-grown. Or so it seems. Does the growth factor really ever come to an end? Does our growing up have an expiration date? I don't think so. In that sense, we're not so unlike our children. We, ourselves, are just big kids, a few steps ahead of the pack coming up behind us.
I've been a parent for the past twenty-six years – over half my life. I'm still at it with two children under my roof. In these almost three decades of doing mothering, I'm not sure anything about parenting has gotten easier. I'm certainly a calmer person today than I was twenty-six years ago. Years of living and growing beneath the shadowing wings of grace have afforded me this gift. Even so, I suppose there are times now when my parenting (as a job) has grown stale; day-old parenting as well as day-old bread isn't as tasty as a loaf fresh from the oven.
This is why I'm thankful for my friend, Joanne Kraft's, recently released book The Mean Mom's Guide to Raising Great Kids. I didn't secure my copy thinking I had a whole lot of new mothering tips to learn; instead, I knew I would learn something further. I would have the opportunity to lean in and to listen to my friend's heart. I trust her heart, and anytime you and I pull up a chair alongside a heart we can trust, we learn. We expand. We grow … up and beyond and further into the person God has ordained us to be.
Joanne's book reignited something inside of me – a push of sorts to be more engaged in these final years of parenting the two children beneath my roof. The Mean Mom's Guide to Raising Great Kids is not about getting your "mean" on. Instead, it is a grace-filled invitation to invest in the everyday worlds of our children and to say, "I'm here. I care. We're in this together, and by God's grace, I'm going to help you walk these next steps successfully." Mean moms don't leave the parenting to others. Mean moms fight hard for the hearts and futures of their children. I, for one, needed a reminder along these lines.
Did you know that Mean Moms …
• Walk by faith
• Put Marriage First
• Pray
• Model Honor
• Don't Take Sides
• Make'em Work
• Use Their Words
• Say No to TV
• Slay Goliath
• Don't Speak the Language of Busy
• Mean Business
• Embrace Failure
• Rule Technology
• Talk Purity
• Drag Kids to Church
• Eradicate Entitlement
• Friend Their Teens
• Focus on the Future
I didn't either. Oh sure, I've been modeling most of these behaviors for years. I just didn't know what to call myself. Thanks to Joanne, I now know. I am unequivocally a member of the Mean Mom Team. Why? Because as Joanne says in her book (pg. 18),
"I'm not raising a kid. I'm raising an adult."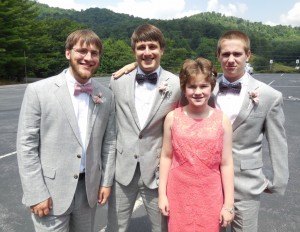 And I, for one, want to give my kids the necessary tools to become necessary adults in a society crying out for sound minds, good hearts, and godly souls. My children are my gift to the world. The grown-ups they become are a direct reflection of the intentional, mothering investments I'm willing to make now … today. Their growing up doesn't wait until I have it together. Neither does mine. Growing up, instead, happens along the way and as we go. Accordingly, I pull up a chair alongside my friend, and I pull up my heart alongside my kids. Together, we say grace around the table to our Father who gives grace and who lends his strength to our growing-up days.
I don't know if, years from now, my kids will remember me as a "mean mom." That label is irrelevant to me. What does matter to me is that I am remembered as a mother who walked their journeys with them and who, in the end, led them straight to the front porch of heaven.
Thank you, Joanne, for the permission and for the invitation to revisit my mothering heart. This is rich privilege. They (Nick, Colton, Jadon, and Amelia) are my legacy. As always …
Peace for the journey,


This contest is now over – random.org selected the winner. Congrats to Natasha Grimes!
PS: Leave a comment for an opportunity to win an official "Mean Moms" travel mug AND an autographed copy of Joanne's book. (USA addresses only.) Even if you think your parenting years are behind you or you simply need a shot of parenting adrenaline, I promise that there's something in this book for you! It's a strong encouragement for all of us.