"So then men ought to regard us as servants of Christ and as those entrusted with the secret things of God. Now it is required that those who have been given a trust must prove faithful." (1 Corinthians 4:1-2).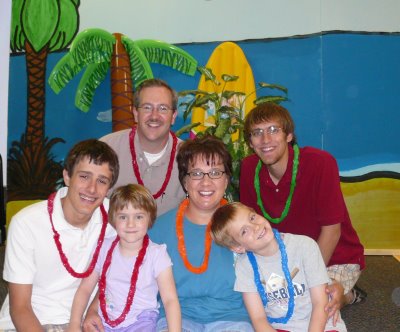 It's official. VBS 2008 has officially reached its end. I, for one, wouldn't have missed it. I tried to. Tried to find an excuse to limit my participation, but no good one could be found. Thus, I strapped on my "yes" and dug in my heels for the doing. VBS is a doing I've been doing for over thirty years. And for the past nineteen years, it is what my children have been doing also.
For all of the reasons that I loved being a part of our church's VBS this year, none was more special to me than having my entire family alongside.
My teenage sons (19 and 17) have unlimited options for their doing these days. They could have…
Hung with their friends.
Gone to the movies.
Cruised the mall for bargains.
Played the latest in XBOX.
Fed their sports' addiction via the internet or ESPN.
Found their boring at home and abroad in a variety of ways.

They could have done all of these and more, but they didn't. Instead, they spent these past five evenings at VBS, entertaining the children and adults through their limited acting abilities. They did it, in part, because they love their momma. Even more so, they did it because they love their God.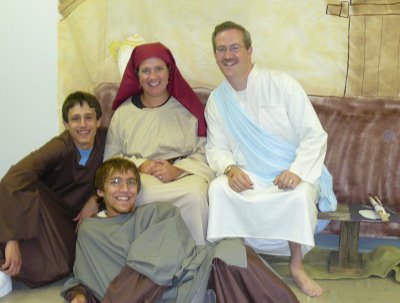 They understand that part of "doing" life with Jesus means doing it with others. A relationship with the Creator dictates a measure of relational output. A commitment to Christ is also a commitment…
To walk in community with the body of Christ.
To give back.
To shine forth.
To guard the good and sacred deposit.
To be faithful in the small and in the big.
To honor a parent's leading.
To honor a Father's grace.

My sons get it. Their faith journeys are ongoing and growing with an outward focus that exceeds selfish introspection. I don't tell you this out of a mother's pride. My flesh could easily make that leap, but in doing so, I would limit God's hand in the matter, and when it comes to the sacred shaping of a family…his hands are everything! No, I tell you this tonight because I want you to know that raising kids to love Jesus is possible. In fact, it is likely and probable when "raising the faith of family" is priority number one in the hearts and minds of those doing the shaping.
It doesn't always breathe so easy and right and perfect. Our life as a family certainly hasn't. But if there is one thing that we have consistently embraced over the years, it is our firm commitment to live in Christian community.
To be church people even when our faith was weak. To stay entrenched in the life of the church even when our hearts were committed to worldly pursuits that didn't match up. To attend services through the seemingly boring and the mundane, and to believe that, even in the "boring," kingdom business was on the table.
God didn't give us the mandate to "train up a child" with the idea that all was for naught. Raising Godly kids isn't a high stakes game of chance. No, God gave us the responsibility because he knew that our "doing" of faith would be the seeding of theirs. Sacred shaping begins in the womb. It continues over the next ten, twenty…forty years and counting! What started as a hope in my parents' hearts for my life continues to this day.
I began my life in the church. They made sure of it. It stuck. Jesus stuck. And now, forty-two years down the road, I see the process come full circle in the lives of my sons. I am so thankful for their faith, but even as I write my gratitude, I realize that…
it doesn't always stick—this life with Jesus and the free will of a heart. I understand that there are many of you who've known the pain of a prodigal child. Who've lived the life of the prodigal, and even now, your eyes sting with the hurt of confusion over the matter. The wish I'd done it different's and the what did I do wrong?'s linger as bitter lament within your souls. You've done your best, and now you fear it may be too late.
It is never too late. As long as you have breath and time and a day called today, you have the gift of kingdom influence. You have been given the sacred trust to be the light and life of Jesus Christ to a people who hunger for reconciliation with their Father. They may not yet fully understand the yearning behind their hunger, but never be fooled into thinking that it no longer exists.
It is there. A deep, unsatisfied craving and crying out for relationship. For community. For life within a body that exceeds the flesh. All of us, every last one of us, yearn to belong to something bigger than ourselves. God designed us with a pulse that beats for life together. He intended for us to live as one—one church with One, and only One in charge. And until we get there…until those whom we love get there with us…we must keep to the road of this sacred journey.
We must keep to the church and to our attachment therein. We must love the church through our prayers, our presence, our gifts and our service because, as believers in Jesus Christ, church is what we do. It's who we are. It's how we are to live, for we are the church of the first born, and our names are written on the membership rolls of heaven (Hebrews 12:22-24).
And this night, there are thousands upon thousands of angels who congregate in joyful assembly because "church" is what they do. Jesus is why they are doing it, and never is it boring. Never is it pointless, for they, unlike us, always understand that kingdom business is on the table. They know and have seen that with God, all things are possible. In fact, all things work in our high and holy favor when Jesus is added to the mix. And thus I pray…
Keep us to the things of you, Father. To your church and to your people until we all come to your throne as one. Make our commitment to the body of Christ a solid and firm foundation so that the shaking of the world leaves us rooted at your doorstep. Forgive us when we choose our preferences over the preferences of you. Let us not forsake meeting together, encouraging one another, and building up the body of Christ through our gifts and our teaching. Equip us for every good work within the community of faith, and raise our faith, along with the faith of our children, as we continue in our "doing" of church. I love your church, Lord, and I feel so privileged to have taken part in bringing your story to the stage this week. Humbly and in holy fear, I guard the sacred deposit you've given to me. Thank you for trusting me with your witness and your grace. Amen.
Copyright © August 2008 – Elaine Olsen. All rights reserved.