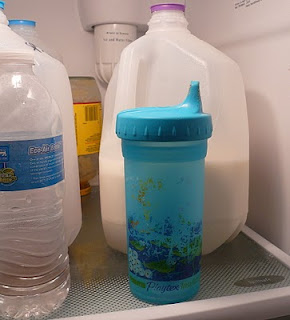 I watched her out of the corner of my eye. Tears were forming in hers. We'd just settled into our evening watch of American Idol when I noticed her sadness. The "boys" present in the room shrugged it off as insignificant. Boys are like that sometimes, not seeing past the tears to the deeper issue at work. But this momma… the girl in me… recognized her tears. I cried some similar ones in my younger years. Tears that now, in hindsight, seem frivolous and unwarranted, yet tears at the time of their initial release important in keeping with the moment.
A letting go kind of moment.
Let me explain.
My eight-year-old daughter is attached to her stuff. Whether it be her well-worn blanket (a.k.a. burp cloth from her infant days), her stuffed animals (enough to allow her only an eighth of an inch of her mattress for sleeping purposes), her hidden stash of Kit-Kats from Halloween, or her Sponge Bob Crocs from two years ago, my Amelia isn't keen on letting go of her belongings. She's a keeper of things, believing in their significance even if they've outlived their practical usefulness. She'll fight hard for their survival, and last night would prove the same.
Occasionally, my daughter drinks from a sippy cup; she wouldn't do so in mixed company, but in the safety of home, she prefers the cups from her toddler days. Over the years we've thrown several out, but two remain… until last evening. Alas, one of the screw-on tops to the cups did a dance with the dishwasher and came out mangled. My husband made the tragic mistake of announcing its demise and, subsequently, threw it in the trash can. My daughter was stunned by the revelation but kept her emotions in check. For a few minutes. Until the familiar intro to Idol began. And that is when I noticed her tears.
Amelia, what's wrong?
Silence. More tears. (*Note to self… asking the question usually opens the floodgates to further tears.)
Amelia, are you upset about something?
Silence. Tears now freely flowing down her cheeks; body beginning to shake.
Amelia, are you crying about your cup?
Hesitantly she spoke, carefully camouflaging her angst so as not to attract the attention of the boys in the room…
Mommy, I need that lid.
I thought that might be the case, daughter. Would you like to keep it in your room?
Yes.
Then go get it.
Tears stopped, eyes were wiped, and a bee-line was made to the trash can and then to her room. Moments later, she settled herself back onto the couch and all was well with her heart. And I got to thinking.
About attachments. About the heart of a child that is willing to hold onto "things"… needs to hold onto things even though others deem them unnecessary, unimportant, limited in their usefulness. About what makes a "thing" more than a "thing." About when a "thing" becomes something valuable and about why, as adults, we sometimes think it necessary to make that something lesser in its status.
As adults, we're well-informed and well-trained with our "letting gos." We don't get too far into our maturing without experiencing a few painful ones. The capacity to "let go" and do so with some measure of grace is often the mark of maturity. We preach it, teach it, write about it, and live it. My life history is replete with such benchmark moments. I hope they've aided in my maturation at every level, but just last night I started thinking about it all. Wondering if maybe it's OK to keep some attachments to certain things. To store them away and keep them hidden because they became a something to me in a previous season.
That maybe, sometimes we rush the "letting go." That we are quick to throw away the "things" that have become something to us just because they've gotten a bit mangled and torn by the daily wear and tear of our handling therein. That, perhaps, by keeping a few of them, we'll have a better chance of remembrance in years to come when recall becomes paramount to our moving forward.
Indeed, we need to "get on with the gettin'" on as it pertains to our growing up on the inside, but what if our growing up is, at least in part, related to our holding onto a few things? What well-worn things have we prematurely let go of in favor of shiny, new ones just for the sake of usefulness? I have no illusions that the lid to my daughter's sippy cup will ever serve as a functioning lid again. But to her it is useful, at least for a little while longer. Why?
Because it's part of her history.
She and that lid have some longevity. They've shared some years together, been as close to one another as a temporal thing can get to an eternal beating soul. When she was a toddler, she carried it with her everywhere she went. At eight, she limits her carrying to times of thirst. And I imagine in another year or so, she'll outgrow her need for its companionship. But for now, it's still something to her. And I find that beautiful and poignant and a message of grace meant for my own soul this day.
She needs her lid, and I need a childlike heart that is willing fight hard for a few things worth preserving. Things that are worth holding onto because they're part of my history. Things that are meant for the treasure box and not the trash can. Things that are more valuable because of their wear and tear over the years and because of my handling therein. Things that, in the eyes of others may not seem like much, but things that are precious to me because they have "touched" my lips and made their way into my heart as a forever keeping.
I'm not into hoarding or collecting stuff for collection's sake. And if you're a regular reader of my words then you know I'm all about the "letting go" process. But I will tell you this… I'm a proponent of holding onto a few things that have become somethings to us. If we don't have a few somethings, then our lives run the risk of floating aimlessly through our earthly tenures.
We all need an anchor in this season. A tried and true, reliable "holding onto" that will see us through to tomorrow. I don't know what yours is—the one thing that you are willing to dig out of the trashcan and hide away as a treasure in the deep recesses of your heart—but I do know what mine is. And in many ways, it resembles a well-worn, well-chewed upon, overly used, and mangled sippy-cup lid.
A holding faith.
And I will fight to the death for that one, friends. Cry some tears over it and make sure that everyone in the room, including the boys, understand the fact that my faith isn't made for the trashcan. That instead, I'll store it away where my daughter has chosen to store her lid.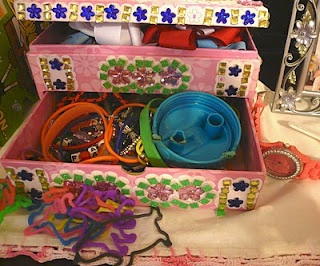 In my treasure chest… my heart (I had to search hard to find it in her room this morning). There's a history we share, my faith and me, that's worth holding onto. May it be the same for each one of us. Let us not be quick to discard an old faith as unnecessary, unreliable, limited in its usefulness. Let us, instead, be quick to hide it as newly discovered wealth to serve as a continual anchor in the seasons to come. May your faith be your something… the one thing… you're willing to fight for today.
Keep to it, my good companions on the journey. Keep to the road of faith. As always…
Peace for the journey,
PS: I'll be MIA most of next week as I'm scheduled for surgery on Monday at 8:00 AM. I would appreciate your continuing prayers. Shalom.