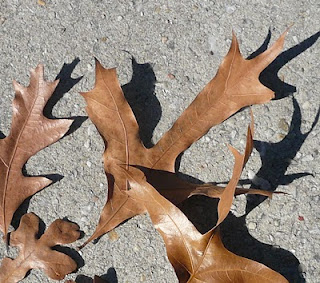 Today's walk outside has been a beautiful gift to me. Today, I left the iPod behind, and for the first time in a long time, I could hear my thoughts think. Thoughts about…
winter's work and the wind's breath.
Winter's work. I saw evidence of it while making my trek around the neighborhood. Brittle, brown leaves lined the gutters, skittering along behind me, in front of me and all around me at the whim of the wind. A lovely sound… a gentle tapping of the pavement reminding me of winter's work on their previous vitality. And even though their green has faded, their moisture gone, and their lush diminished to dryness, their occupancy on the street remains despite the beginning buds of their replacements. And they are still lovely. Still shapely. Still intricate in their design.
A memorial to an earlier season.
Wind's breath. A carrier of brittle things. Lighter things. Things that have allowed winter its work within them. The wind cannot carry things heavily tethered to earth. Whether a leaf, a blossom, a bird, or a heart, when life stays attached to worldliness, life will never know the uplift of the wind—the soaring, gentle, gracious rise of heaven's breath.
A memorial to an eternal truth. One that says there comes…
a going down before a going up.
a drying up before a flying high.
a letting go before a being held.
a tender fall before a gracious lift.
a sacred burial before a sacred resurrection.
a winter's work before a spring's revival.
Indeed, my thoughts could think again today, if only in brief. Just enough of a reminder to me that all has not been lost in my winter. That with the brittle and brown and drying of this season, I have retained my occupancy upon this earth. Still intricate in my design; still retaining the veins and shape of an earlier season. Still here amidst the promise of spring, yet lighter because of the stripping of winter.
Today, like my leafy friends, I'm better able to rise with the wind's breath because of winter's work within me—a going down, drying up, letting go, tender falling, sacred burial kind of work. A vigorous work in my flesh and in regards to my faith. Winter seasons are like that. Rigid and unrelenting at times, forcing their agenda, begging no apologies.
As with the seasons on earth, so it is with our hearts. We cannot forego winter, in favor of spring, summer, or fall. We simply must receive it as it cycles around, believing that "to every thing there is a season and time to every purpose under heaven." Winter holds a wealth all its own, and today I briefly caught a glimpse of its worthiness. I heard it as well.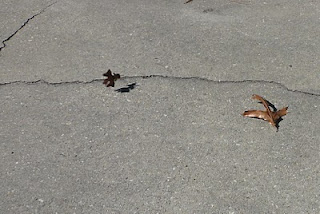 Skittering leaves pushed along and lifted up by the wind.
Winter's work and heaven's breath.
Even so, carry me Lord Jesus, and let the chorus of my winter be your spring's reminder to someone who's yet to take hold of a sacred letting go. Lift us all to that higher place.
Amen.