" … 'Why do you look for the living among the dead? He is not here; he has risen!'" (Luke 24:5b).

Making the transition from the tomb to a walk of resurrection can be a difficult embrace. It is for me, for I am comfortable in my grave clothes. I am used to my ashes and my sorrowful surrenders. Christ's journey to the cross is wrought with just enough human emotion and melancholy to hold my attention and limit my perspective. I understand the confines of Calvary's tomb, for the tomb is what I am due.
Instead, what I am given is a gift that far exceeds my understanding.
A gift that includes…
A rolled away stone.
A new set of clothes.
A walk out of darkness and death into the marvelous light of real living.
A Resurrection.
Easter scripted God's message to humanity over 2000 years ago, and yet I continue in my struggle to receive its grace. How can I…how can we…begin the walk of our resurrection?
We begin by listening for the whispered voices of the tomb. By receiving the message of the first Easter as heralded by those who stood guard to pronounce the benediction to Christ's grave.
" … 'Why do you look for the living among the dead? He is not here; he has risen!'"

Our walk of resurrection begins by our looking for the living One amongst the living…not by our eulogizing of a death that could not contain him.
We search for Christ in our today and tomorrows rather than glancing back at our yesterdays. We move beyond the graveyard to take hold of the road ahead. A living, breathing journey that requires our participation and refuses our conciliation to sit on the sidelines in surrender. In defeat. In deference of a walk that we deem to be too sacred…too holy…too consecrated for the soles of our sinful feet.
A resurrection walk means that we engage with life. We vision life through a new set of lenses that host an eternal perspective rather than a temporal focus. We perceive God's sacred possibility rather than man's probability. We bath our minds and hearts with the truth of God's Word. Words that say…
~Life and death is ours to choose. A choice for life means a choice for God. (Deuteronomy 30:19-20).
~Life cannot be found in former things. God's new thing stands on the horizon. Even now it bursts onto our stage. Resurrected living brings about its perception. (Isaiah 43:18-19).
~God's plans for our abundant living trumps the enemy's plans for our death and destruction. (John 10:10).
~A resurrected walk includes the unseen, unheard, and beyond conceivable preparations of God whose love reaches far and wide…long and deep. (1 Corinthians 2:9).
~Possibilities are God's probabilities. (Genesis 18:14, Matthew 19:26, Mark 9:23).

Simply put, a walk of resurrection means leaving the grave as Christ left it.
Empty. Void. Barren and defeated.
Too often, though, I choose to linger in Friday's embrace. I run to the tomb with my ointments and perfumes in hopes of preserving the remnants of a Jesus I once knew. My eyes remain fixed on things seen…controlled things…things I can get my mind around rather than the unseen Promise of a third day resurrection. Instead of leaving the grave as Christ left it, I begin to fill its void with my many needs.
Fears. Questions. Doubts and unbelief.
I miss the victory of Easter because my lack of faith limits the Christ of Easter. And limiting Christ is the one posture of the heart that can keep these feet–mine and yours–from our intended walk of Resurrection.
Christ didn't go all the way to Calvary and back so that we would continue in a life that boasts tombs and grave clothes. No, Christ made the journey to the tomb so that we could bypass its confinement. So that we would start living in the new, abundant, inconceivable possibilities of his lavish grace. So that we would begin our participation in the resurrection walk that leads us from the graveyard into the spacious land of the living and that will one day soon…lead us straight to his feet.
Today is a good day to examine your location in the Easter story. Are you lingering at the tomb…looking for the living One amongst the dead, or are you walking in resurrected living with the risen Christ as your compass? Which road hosts your heart? I know which road should. It is the road that extends beyond the grave. The one-way street paved with the blood of Calvary's surrender that reaches in only one direction.
Home.
To life eternal with the living, risen Savior of the world. A resurrection walk that breathes with the sacred possibilities of the sure and living Lord. It is the only walk I want to make, and so I pray,
Lead me, Lord, from the tomb into your glorious walk of resurrection. Dress me, Lord, for such a walk…leaving the grave clothes where they belong—in the tomb, alongside all of my fears, doubts, and unbelief. Forgive me when I am tempted to limit Calvary's work to a cross and to a grave. Move me beyond the confines of Friday into the glorious promise and light of Sunday. It is a pilgrimage I can make…should make…because your feet first walked the road of its surrender. Let not your sacrifice be in vain, …in my life and in the lives of my friends. Lead on, O King Eternal. Full throttle. Straight ahead…until I am finally home and see you face to face. Amen.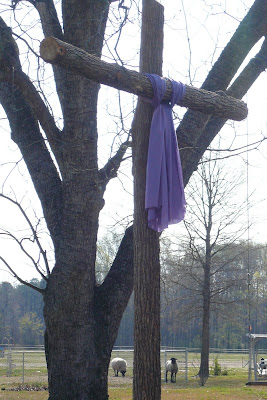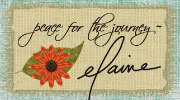 You might also like: