"He went to Nazareth, where he had been brought up, and on the Sabbath day he went into the synagogue, as was his custom. And he stood up to read." (Luke 4:16).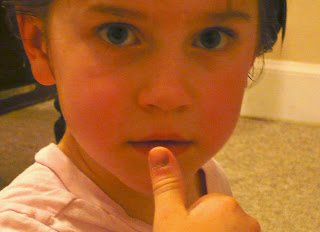 Her wail was undeniable. The piercing scream reverberated from the second floor, and I knew that my baby girl was in pain. My mother's instinct also revealed the probable culprit behind her pain. Her brother.
Quickly, they made their way downstairs to offer their explanations. She howled inaudible utterances, while he echoed his apologies…fearing the worst. She was quick to offer up proof of his misdeeds—a tender, red, right-handed thumbnail, which apparently landed itself in the wrong place at the wrong time.
The crease of the bathroom doorway.
She wanted in. Her brother wanted her out, and in the brevity of a single moment, Amelia felt the wounding of her brother's intentional exclusion. She experienced the pain of a shut door.
He didn't mean to hurt her, but he didn't deny his culpability in the matter. He meant to shut the door. He simply did not calculate that his means of exclusion would cause a wounding at a deeper level. And therein lies my contemplation.
The pain of a shut door. The taste of exclusion served up on home turf…a place where security and safety should abound. Where doors should remain open and acceptance greets with arms spread wide. A place, unfortunately, that often hosts doors that swing hard and close tightly.
Jesus knew about such exclusions. And unlike my son, those that wanted him "out", swung with intentional and calculated motives.
Jesus had returned to his familiar. To the place of his nurturing. Nazareth was his home, and the synagogue was his custom. He came to reveal the truth of his identity. To fulfill the prophetic renderings of Isaiah's sixty-first chapter. To preach, to proclaim, to restore, and to release. To announce to those who knew him best, that indeed, the year of the Lord's favor had come.
It was a truth they were unwilling to receive. Their eyes were as blind. Their ears were as deaf. Their minds were as dull, and their hearts were as hardened.
"All the people in the synagogue were furious when the heard this. They got up, drove him out of the town, and took him to the brow of the hill on which they town was built, in order to throw him down the cliff. But he walked through the crowd and went on his way." (Luke 4:28-30).

They shut the door on their native son. They closed off the possibility of him being God's Son. And in the end, Jesus' wail was undeniable, as his tears wept a painful rejection. It was a rejection felt at the deepest crease of a sacred surrender which landed him in the right place at exactly the right time. They offered no apologies for their intentions. Instead, they offered him nails for his tender flesh, and the misdeeds of their heart wounded red for all the world to witness.
The pain of a shut door.
Indeed, Jesus is familiar with all of our griefs and sufferings. With all of the "shut doors" that slam hard and wound deeply. Some swing with intention. Some swing with little thought. Some swing on home turf, and some swing on the soil of an unfamiliar earth. Regardless of their hinge, they swing, and with their exclusion comes pain.
Jadon did not mean to hurt his sister. Not really. But he knew that by shutting the door, he would maintain control of his surroundings. And when control becomes an issue, almost invariably there is a wounding of another who is caught within its crease.
I have stood on both sides of a shut door. Receiving its pain. Initiating its pain. Either way, there is no kingdom profit from its closure because a shut door equals exclusion. Shut doors separate. Shut doors isolate. Shut doors eliminate the possibility of relationships that were meant for our shaping…for our deepening…for our understanding of what it means to walk and to live in sacred community.
God has determined for us to live our lives as open. As instruments of his intention and his invitation. His door swings wide and was never designed for exclusion, but rather for the inclusion of all peoples…all races…all humanity for all eternity. We are given the privilege of monitoring its swing. We stand as its hinge to make sure that no one is caught in the painful crease of its closure.
When my daughter brought her wounding to my attention, I did what all good mothers do. I offered her a band-aid. She declined and told me that her "blankie" would suffice as her comfort. It did, and today her tears run dry. Her wounding from her brother's "shut door" is well on its way to healing.
Oh, that all of us could recover so quickly from the pain of a shut door. Band-aids alone are not sufficient. It requires a deeper work. A greater salve. A warmer blanket that covers the entirety of our wound and speaks peace into our suffering.
It requires Jesus. He is our Peace, and through him we come to know healing as healing was meant to be known. Safely, securely, and with an open acceptance on his home turf that greets our pain with arms wide open. And so this day, I pray…
Cover me, Lord, with the healing blanket of your love. Heal the open wounds that have come to me through shut doors. Heal the wounds of others that have come to them through my culpability. Keep my hands to inclusion…never exclusion. And when I am tempted to shut a door on my brother or sister, remind me of the "exclusion" that you embraced so that a door would be opened for all of us to come and walk in salvation's freedom. Amen.