"On hearing it, many of his disciples said, 'This is a hard teaching. Who can accept it?' Aware that his disciples were grumbling about this, Jesus said to them, 'Does this offend you? What if you see the Son of man ascend to where he was before! The Spirit gives life; the flesh counts for nothing. The words I have spoken to you are spirit and they are life. Yet there are some of you who do not believe.'" (John 6:60-64a).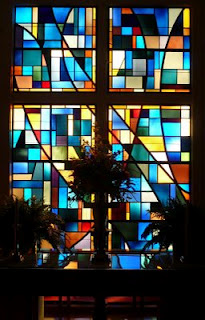 I made a two-year-old cry this morning.
I didn't mean to make her cry. Singing about the amazing grace of God isn't supposed to bring one to tears, at least not her kind of tears, but this morning … it did.
Perhaps I sang it too loud. Perhaps too shrill. Perhaps too full of a truth that exceeded the silence of the moment. Regardless of the reasons behind her tears, they came in full measure toward the end of my song, accompanied by her tender proclamation to her grandma, "I don't like that song."
It made my heart smile, and then it made my mind think.
The amazing grace of Jesus Christ is a confrontational word. It is meant to stir a response in the hearts of those who sit within earshot of the proclamation. Jesus Christ didn't go all the way to Calvary and back to keep us paralyzed by its truth. Grace is meant to evoke a response in each one of us.
For some, grace swallows sweet. For some, it's a longer chew. For others, grace doesn't swallow … amazing or otherwise. It's simply too big of a bite for a stomach that is content to gnaw on the stony rations of an uncomplicated understanding.
Just ask them—those "followers" of Christ who were eye-witnesses to the real-time unfolding of grace's "amazing." Some would immediately take to its unwrapping. Some would live with it for a season before coming around to acceptance. Some would simply balk at the weight of it and run in the opposite direction. The "them" of Jesus' day are no different than the "us" of this day.
We like to think that our responses to Jesus would have been different had we been there. That somehow we would have immediately taken to the truth of his living witness. But I don't think the benefit of a 2000 year hindsight has birthed a better faith in most of us. Why?
Because we have the truth of Christ's living witness in our midst. He is here among us; he didn't vanish on a hillside to never be seen again. He's been presenting himself and his amazing grace to humanity throughout the existence of time. You and I sit on the backside of grace's redeeming finish; still and yet, its truth isn't an easy cloaking for many. It is a "hard teaching" in our time, even as it was during its genesis on a Judean soil so long ago.
Does this mean that grace no longer works? That the amazing of John Newton's 1779 penned reflection lacks in its truthful punctuation about the completed work of the cross? That our many words about the Word have somehow lost their potency … their capacity and strength to transform?
Not at all.
Grace is still amazing. Two thousand years of testing its waters hasn't diminished its effectiveness. Grace's truth remains, despite man's neglect to the contrary. But grace is as grace has always been.
Confrontational.
Thus, some will receive it and some won't because confrontation pushes the issue of our consent for God's holy consecration of our lives. Grace stands at the door of a heart and knocks and pleads and invites and offers, but never will it hammer its insistence into the heart of unwillingness. The cross of Jesus Christ will never force its grace into the will of an unbeliever. It only forces a choice in the matter.
Acceptance or rejection. There is no middle ground when it comes to the amazing grace of an amazing God. Hearing his truth requires a response.
As a teenager, I walked my definite response to an altar on a wintry night in Alabama during a youth retreat. In some ways, it was a familiar walk; from my earliest days I have believed in a great big God who loves me beyond reasonable limits. It wouldn't be the last time I would walk a pilgrimage of surrender. I'm still walking it. I did so today.
Not because I have finally come to the conclusion of what an amazing grace means, but rather because grace and all its amazing is worthy of my bended knee and a heart's pause that cries out a prayer or two of unashamed thankfulness.
Even when it's loud. Even when it's teaching is a hard swallow. Even when it elicits unsuspecting tears. And especially when the fullness of its truth exceeds the worth of a world's silence to the contrary.
Amazing grace! How sweet the sound!
That saved a wretch like me!
I once was lost, but now am found;
Was blind, but now I see.[i]

How glad I am for the amazing confrontation of God's grace with my heart. May I never lose the wonder behind its unwrapping. May I always speak the witness of its truth. I pray the same for you. Thus, I offer my plea this day to the One who created us with grace in mind…
Intersect our hearts, Father, with grace's amazing witness this week. Fill our mouths with the sweetness of its taste. Loudly knock its truth upon the door of our wills so as to drown out the world's insistence to the contrary. When it's hard to understand, when it's difficult to accept, paint grace for us in a way that swallows easy and that portions fully. May our tears pour the witness of understanding rather than the wet of confusion. Gently wrap our faith in the mystery of Love's redeeming work and then give us the ample courage to tie the bow accordingly. What we now know in part, we will one day fully grasp. Keep us in revenant anticipation of that final revelation. Amen.

[i] Robert J. Morgan, "Amazing Grace," Then Sings My Soul (Nashville: Thomas Nelson Publishers, 2003), 78-79.