"The angel said to the women, 'Do not be afraid, for I know that you are looking for Jesus, who was crucified. He is not here; he has risen, just as he said. Come and see the place where he lay. Then go quickly and tell his disciples: "He has risen from the dead and is going ahead of you into Galilee. There you will see him." Now I have told you.'"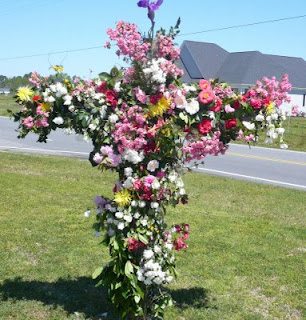 Now what?
I don't know about you, but this past week has been one of the busiest I've had in a long time. Bible study, two family birthdays, lunch dates, dinner dates, Easter egg hunts, Easter baskets, Easter clothes, and all manner of preparation that surfaces between the cross and the empty tomb. Couple that with the fact that the Easter weekend is "on time" for a clergy family, and, well, you get the picture. And while not quite as chaotic as the Christmas season, this Easter pilgrimage has come pretty close.
Christ doesn't mean for us to come to the cross with our harried approach at "doing" remembrance. He means for it to sink in … to root deep and to linger long and hard after our well-meaning attempts at fostering reflection have been packed away for another year.
There's something a bit flawed about the way we remember. Something so seasonal and so liturgically tied to a calendar that doesn't quite fit with what it means to live the crucified life—an always and "on time" daily walk that never strays too far from a bloody cross and an empty tomb. When we compartmentalize our faith by calendaring our remembrance, we often come to the end of it with a sense of confusion, emptiness, and a question or two that voices the conflict of our understanding.
Now what? Is this all I get for my well-intentioned efforts at reflection? Wasn't I supposed to feel more? Remember more? Be more profoundly affected by my intentional pause for contemplation? Now what? What's next? Where do I go from here, and will my "going" necessarily move me any closer to knowing Jesus and to being a woman who is intimately connected to his heart? If not, then why bother?
Good questions; ones that have surfaced for me this day. Not because I don't see the sacred merit in calendared reflection. We need moments of intentional pause. Left to ourselves, we rarely take it upon ourselves to reflect and to remember. No, my questions about "what's next?" have little to do with the formalities of my "doing" faith and more to do with the realities of my "living" faith.
Jesus' followers mirrored some of my angst. If any group of people reserved the right to voice a "now what?" it was them. A couple of days of not knowing … of remembering and of smelling the stench of an egregious death … was enough to warrant a few questions. Weighed down by their grief and confusion, they came looking for answers. What they received would by the lynchpin to secure their continuing faith.
"'He has risen from the dead and is going ahead of you into Galilee. There you will see him.'"

With those few words of angelic proclamation, a people renewed their hope. Their faith was "saved" because their Savior was saved … rescued from the sting of death and "going ahead" of them to prepare their hearts for his resurrected unveiling.
As it was for the disciples almost 2000 years ago, so it is for us.
You and I have a "go ahead" Jesus. A Savior who has "gone ahead" and sacrificially paved the way for our "go ahead." Jesus Christ hasn't left us alone with our questions. Instead, He's drawn the map for the answers. He's done so because he understands that, left to ourselves, we are but aimless wanderers, bungling our way through life, and tripping over the jagged edges that present their fierce resistance to our further understanding.
Jesus is the Way, the Truth, and the Life. He's "gone ahead" of us to prepare for us a place of everlasting permanence. He's ever on the move, clearing our paths and extending his grace so that when we come to our Galilee, we, too, will see Him in his resurrected glory and will know in our hearts the certainty of an Easter's boast.
"When the perishable has been clothed with the imperishable, and the mortal with immortality, then the saying that is written will come true: 'Death has been swallowed up in victory. Where, O death, is your victory? Where, O death, is your sting?'" (1 Corinthians 15:54-55).

Our "go ahead" Jesus holds the answer to that question. He continues to shape our understanding accordingly. Easter, 2000 years ago, should never be relegated to a calendared moment. Instead, it should be the heralded moment that we hold out as our candle to guide us as we go ahead in our following hard after our "go ahead" God.
There is abundant hope and life that comes with knowing that our Jesus has "gone ahead" and readied the road for our feet. He's cleared the path, friends, and the hem of his garment is within reach … just ahead and close enough to touch if we are willing to move forward in his shadow.
What's next? Now what?
He's what.
Thus, may we all have the good and willing sense to fully tread and to fiercely trust as a passionate disciple in hot pursuit of the Savior.
He has risen; He is waiting. Go ahead now, from the empty tomb, and find your resurrected Lord. Today is the day of your salvation. Believe it, receive it, and get moving forward in the truth of Easter this week. You and I were created for such a journey. May God's Peace be our portion as we go. As always,

PS: My kids are on spring break this week, and I am in need of one also. Accordingly, I'm going to take some time to tend to my youngin's and to my soul. I'll be around to see you but won't be here on a consistent basis. Blessed Easter walk to you all… from my home to yours! Shalom.