"Let the word of Christ dwell in you richly…". (Colossians 3:16a)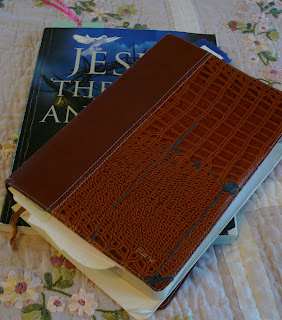 My Bible is a mess. Literally. Its cover is worn and creased. The binding is loose. Pages scatter with the touch. My name's engraving has faded. Scriptures are marked and highlighted, underlined and scribbled with thoughts. Scraps of paper serve as bookmarks, and the glittering gold that once framed each page, now colors a dull beige. It companions my steps to church, to Sunday school, to Bible study, and to every retreat/event that boasts the name of Jesus.
A well worn Truth. Dearly loved and cherished. A gift given to me by my Bible study gals almost four years ago.
I wanted a new Bible. A study Bible that offered notes, cross references, and a concordance to aid my desire for a deeper exploration of God's Word. At the conclusion of our first study together entitled Jesus, the One and Only, the girls honored my leadership by gifting me with a generous donation to be used at my discretion. "Mad money" they called it. "Jesus money" I called it. As quickly as it entered my hands, it exited, providing myself and my sons with new Bibles for Christmas.
It was difficult to surrender my old Bible—my companion for nearly twenty-five years. No study notes. No cross references. No concordance. Simply a Bible given to me by my parents on my fourteenth birthday. A Bible with a cover that remains secure. With a binding and pages that still firmly attach. With little underlining and even less highlighting. A Bible that continues to glitter from its frame of gold. A Bible that, on most occasions, stayed on the shelf while I pursued life.
Two Bibles. Two seasons of living. Two hearts for the handling of its Truth. And therein lies the contrast.
Perhaps the publishers manufactured a sturdier Bible back in 1980. My new Bible is bigger and contains more pages than the older version. Maybe this is the reason for its quicker demise. But I have this lingering thought that, possibly, I am the reason for its premature aging.
My heart is not the same as it was in 1980. My passion for the study of scripture was non-existent back then. That all changed five years ago. I had a head on collision with God's Word through a community Bible study. Like John Wesley, I felt my heart "strangely warmed" for the things of God. I have spent the last five years stoking that fire and feeling the effects of God's flames as they reach deep within to purify and to refine.
The more I study my Bible, the more I feel its heat. And somewhere within the blaze, I hear the whisper of my Refiner say…
As it should be, my child. As it should be. My Word is a well worn Truth and should…

Be handled. "Do your best to present yourself to God as one approved, a workman who does not need to be ashamed and who correctly handles the word of truth." (2 Timothy 2:19).

Be used. "When Moses finished reciting all these words to all Israel, he said to them, 'Take to heart all the words I have solemnly declared to you this day, so that you may command your children to obey carefully all the words of this law. They are not just idle words for you—they are your life. By them you will live long in the land you are crossing the Jordan to possess.'" (Deuteronomy 32:45-47).

Be consulted. "If any of you lacks wisdom, he should ask God who gives generously to all without finding fault, and it will be given to him." (James 1:5).
Be loosed and unbounded. "'As the rain and snow come down from heaven and do not return to it without watering the earth and making it bud and flourish, so that it yields seed for the sower and bread for the eater, so is my word that goes out from my mouth: It will not return to me empty, but will accomplish what I desire and achieve the purpose for which I sent it.'" (Isaiah 55:10-11).

Be the Name above all names. "'He must become greater; I must become less.'" (John 3:30).
Be highlighted. "Your word is a lamp to my feet and a light for my path." (Psalm 119:105).

Be faded around the edges. "But the Lord said to Samuel, 'Do not consider his appearance or his height, for I have rejected him. The Lord does not look at the things man looks at. Man looks at the outward appearance, but the Lord looks at the heart.'" (1 Samuel 16:7).
Be carried. "'Therefore go and make disciples of all nations, baptizing them in the name of the Father and of the Son and of the Holy Spirit…'". (Matthew 28:19).
God means for our Bibles to be a mess. For them to fall apart so that the Truth within spills forth. On us. In us. All around us. A kindling blaze that burns with the intensity of its Author, whose whisper rises above the ashes to herald…
As it should be, my child. As it should be.

I am at a loss as how to best provide my Bible with the TLC that it needs to carry me through another season of living. I am not ready for its surrender. But I am ready for the well worn Truth of its pages to be released upon the soil of my current. To bring light and flame to those who have been content to pursue life without Truth. To widely scatter my holy "mess"—handled and used, highlighted and loosed—so that others might have a head on collision with the One and only God and the magnificent treasure of his Word. And so I pray…
Keep your Word, Lord, alive and active in my heart through the pages of my well-worn Bible. Keep me to my studying, to my memorizing and to my living out the Truth of your precepts. Burn your words deeply into my heart, and refine me with the fire of your Calvary's love. And when my Bible can no longer bear the marks of my pursuit, give me the grace to let it go. Until then, I am well- pleased to carry it close to my heart…a well-worn Truth. Truth…
as it should be. Amen.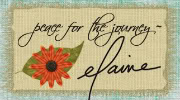 (allrightsreserved, eolsen2008)
You might also like: