"Abraham and Sarah were already old and well advanced in years, and Sarah was past the age of childbearing…". (Genesis 18:11).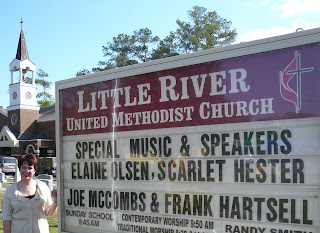 …flawed perspective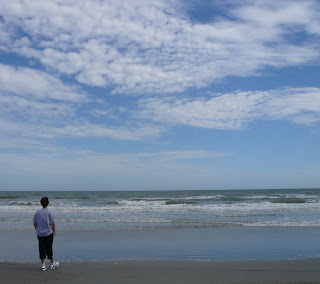 …better perspective
I challenged them this morning to examine Abraham and Sarah's "old." To think about their current state of being and to pinpoint the ways in which they, too, felt old and advanced in years and past the age of bearing anything new. It was an appropriate question to ask this congregation of 400 plus, for many of them are at retirement age and have been doing this "life thing" for a long season.
Some of them are long past having a dream or a hope for anything new. Most of them are simply living out their days along the sandy shores of South Carolina…in a community called Little River…in a church nestled along highway 17…on the way to a beach named Myrtle.
I don't know why God allowed me the privilege to serve them this morning with his Word. I believe that it had everything to do with his lavish grace. I feel like the Apostle Paul's "least of these," while at the same time knowing that I am well qualified to parcel out the message of God's abundant grace. It is a message that I have lived and breathed and am now able to articulate with a knowing and thankful passion. His has been a gracious grace. A mysterious and reaching grace that is transforming my flesh into a vessel of his design.
It is difficult for me to frame for you just exactly what this weekend meant to me. My emotions run deep, and I am profoundly moved by my experience. But while it is fresh within my heart, I wanted to tell you about one moment…about one saint of God who gave me a gift this morning.
His name is Calvin, and he has been walking with the Lord for nearly 90 years.
After the first service at 8:30, Calvin was quick to make my acquaintance. He told me that he has been a life-long Methodist, surrounded by a family heritage of Methodist preachers. My heart glowed, for I can boast the same. My husband is a Methodist preacher and was able to make the trip with me this weekend. My father, a Methodist preacher, stood behind his own pulpit this morning, and we were able to share a brief but precious conversation prior to the start of our days. So Calvin and me? We had some common ground and quickly became friends.
When I told Calvin how blessed that I felt to have met him and how I looked forward to sharing heaven with him, he told me that I hadn't seen the last of him. He would be back for a second go around at the 9:50 service.
He was there to participate in, what I perceived to be, a new experience for him—a contemporary-style type of worship. Not quite sure of the tunes and the clapping and the freedom of worship, Calvin willingly offered his participation. At the close of the service, I once again commented to Calvin about my joy in serving such a saint of God. He quickly told me that the real saint—his bride of sixty-two years—had recently passed away and that I would see him again…at the 11:00 service.
When the time arrived for me to preach the same sermon for a third time, I commented from the pulpit that Calvin was either unsure of this peculiar woman who had taken siege of the pulpit or that God was up to something…an Abraham and Sarah kind of something, and that perhaps, the third time would be the charm. Perhaps this time, something would take hold. I think that it did, for at the close of the service, Calvin made his way up front, bowed his knee at the altar, and raised his hands toward heaven.
With the "amen" spoken, I made my way to the back of the church to greet the members as they left. Calvin soon found me and asked me to step aside. He needed to tell me something. I wasn't prepared for his words of blessing. He said…
"I'm from the old school…the old tradition. I used to think that the pulpit wasn't a place for women. I used to think that, Elaine, but I don't anymore. Yes…I'll see you again. If not here, then there."
And with these words, Calvin spoke a benediction to my heart that I will never forget.
He gave me a gift. This saint of God, well advanced in years and thinking that he was past the age of bearing anything new in his life, bowed the knee one more time to his Savior to receive the promise of grace. A "new every morning" kind of grace. A grace that fell as a fresh word upon his aging heart this day. A grace that offered a blessing to me in the process–
the privilege of sacred participation.
What God did for Calvin…what God did for Abraham and Sarah…God has done and is doing for me. For he has planted a seed of promise within my aging flesh for something "new." God did it this morning through one of his most precious saints. A saint with whom I will share eternity.
I want to spend some time this week exploring the treasure trove of Genesis 18:1-14. Perhaps it has been a while since you have examined its worth. I welcome your participation. Take some time this day to read the scripture. Find yourself somewhere within the story, and then ask yourself the question that I asked of God's saints at Little River UMC.
Calvin asked himself the question. Calvin answered the question with a bowed knee and a surrendered heart, proving to me that I am never too "old" to receive the promise of God's "new." God's grace has, indeed, been gracious. I will not soon recover from my time in the pulpit. I think that God has planned it accordingly.
And so tonight, as I lay my weary and well-satisfied head on my pillow, I say a prayer of thanks to you…my new friends in Little River. Especially for you, Dan & Cheryl, for you Pastor Randy, and for you Beth for your gracious invitation to sacred participation. You all…every last one of you…have marked me forever with your love and with your benedictions of grace over my life. It has been my privilege to wash your feet this day, and so I pray…
Thank you, Father, for the boldness of Peter. For the eloquence of Paul. For some of the wisdom of Solomon, and for the Spirit of Elijah. You have answered the prayer of my heart, and readily I receive the "new" that you have breathed into my life this day. Bless my new friends at Little River with a fresh explosion of your presence. Blow through that church and bring new life into its pews. Strengthen its people with power of your Spirit. Guide and direct Pastor Randy as he seeks to shepherd your flock. Let this day be the day when the journey of faith begins anew for each person in unexpected measure and with the glorious freedom that comes with Calvary's grace. You have given me more than I expected, Lord, and to You, alone, I bow in surrender and praise. Amen.