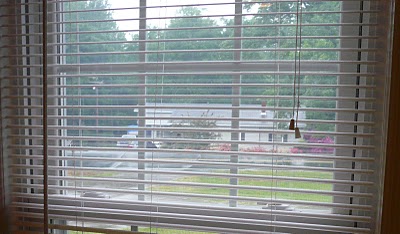 I'm sitting in a place this morning where I've sat many times before over the past six years. I'm perched at my dining room table, looking out at the highway that runs in front of our home. The azalea bushes across the street greet me with their rich dressing of whites and pinks and corals—colors that will quickly fade in coming days. The rain is falling as cars are carrying their occupants to the busyness of a new day… this day… April 21, 2010. None of us—those who are on the road and those at home—can accurately forecast how this day is going to live itself out on the pages of history, but all of us have some expectations along those lines.
Mine are wrapped around the "big event" of the day. It may not seem like "big" to other people, but to me, it's about as large as I want to live today. Tonight, I'll be showing off the parsonage to the new clergy couple who will take up occupancy within these four walls come June. There's not much "showing off" to do. The house is old, the rooms are small. To those accustomed to high class, this house wouldn't make the cut. Still and yet, it has a beauty all its own… not because of its outward attractiveness but rather because of its inward pulse.
You see, my family has crammed a lot of living into these four walls over the past six years. To date, our time here has been the longest tenure of our ministerial lives. All four of our children consider this "home" and rightly so. Many personal milestones have been achieved while living here, too many to chronicle in this moment, too many emotions for me to personally deal with and still be able to finish this post in tact. Safe to say, the best part of this house hasn't been its amenities; the selling point of this house has been the history that's been written by its occupants over the past seventy-two months.
Family is what gives a house its character… its worthiness and its value. Could this one use some cosmetic work on the exterior? You bet, but you'd have a hard time improving on its interior. And that's what I will tell the new clergy family tonight when they come to imagine their lives living here within these four walls… not to major on the "externals" but to realize that for every way it might fall short in their expectations, God has expected bigger. That he can take the simplest of dwellings and make it into something extraordinary. That being a "home" has less to do with the four walls that encase it and more to do with the inward pulse that exists within it. That this place has been a good place to grow a family and to mark the passage of time with "stone upon stone" of God's faithfulness.
Like the Israelites who were crossing the Jordan River in order to possess the promise of Canaan, we've collected and gathered a gracious plenty of stones from the riverbed along the way so that in days to come, when our children and our grandchildren ask us regarding the story behind those stones, we can sacredly and reverently say,
We have crossed the Jordan on dry ground. For the Lord our God did to the Jordan just what he had done to the Red Sea when he dried it up before us until we had crossed over. He did this so that all the peoples of the earth might know that the hand of the Lord is powerful and so that you might always fear the Lord your God (paraphrase of Joshua 4:21-24).
The memories we've made in this place will serve as our stones of remembrance for years to come. None of the six of us can accurately forecast the eventual depth and witness of those stones, but we can all be sure that they matter. That the collective life we've lived here beneath this roof has shaped us, strengthened us, matured us, and furthered us along in the pilgrimage of faith. What's been lived here writes as history for tomorrow, and that fact alone, my friends, should make the living of our todays (wherever that might be for you) a worthy investment of our hearts.
Home truly is where the heart lives, and mine has lived here for six years. My family and I are better for having pitched our tent upon this soil and for allowing it to penetrate its worthiness into our history. It's a good perspective to hold as I move throughout my day and begin the imaginations of my heart regarding my next home. I haven't seen it yet, but I can feel its worthiness sight-unseen. Why? Because I'm bringing my home with me as I go. I'm bringing my family, and they are enough to warrant a substantial increase in property value wherever they reside.
Would you pray for me that I will be able to do this thing? To relinquish my hold on this temporary dwelling into the hands of another? I want to do it graciously, humbly, and considerately. God has been very good to me; I want to release that blessing and goodness to this new family with no strings attached. I want to leave a piece of my heart here so that in days to come, perhaps in a season when they've got a few questions regarding the worthiness of their ministry time here, the inward pulse of my family's witness will reverberate within these walls reminding them of just how good a life can live upon this soil.
Thanks, friends, for taking this journey with me. For being willing to entreat these soul-stirrings of mine and for allowing me to flesh out my "faith" while still living with my "elaine." All of "this" would be so much harder if I didn't have you to come alongside me and lend me your strength for the road ahead. May the presence of our Father and the "endurance and encouragement of the Scriptures" (Romans 15:4) be the anchors that bring your heart hope this day. As always…
peace for the journey,

Copyright © April 2010 – Elaine Olsen