"So keep up your courage, men, for I have faith in God that it will happen just as he told me. Nevertheless, we must run aground on some island." (Acts 27:25-26).
One of the best pieces of advice I've ever received came from a counselor during a time of great personal crisis nearly fourteen years ago. It went something like this…
Elaine, you spend a great deal of your time trying to "out swim" the waves that are chasing you. You expend your valuable energy in trying to reach the shore before they have the opportunity to consume you. Sometimes you make it; sometimes you don't. How much better would it be if you stopped swimming, anchored your feet into the sand, and turned to face the wave … head on and with the full confidence that your survival has already been written in the history books?
Facing the wave. That's where I am today. Actually, where I am is in an upstairs bedroom where two beds are stripped of their linens and where closets are mostly bare. The trophies remain … the bookshelf filled with yesteryear's reads, and the dust all the more; but what I notice most about this room this morning is not the remnants left behind. What I'm most keenly aware of is its emptiness. The silence. The incredible void that fills this place because two young men are no longer making this room the place where they lay their heads at night.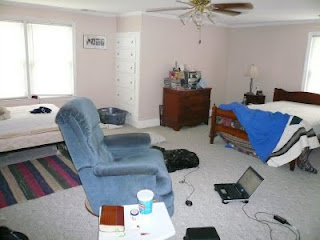 My tears have mostly dried, and the exhaustion has nearly subsided; for the most part, I'm ready to "get on with the gettin' on." But before I do, before I have clarity about "what's next" for me and for those of us left behind, I want to spend some time this week "facing the wave" and allowing the full force of change to hit me squarely in the heart, therefore requiring me to grapple with some questions that are worthy of more than my casual acknowledgment.
Questions that arrive because routine has been stripped away and because there is now ample time and space to formulate some answers, out loud and before God in a way that wouldn't have been possible a week ago. A week ago, I was still walking through this parental obedience of "letting go" with the objects of that "letting go" still shadowing my every move. Today, the shadows are removed. They are gone, casting their depth on the campuses of two universities that are just out of my reach.
Truly, I'm fine with the distance between us. It is part of their "becoming"; it's part of mine. All of us are searching for the "next thing"—the next step in this journey called faith. And while their search leads them along different paths than mine, one thread remains constant for us all. Change has arrived, and when change comes, we can do one of two things with it. We can fight it, or we can bend to it … bow to it, turn to it and allow the full force behind its pulse to hit us where we stand and to shape us accordingly.
I choose to turn and face the wave this day, knowing that regardless of the "hit" my survival has already been written in the history books.
Some days … some seasons … our ships, like the Apostle Paul's, get the "go ahead" from God to run aground. Our safety isn't in question. We may feel as if it is; after all, the waves are high and the surge is certain. We may have lost all hope of being saved from the storm; but even there, our God comes to us in the dark of the night and reminds us that not one of us will be lost. We live with the assurance that our lives will be spared. But our ships? Our comfortable and our familiar?
Well, sometimes they know the splintering and breakage of an intentional island, placed in our paths on purpose and with the sole intention of stripping us down to the basics. The island is never intended to destroy us but, rather, to save us. Without it, we are at risk of succumbing to the treacherous battering from a sea's fury whose relentless passion has sent more than a few ships to a watery and forgotten grave.
With the island, we get reprieve. A fresh start. A place of beginning again; of rebuilding and renewal and re-examination of a life that will continue down a new path, yet one with the same destination in mind.
Home to God.
He will use many routes to get us there, all manner of detours and obstacles to accomplish our arrival. We may not always welcome the change … the "stripping down" and painful emptiness that calls for our contemplation and our maturation. But to deny its reality is to delay its intentional good. And God is after our good; not for goodness' sake, but for his sake. For his plan. For his perfected end that gloriously welcomes and includes our "becoming" as part of the determined process.
Perhaps this day the waves are fiercely and desperately chasing you from behind. Your ship is hanging by a thread and your efforts at "lightening the load" are doing little to quell the fury. Your "frantic and frenzy" at trying to "out swim" the inevitable embrace of the waves in order to reach the safety of the shore has worn you out and your exhaustion is complete.
Would you be willing to pause, to stop where you are, to dig your heels deeply into the soil beneath your weary feet and then to courageously, turn and face the wave? Sometimes a ship has to be willing to be broken in order for a life to be saved. It maybe your ship … your life. It maybe the life of someone you dearly love. Either way, the willingness to invite the "stripping down" of the waves is the beginning of the "building up" of a new way of doing life with Jesus.
Thus, keep up your courage, friends, and I will keep up mine. I have all the confidence in my God to lead us as we go and to bring us safely home, just as he has said. Our God is ever faithful. He will do it.
Even so, do it today, Lord Jesus. As always…