I have received a gift that far exceeds being the guest blogger on my favorite website: the gift of Elaine.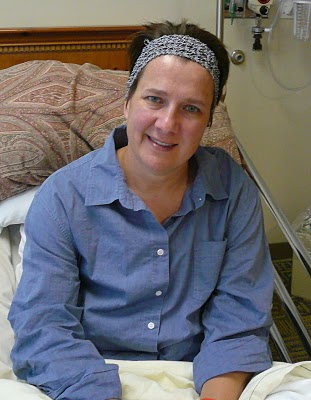 From the day her father (unwittingly) introduced us on the campus of Asbury Theological Seminary some fourteen years ago, through marriage, parenthood and pastoral ministry I've always known Elaine was the best thing I have going for me. Last Monday August 23, 2010, I sat in a doctor's exam room, listening in shocked silence as a PA told us that the result of Elaine's recent biopsy was cancer. I felt a chill like someone had poured ice water over me. As a pastor I had been with numerous families in the aftermath of a cancer diagnosis, stood at many a bedside in both pre-op and post-op with cancer survivors and done multiple funerals for cancer victims. Suddenly I'm on the other side of the hospital bed and I was having my own "you-don't-know-what-you've-got-until-it's-gone" moments.
How could my wife have cancer? Elaine's answer at the time was, "Billy, instead of me saying 'Why me?' I should be saying 'Why NOT me?' Since when does my being a Christian mean that I'm exempt from suffering?" See why I think Elaine is the best thing I have going for me?!?
A little more than thirteen years ago I asked Elaine's parents for their blessing because I wanted to ask Elaine to marry me. When we married in 1997 I had my sights set on being with her for the rest of my life, and yesterday I learned that a golden anniversary is still in my future!
During a post-op meeting with my wife's surgeon yesterday afternoon, I found out that everything is looking positive for Elaine's "long term." Though there are final test results to come, the preliminaries all seem to indicate that her cancer has not spread. Though Elaine will still have to endure chemotherapy, she may be able to avoid radiation. And even though she's stuck with me as her chief nurse, today they told me I could take her home.
Thanks to every one of you that has prayed, loved, cared about, supported and encouraged Elaine. She has needed you all for this season, and still does. Jesus has always been her "peace for the journey"; today I'm celebrating that I have her as my wifeforthejourney.
~Billy
You might also like: