"You will be a crown of splendor in the LORD's hand, a royal diadem in the hand of your God. No longer will they call you Deserted, or name your land Desolate. But you will be called Hephzibah, and your land Beulah; for the LORD will take delight in you, and your land will be married. (Isaiah 62:3-4).
High school and I were an awkward fit. In fact, I hated most every minute of the three years that I spent walking its hallways and trying my best to make sense of the nonsense. I wasn't popular. I wasn't stunning. I wasn't a cheerleader. I wasn't asked out on dates. In fact, to me it seemed as if I wasn't much of anything, except…
forgotten … deserted.
The friends of my younger days had long since traded me in for a newer model, and my teachers? Well, there were a few who noticed my worth, but a majority of them never even knew my name. Thus, it was no surprise to me that when I graduated a year early, it came and went with little fanfare.
For me, my high school years were a detrimental season of living—shaping years that, unfortunately, left my already fragile self-esteem in further ruin. Accordingly, I couldn't wait to break free.
Starting college at seventeen was a good decision. I chose to attend a school in my hometown, and from the moment that my feet hit the campus of Asbury College, I knew that my heart had finally found its home.
College was the fertile soil of my becoming—of my beginning to break free from the chains that had followed me down those painful hallways of high school. I fit, and for the first time in my life, I began to see myself as someone more than the scared little girl who had always felt deserted.
I had friends and dates and professors who, not only called me by name, but who also came to expect my leadership in the classroom. After a first semester of academic adjustment, my grades soared toward excellence and landed me with honors by the time graduation rolled around. In addition to my cherished diploma, I had an engagement ring on my finger.
I was on my way to becoming a preacher's wife and an elementary school teacher in short order. No more painful high school hallways for me. Being deserted was no longer my issue … at least not for a season. But as all issues go, unless dealt with by the illuminating and healing presence of God's love, they tend to resurface at unsuspecting times.
Mine would reappear on occasion and became more frequent as my marriage began to unravel. After seven years of being a wife and a mother to two young sons, my feelings of worthlessness barked their insistence over my soul, and I found myself, once again, returning to the familiar hallways of my adolescence.
It would take a long season of painful recollection and deliberate intention to free me from my feelings of being forgotten. Thankfully at age forty-two, I'm finally getting close.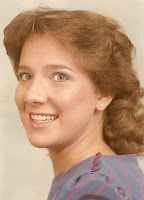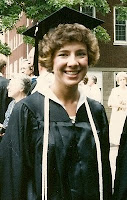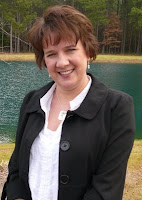 (ages 17, 21, 42)

God in his mercy and through his far-reaching love has kept me on the path of recovery and rediscovery. My identity is no longer shaped by the hallways of my youth or by the divorce that forced me to grapple with my worthiness as it pertains to God and his kingdom agenda. Today I walk in the grace that was mandated for me long before my sin required its covering.
Accordingly, I know longer feel deserted; my Father and the cross of his Son made sure of that.
"The LORD has made a proclamation to the ends of the earth; 'Say to the Daughter of Zion, "See, his reward is with him, and his recompense accompanies him."' They will be called the Holy People, the Redeemed of the LORD; and you will be called Sought After, the City No Longer Deserted." (Isaiah 62:11-12).
Today, I walk in the freedom of a new name. Many still know me as elaine. But my Father? Well, he knows me by a few others.
*Sought After.
*City No Longer Deserted.
*Hephzibah meaning "my delight."
*Beulah meaning "married."
Not a bad trade for the deserted and desolate of my youth?
I don't know how this strikes you today. I'm not even quite sure as to the reason for the penning of my words. But I have a thought that, perhaps, there is someone out there who needs the truth of a new name this night. Maybe the hallways of your adolescence … maybe even those of your most recent … are plaguing your thoughts with feelings of being forgotten, unloved and unnecessary. I understand.
I'm not so far along in my faith journey that I don't occasionally revisit those names. The enemy would like nothing more than to keep us trapped in the lie of such an identification. But the truth is…
Our Jesus didn't go all the way to hell and back to leave us as we are. Instead, He made the journey in order to bring us home as his bride. We are the sought after delight of our God. Never forgotten. Never deserted. Never unloved and never unnecessary. And that, sweet friends, has always been and will continue to be the most sacred and deliberate intention of our Father's heart—
to be the Lover of ours.
Won't you allow him his turn to bathe you in the truth of what you've always meant to him? He is so worthy of your pause. Mine, too. Thus I pray…
Show me, Father, your love. Teach me what it means to be your bride … your delight … your sought after and prized possession. My youthful shapings and my adult rebellions have kept me from knowing the full depth of my identity in You. Replace the sting of feeling deserted with the truth of your deliberate pursuit of my heart. Thank you for holding onto my fragile estate all of these years and for continuing to remind me of my sacred worth in You. And when I am tempted to revisit those hallways of my long ago and faraway, turn my thoughts toward my "soon to be" and my "ever so close." I love you, Father. Thank you for taking me as your bride. Amen.