"As they approached the village to which they were going, Jesus acted as if he were going farther. But they urged him strongly, 'Stay with us, for it is nearly evening; the day is almost over.' So he went in to stay with them." (Luke 24:28-29).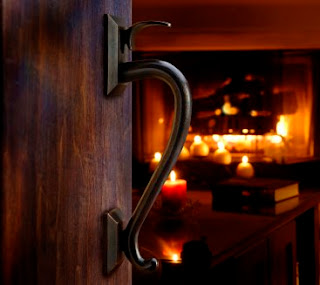 When was the last time you urged Jesus to come and to stay with you?
Urge. Parabiazomai in the transliterated Greek meaning, "to employ force contrary to nature, right; to compel by employing force; to constrain one by treaties."[i]
It's a strong word carrying with it, in this case, a strong invitation directed toward Jesus. Not to perform miracles. Not to soothe their ache with comforting words of untruth. Not to diminish the happenings of the past weekend, but rather, simply…
to stay.
Stay. Meno in the transliterated Greek meaning, "to remain, abide; to continue to be present; to be held—kept continually."[ii]

What they asked of Jesus is not unlike what we ask of him in our times of deepest sorrow and confusion. They urged him to participate in their suffering through the gift of his presence. To share more of his heart with them over a common meal. To break bread and to receive the words of life from this one who spoke so eloquently about the One on whom they had hung their messianic hopes.
Everything that had transpired along the road from Jerusalem to Emmaus was ample fuel to warrant their desire for a further taste. And therein lies a truth for each one of us this day as we continue to set our table for communion with our Lord.
When Jesus Christ walks among us on our road to Emmaus and reveals the truth of who he is, a fire is fueled. Either a fire toward repentance or a fire toward rejection. If toward repentance, then our invitation for his lingering presence urges the same as it did for those disciples some 2000 years ago. If toward rejection, then our urges voice otherwise—in a safer, more sheltered direction that refuses the heat of the flames. But either way, when Jesus reveals…a fire burns, and a choice must be made.
Invitation or rejection.
The disciples chose well. They embraced the flames of this burning Truth that seared into their deep and dark with the penetrating light of Calvary's victory. They didn't scoff at the stranger's words; instead they urged him toward further clarification in the matter. They didn't dismiss him from their walk of grief; instead, they asked him to stay and to minister to their bleeding hearts and wounded confusion.
They didn't come home empty-handed and empty-hearted. They came home with Jesus. Why?
Because our Savior is a kind a gracious Father whose agenda will never refuse an urgent invitation for his presence to be in our midst.

And so I ask you again, when was the last time you urged your Jesus to stay with you?
True and deep communion with Jesus…
Begins with an intentional walk toward the table (part one).
Continues with the worthy boast of his name (part two).
Deepens as the Word of God is revealed (part three).
Strengthens as an invitation for his presence is strongly urged (part four).

I don't know where you are in your journey with Jesus this day, but as for me, I'm urging him for a deeper work. For more fire and more truth. Not because I desire the suffering heat, but rather because I know that God has ordained my refining process and to stop short of the flames is to stop short of my perfection.
I cannot always reason this walk between Jerusalem and Emmaus. Between spiritual blindness and sacred visioning. Between doubt and an absolute faith. Between rumors of his death and the reality of his resurrection. The struggle doesn't make sense, especially since I've walked in God's light for so long and tasted his truth at the deepest level of my being.
Still and yet, it is my struggle. But rather than walk away from God and hide in my confusion, I walk in obedience and with deliberate intention toward Him. With a worthy boast upon my lips and a worthy word within my heart because I know that my Father is faithful to come and to stay with me when my urging voices in his direction.
I'm urging Him today because he is my necessary and my very much needed. I long to sit by the fire and to break bread with him. Thus I pray,
Stay with me, Lord, at the table of my unbelief today. Linger long and with the words of truth that will reclaim my vision for all things eternal. Forgive me my doubts and replace them with the sure seeds of trust that harvest faithful and with the promise of your resurrection within. Let not my complacency be my satisfaction. Instead, stir my heart toward a greater conclusion in the matter…one that includes your magnificent imaginings for my life. Give me grace for the moment and hope for the 'morrow. You are the sufficiency who keeps me in them both. Amen.
[i] http://studylight.org/desk/?l=en&query=Luke+24%3A28-29&section=0&translation=nsn&oq=&sr=1
[ii] http://studylight.org/desk/?l=en&query=Luke+24%3A28-29&section=0&translation=nsn&oq=&sr=1
Copyright © September 2008 – Elaine Olsen. All rights reserved.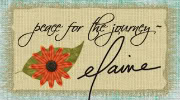 You might also like: