It's been a year now since we moved our son into his second floor dorm room at Campbell University. Even tonight, those memories come to me with clarity as if lived only moments ago.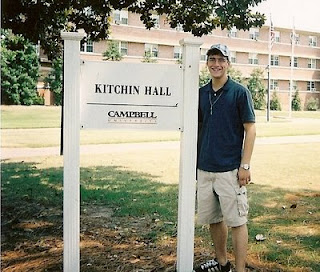 Everyone told me it would get better—this pain that kicked me in the gut with the force and fury of a winded hurricane. I didn't believe them then, but time has walked its cadence. And now a year down the road, my wounds of separation have healed, as God has tenderly walked me through this mothering milestone with the prayed for measure of grace that speaks the witness of a Father's faithfulness.
Tonight we stand at the edge of another letting go. We are preparing to send him back. I won't be making the trip this time. There is less need now, but there was a deep need back then. Then was painful. Now is joyful. Not because I am glad to see him go, but simply because I am free to let him do so. Free to let him become and to grow into the man who God has called him to be.
Nick and I have done a lot of maturing over the past year. I've come to understand that my "release" is necessary if he is to fly. I know it sounds simple. In theory, it is. But doing it—embracing the letting go? Far from simple. For me, it's been the most complex learning to date. Honestly, I'm glad to be on the other side of this one, but while my heart rests this night in peace for the process, I know that there are those of you who are profoundly feeling the effects of being on "this side" of the letting go.
I'm drawn to you. My tears have wept for you. I cannot keep from being filled to a heart's brim with a deep measure of understanding love and compassion for the steps that you are making. What can one mother possibly render as useful in this time of painful transition? What could be said that hasn't already been spoken over your bleeding wounds? Probably very little.
But this I will tell you, for I know it to be true. I've lived and breathed its witness in this past year and in the previous nineteen that lie behind.
Our God is faithful and good. We will never rightly "let go" of anyone without his knowing and without his holy nod of approval. What pains us, pains him. Those we hold as dear and precious in our hearts are held as more precious in his. He allowed them our homes and our influence for a season, and now he asks us to release them back into the hands that held them first. To the God who shaped them and formed them and adorned them with the lavish expression of heaven (Psalm 139).
He asks of us a hard thing. But hard is not always bad, and in this case, hard is very good and especially right and our necessary portion if our children are ever to find their firm rooting in Jesus.
I didn't like it then, but it swallows easier tonight, for I have gained the wisdom of a year long learning. I have hindsight, and before long, you will have it too. It cannot be rushed through, even though your heart cries out for the finished process. It simply must walk. Step by step until you find yourself on the other side of "letting go."
As a word of witness this night, I want to share with you my penned ache from a year ago. Perhaps it voices the tears of your eyes even now.
(an email sent to friends on August 18, 2007…)

There are some things…some places in all of our lives that simply are too tender for words. Moments when we come to the utter edges of ourselves and wonder where we will find the strength for the next moment. Where we are caught in the fragment between breaths and find it difficult to breathe our next.
I had one of those moments today. To date, it is the most difficult pain I have ever known. For those of you who have been through it, you're nodding your head just now. For those of you who await its arrival in the somewhere not so distant future, you'll not fully appreciate it until it arrives.
I hugged him tightly, cried my eyes out, and groaned with utterings that words cannot express most of the hour ride home from Campbell University this afternoon. I listened, in turn, as the 16 year old in the back seat uttered his own share of groanings. Bless Billy…all he was allowed to do was to manage the van back to our driveway. And just when I thought I had conquered my angst, I arrived home to find a beautiful bouquet of flowers on the kitchen counter. It arrived somewhere around noon today, while my in-laws were watching the little ones.
Completely of his own accord, my college freshman son (who I've often thought not quite ready for the world…for you see he has so much more to learn…so many more ways to mature) did a very "adult" thing. A very lovely and gracious thing. He thought of his mom, and he told her that he loved her…that she was his heart.
All I could do was hug my flowers and have my husband take a picture of me pitifully cradling my gift. A memory for the years to come. To remind me that, perhaps, Nicholas is ready for the world, and that with God's help, we will both manage the transition with a measure of grace and joy.

Thank you for the times when you've prayed for us. I felt every one of those petitions honored today. Tonight I will gaze upon my bouquet as I let their beauty and my tears lull me to sleep to awaken me to another day. A Sabbath day.
A day that will rise on all of us and beckon our participation. I pray that all of us will find rest with our great and awesome God as the dawn announces its arrival.
I love you all. Thank you for loving us.
Peace…sweet peace for the journey and for the next.

Sabbath did come, my friends, and I found my peace in this journey through God's amazing love and tender care over my soul. It will come for you, too, for Sabbath rest is always our portion when we allow our Father the freedom to walk our hurt and to heal our hearts.
This won't be my final chorus of surrender as it pertains to my children. It has been the first and because of it, I will have some courage and understanding for the next. Perhaps, you need a little courage and understanding tonight. Your heart and your pain are safe with me. Greater still…
Your heart is perfectly loved and safe with our Father. More than anyone, He understands the painful tug of "letting go." He walked it with his Son so that we could walk to him with our surrenders and lay them safely in his hands.
May God grant you the grace, wisdom, and beauty of a sacred release tonight. And may He always…always…give you his,
Copyright © August 2008 – Elaine Olsen. All rights reserved.
PS: Nick's just taken off…I am fine. There is, however, another young lady who isn't faring so well.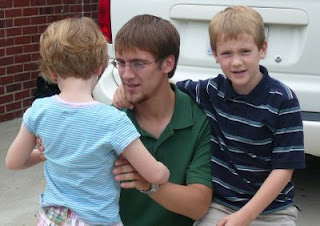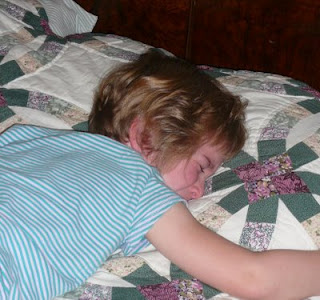 You might also like: