"Dear children, let us not love with words or tongue but with actions and in truth. … Dear friends, let us love one another, for love comes from God. Everyone who loves has been born of God and knows God. Whoever does not love does not know God, because God is love." (1 John 3:18, 4:7-8).
I went to the bank to make a deposit this morning. It is a doing I've been doing for a long season.
As a child, I would often accompany my father to the bank and watch him make his deposits. They were occasions filled with greetings and laughter and the simple joys that came with growing up in a small town where everyone knew my daddy's name and offered me, because I was his daughter, the obligatory nod of approval. I always walked out with a lollipop. Most banks still honor the tradition—a small punctuation of thanks for the exchange of trust between client and banker.
I appreciate my bank even as my father appreciated his. And lest you think it was and is all about the transaction of money, bank visits with my father exceeded the customary function of the visit. Deposits were, indeed, the order of the day. Not solely in terms of cash, but more fully in terms of something far greater.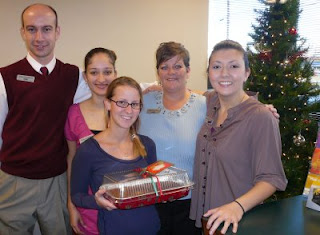 People.
When daddy went to the bank, he did so knowing that there would be on occasion for him to invest his love into the lives of others. In fact, going anywhere with my father yielded such a platform. He's a people person with a generous heart to match. Watching him love is one of the noblest classrooms that I have attended as a student of the human race. His hugeness of heart for humanity is where mine began. And while his capacity for loving easily eclipses mine, I caught his spirit early on, and it's been working out its perfection in me ever since.
Loving pure and loving big. The overriding and constant prayer of my heart.
When I examine the outgrowth of the fruit of the Spirit as scripted in Galatians 5:22-26, love stands at the helm. Without it, every other manifestation of the Spirit's seeding breathes less. And when I walk in understanding of the magnitude of the Gift I've been given, I am humbled by the reality that my love often walks lacking.
The Purpose Driven Life has coined the mantra "It's not about you," but the purpose driven Elaine usually banks to the contrary. On my best days, there is still an awful lot of me in the mix. Thus, the constant prayer of my heart for the filling up and the spilling forth of God's immeasurable love, not mine. Left to myself, my love deposits less—impure and small and of little worth in my Father's kingdom economy.
My words and my pen may voice big, but at the end of the day, have my actions proved accordingly? I don't want to simply write love, I want to live love … what my friend, California Kristen, would call "being the evidence." Am I the living and breathing witness of God's reach to humanity, or am I simply keeping my investments … my deposits … close to the vest? Are my transactions with others limited to the safe and the perfunctory, or do they extend to the deeper level of a heart to heart exchange?
Good questions to ponder this day. Not for condemnation's sake but for eternity's.
What we do with God's love matters. If loving comes naturally to you, if the outgrowth of your inward pulse speaks love, lives love, and unwraps love in lavish measure, then there is something of our God living in you. You may not fully understand where your propensity for loving comes from, but its anchor holds in heaven, gripped by the hands of the Almighty Father who's always been in the business of making deposits.
For our gain and for his glory.
God is love. He has gifted us with the capacity for knowing his love and for being his love to others. And while it sometimes might be more convenient and less messy to skip the process, as Christians, love is our requirement. No one gets a pass on this exam. Rather, it will be the measure of heaven's reward.
"God is love. When we take up permanent residence in a life of love, we live in God and God lives in us. This way, love has the run of the house, becomes at home and mature in us, so that we're free of worry on Judgment Day—our standing in the world is identical with Christ's." (1 John 4:17, The Message).

When love "runs the house," love rules the heart. And a heart ruled by love is a heart that is welcomed by a world in need of its deposit. Be it…
in the bank.
at the check out line.
in the doctor's office.
at a school program.
in a courtroom.
in a classroom.
in a restaurant.
in our pews.
around our tables.
at the bedside of loved ones.

Wherever our journey leads, love in action is the one investment that seeds eternally. Thus, a doing I've been doing for a long season. A bank "deposit" that not only nourishes the flesh, but also tends to the soul as well.
Perhaps this day, in some small or huge way, there is "bank" awaiting your loving deposit. It probably won't look like mine; no matter. God's love breathes in all shapes and sizes and dimensions to fit specific needs. Your requirement is simply to come alongside his heart and to complete the process. To put action behind the thought and to "be the evidence" of your Father's residency within.
It's the stuff of small town living with a focus toward big kingdom gain. A day in the life of a believer, where laughter and joy abounds because others recognize our heavenly Father by name and give us the obligatory nod as his children. A sacred punctuation for the exchange of trust between man and his Maker. Between me and my God. Thus, I pray…
Help me to love, Father, even as you love. Fill me to overflow, and keep me making deposits accordingly—into the lives of others for their gain and for your increasing glory. You have entrusted me with the gift of your love. Let my actions and my obedience breathe with the witness of such a lavish endowment. And when I am tempted to love less, to invest safer and to the withdrawal therein, remind me of my family bloodlines that trace back to heaven and that require my privileged participation in the matter. Let your love run my house and rule my heart this day. Amen.

Copyright © December 2008 – Elaine Olsen. All rights reserved.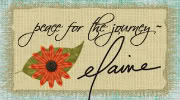 To make a "deposit" like I did this morning, please visit Indiana Krisen at "Over the Backyard Fence" for this recipe of pumpkin crisp.Worth the baking, friends. I promise! Shalom.