My son was watching for his morning ride to school. I was waiting for my rest. The latter wouldn't come until the former had walked its course. It did, and after hugs and kisses good-bye, I made my way to the bedroom and opened up the Word of God.
I didn't know at the time that his watching and my waiting would eventually weave together as a sacred portrait of truth, but God knew. He began the portrait even before I began my daily reading. But as so often the case with a heart in a hurry for a quick fix of Jesus, the holy breath of a single moment is sometimes missed. Overlooked and pushed aside in favor of a seemingly more divine approach to doing life with Jesus.
I missed it this morning, temporarily. But God knew that I needed it. Thus, he tendered my heart with his Word, and opened up my eyes to receive a gift that might have, otherwise, gone unnoticed. It would punctuate on the other side of my reading from Proverbs 4:23-27.
"Above all else, guard your heart, for it is the wellspring of life. Put away perversity from your mouth; keep corrupt talk far from your lips. Let your eyes look straight ahead; fix your gaze directly before you. Make level paths for your feet and take only ways that are firm. Do not swerve to the right or the left; keep your foot from evil." (Proverbs 4:23-27).

Guarding the heart. What does that look like? It looks intense. From the Hebrew transliterated word natsar:
"To guard, watch, watch over, keep; to preserve, to guard from dangers; to be kept close, to be blockaded; watchman."[i]

Further is carries the heaviness of the Hebrew transliterated word mishmar meaning "a place of confinement, prison, guard, jail, guardpost, watch, observant."[ii]

Guarding the heart is serious business. Why? Because the heart houses the wellspring of true living.
"Jesus answered, 'Everyone who drinks this water will be thirsty again, but whoever drinks the water I give him will never thirst. Indeed, the water I give him will become in him a spring of water welling up to eternal life.'" (John 4:13-14).

"On the last and greatest day of the Feast, Jesus stood and said in a loud voice, 'If anyone is thirsty, let him come to me and drink. Whoever believes in me, as the Scripture has said, streams of living water will flow from within him.' By this he meant the Spirit, whom those who believed in him were later to receive. …" (John 7:37-39a).

Our hearts are worthy of watchful care. Not only do they rhythm with the pulse of our next breath, but greater still, they rhythm with the pulse of the Holy Spirit's indwelling. And that combination, friends, is a proverbial dam waiting to burst its wet onto the lives of those who walk within its reach. He is a worthy cause. His holy dwelling—our hearts—are a worthy upkeep.
Keeping purity at a premium requires more than a casual approach to heart tending. Keeping purity means keeping watch. It means a straight walk from today into tomorrow. A fixed gaze on the unseen, yet fully accessible God who seeds our lives with the truth of his identity everyday and in everyway. It means sticking to the beaten path even when the unmarked trails proffer their adventure and intrigue. It means putting one foot in front of the other, even though the dance on the peripheral voices a fanciful escape.
It means not worrying about the scenery on the right and in the left, but only on the scene that landscapes directly in front of us. The long awaited finished line that punctuates with an eternal glory that far outweighs the exploration of temporal paths. Guarding the good and sacred deposit given to each one of us as believers in Jesus Christ comes with a deliberate and focused watch over the heart … over what's getting in and what's flowing out.
We do it through spending time on our faces in prayer with that God. We do it by training our minds with the truth of God's Word. We do it by refusing the world's dressing and, instead, dressing ourselves in full battle gear that includes: a belt of truth, a breastplate of righteousness, two shoes (not one) of peace's gospel, the shield of faith, the helmet of salvation, and the sword of the indwelling and uncompromising Spirit of the living God.
And if you're a little child, one who houses a wild and tenacious imagination toward all things that go bump in the night or otherwise, you do it by keeping your rifle in hand, pulling up a chair, and fixing your watchful gaze on the world outside.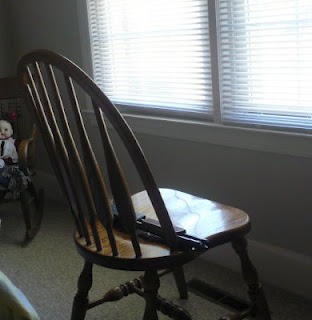 This is God's portrait of truth, painted for me without my knowing. Saved for me and for a moment when I was unhurried and unconcerned about a quick fix of Jesus. The holy breath of heaven breathed its witness in my house this morning. He came in his Word and spoke a good teaching. He came through the witness of my son's imagination and shouted his profound punctuation.
Doing life with Jesus has never tasted any sweeter. I'm guarding it more closely today. Thus I pray,
Thank you, Lord, for the eyes to see the tracing of your hand in my life—through your Word and through the simple posture of a child's imagination. Never let my spiritual routine become my excuse for not living in the moment. For not pausing to contemplate the extraordinary wrappings of any extraordinary grace that comes in all types of packages, big and small. I thank you for my son's watchful care of our home. May the watchful care of my heart speak with such similar and fervent intention. Amen.

[i] http://studylight.org/desk/?l=en&query=Proverbs+4%3A23-27&section=0&translation=nsn&oq=&sr=1
[ii] http://studylight.org/desk/?l=en&query=Proverbs+4%3A23-27&section=0&translation=nsn&oq=&sr=1

Copyright © October 2008 – Elaine Olsen. All rights reserved.