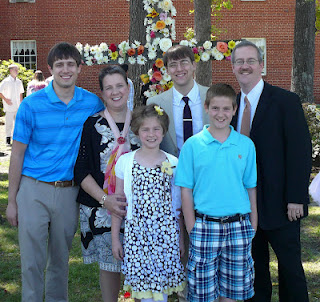 I pray you all had a blessed, peace-filled Easter celebration this year. It's good to live on the other side of the cross–to receive grace and to daily walk in that grace knowing that our Lord's got us covered.
The Lord has had me covered from my very beginning. I was born on Easter Sunday. While my dad was preaching about new life issuing forth from the tomb, my mom was pressing down bringing forth new life from her womb. I suppose you could say the cross has "kept" me, shadowed me and covered me all the days of my life. Tomorrow, I'll celebrate my 46th birthday. I'll do so knowing that not single day of those forty-six years has taken Jesus by surprise. From that very first Easter 2000 years ago, to that Easter morning in 1966, and straight through until now, God knew how desperately I would need Calvary. I still need it. Every morning. Every night. Every moment in between.
Sweet loving grace. Rich merciful love. I am humbled by them both, and I am grateful for another candle on the cake. Another song to be sung in my honor. Another day to remember my first Easter… my lasting Easter. Christ in me, the hope of glory.
Enjoy this Easter week, friends. I'll be spending some time with my kids as they celebrate no school, no homework, and new fishing poles. And when I return, don't be surprised to find a new look to the blog. It's getting a much needed make-over, and I am excited for the change. As always…
Peace for the journey,