" … He was ruddy, with a fine appearance and handsome features. Then the LORD said, 'Rise and anoint him; he is the one.' So Samuel took the horn of oil and anointed him in the presence of his brothers, and from that day on the Spirit of the LORD came upon David in power. … " (1 Samuel 16:12-13).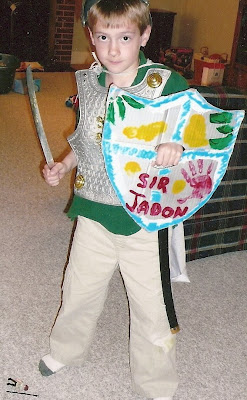 "Mom…can you guess what Bible story I am pretending?"
After surveying his armor, along with the surrounding scene, it didn't take me long. Perhaps you already know by looking at the picture. But if you don't look closely, you'll miss the reason behind this post…behind my desire for a closer examination of this story through a series of posts.
There, in the left front corner of the picture is a small soldier, lying on the ground in defeat. My son, playing the role of Goliath, had difficulty keeping his battle companion upright. David lay surrendered at the feet of my child's imagination. And while the picture doesn't rightly represent the real truth of Scripture, I am afraid it all too often represents the reality of how we choose to fight our Goliaths.
We posture ourselves for defeat.
Rather than stand for the battle, we surrender our backs for the piercing of the enemy's sword. The wounding he brings cuts through the fabric of God's divine intention, causing us to bleed a red that was never ours to bleed. Instead of claiming the victory that belongs to us through Christ Jesus, we bury our sacred identity and allow the enemy his "two cents" in the matter—a scripting that was never his to write.
Defeated. Loser. Sinner. Condemned. Unworthy. Unloved. Least of the least. Worst of the worst. Forgotten. Done. Finished.

Kingdom perspective is lost with such labeling. When we allow the enemy to name us, we forget the scripting of our God who calls us by a different name. A better name. A true identity, not based on a two-cents kind of hatred, but rather on a measureless, costly love that bled from intention and writes our name with its ink.
Child. Bride. Forgiven. Loved. Prized. Called. Filled. Heir. New. Eternal.

It is a hard perspective to keep when the enemy begins his assault on our hearts and minds. It is the right perspective, but it is a difficult holding. And what is not held in earnest, is prey to a fallen surrender that tills as fresh soil beneath the enemy's feet.
King David kept kingdom perspective throughout his life. There were seasons of limited vision, but through them all, David always came back around to the perspective of his Father. He knew that he belonged to the bigger picture. David understood his place within that picture, and most importantly, he never lost sight of the Painter who graciously ordained him to walk within its frame.
David took hold of the one thing for which Covenant God took hold of him. David took hold of his calling…his God-determined kingship. His anointing by Samuel was a point of reference for him in all the days that would follow…for all of the uphill battles he would wage to find his crown and to receive his throne.
Before David would gird a sword around his waist, David's heart would know the girding of a sacred identity. The truth of who he was came through the commissioning of Yahweh who scripted him with his powerful Spirit and shaped him to shepherd his flock, Israel.
David has a great deal to teach us about the aspects of battle…about fighting a war where the outcome is never in doubt. We could look at his entire life's span as our teacher, but we will narrow our focus to one story. One you are familiar with, but perhaps, one you need to filter through fresh perspective. It is a story with more than enough intrigue and drama to capture the heart of a seven-year-old boy who has a lot of fight in him and who, most days, stands ready to wield his sword in strong defense.
I imagine that our journeys can boast the same, for we are a people of drama and intrigue. As long as our flesh inhabits this earth …this is exactly how long the enemy stands at the ready to engage us in battle. Like my son, we have got to find our fight. We must find our feet and stand ready for the battle with the sure and sacred identity that God has scripted within each one of us as his children.
We are a chosen people, a royal priesthood, a holy nation, a people belonging to God, so that we may declare the praises of him who called us out of darkness into his wonderful light. Once, we were not a people, but now we are the people of God; once we have not received mercy, but now we have received it…in abundance. (1 Peter 2:9-10). Thus, we have our perspective for the road ahead.
Kingdom perspective, my friends. Kingdom anointing. Yours and mine. The same Spirit that came in power and filled the heart of a shepherd boy is the same Spirit that comes to us and cloaks us with the power and strength of the living LORD as we believe on Him (John 14). Yahweh. Covenant God.
We are not left to war the enemy through our own defenses. We are left with the presence of Almighty God to wage the war on our behalf. And when we get that…when we really take hold of our Father's sacred perspective…giants tumble. Kingdoms fall, and we find our crown and our throne within his painted masterpiece called Forever.
Today is the day to stand up and to find our fight, and so I pray…
Take my wounded spirit and clothe it with your Spirit from on high, LORD. Remind me of my calling…of my anointing that came, like David's, at an early age. Let me find the fight of my youthful faith…before it was tainted by life and by the enemy's attempts to re-script my identity. Forgive me when I see myself as anything less than what you've called me to be. I am your child, and you are my great BIG DADDY! Remind me of your presence on the battlefield of my current. Keep me holding to your perspective…the one truth that claims the victory before the battle begins. And let me find my feet, Lord. Raise me up in strong defense of all that you are…of all that you have called me to be. Amen.

Take some time today to familiarize yourself with David's story by reading 1 Samuel 16. What part of David's commissioning resonates within your spirit? How was God preparing David, even at his young age, to take his place as God's chosen leader for Israel? How is God preparing you to do the same?
Over the next few posts, I will examine the story of David and Goliath to glean some truth that will help us in fighting the enemy whose sole objective is to steal, to kill, and to destroy our lives (John 10:10). Please leave comments along the way. At the end of our study I will select a name from all of the comments for a special give away. If you don't have a blogger account, you can sign in as an anonymous contributor. I look forward to sharing this time with you! As always,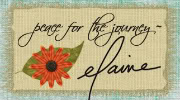 (allrightsreserved, elaineolsen, 2008).