"'I am the way… '" (John 14:6).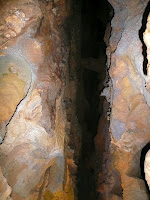 I had a thought during my devotional time this morning. A quick word for some good friends who, perhaps like me, need a reminder about our "down the road's."
We are prone to them, are we not? To our looking down the road, planning our down the road, worrying about our down the road, all the while missing out on the present moments given to us by a gracious God who offers them for our reverent celebration.
We forego the pleasure and peace of a current moment because we allow the heaviness of a down the road future to claim our thoughts, and therefore, shackle our capacity to live in the simplicity of a single pause.
This one. Not in the ones to come somewhere, sometime down the road, but the moment we hold in our hands right now. Do we have enough faith for this kind of living? A faith that is content to live gradually rather than having to see the end before it arrives? How different would our journeys walk if we could take hold of this one truth and embed it into our way of "doing" life?
Not that we don't plan and prepare with our futures in mind, but rather that we engage each new step with the understanding that our Jesus is our down the road Companion. He goes before us, he comes behind us. He walks beside us. He lives within us. We cannot help but be surrounded by his matchless and unfathomable grace as we go.
We can refuse it. We can close our eyes to his abiding and ever-present comfort and go it alone, trusting in our own feeble attempts at having life make sense. But in doing so, we miss the momentary peace that enables us to live worry-free and in complete trust of a future we cannot see.
I know. My heart writes from a place of understanding. My down the road's have been all-consuming as of late, denying me the privilege of a moment by moment, peaceful rest.
I can live in a moment, friends. I'm not sure I can handle the holy "rest of them" in a single breath, but I have a down the road Jesus who can. He stands before me this day and asks for my trust. For my complete gaze on his willing sacrifice that enables me to live in a moment and then to move on to the next.
When I place the cross before me, it blocks my vision from the unfolding of events that lie ahead of me. It covers them all and shadows me with a sacred perspective that shouts victory and triumph at every turn.
Jesus is the Way. He is our down the road. He is the pleasure and Peace of our every moment. Live in those moments this day, and let Jesus be your more than enough to see you through to tomorrow. As always,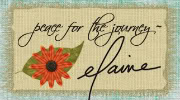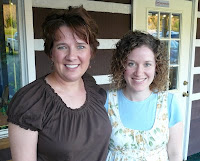 PS: One of the pleasures of "momentary" living is embracing the pauses that come to us as we journey down the road. I had one such pleasure last evening in meeting "face to face" another blogging friend, Katie G from Tennessee. I invite you to partake of our moments together via this youtube link. In addition, please keep Katie and her husband, Luke, in your prayers as they are expecting their first child and have some concerns along those lines.
You might also like: