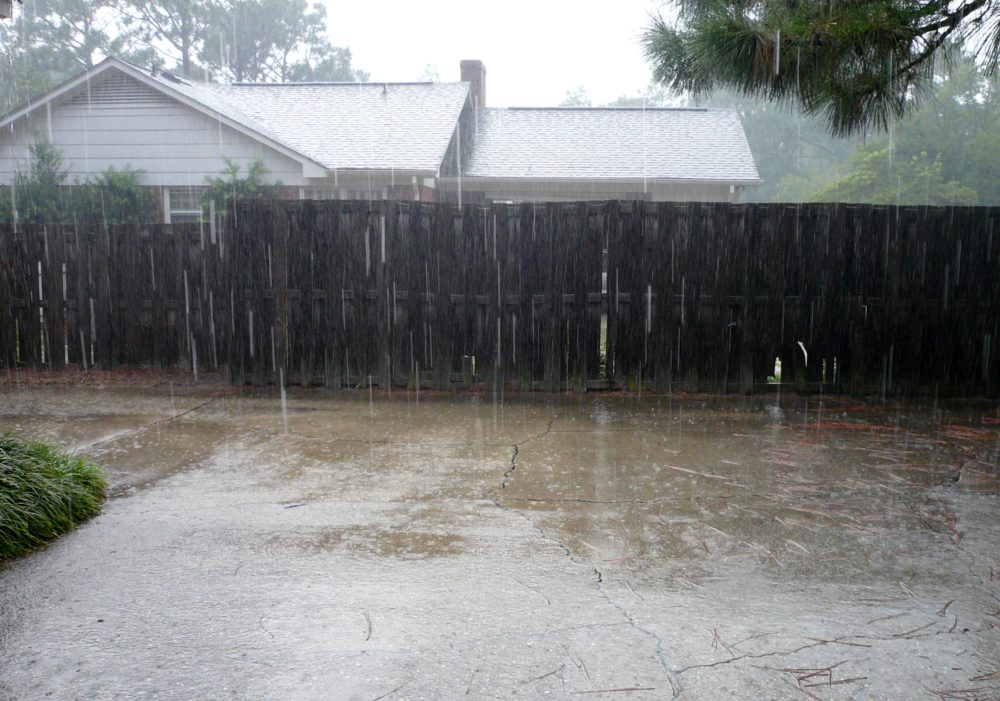 Rain.
I'm growing weary of it. Not of its existence; rain is needful. It cleanses the earth, grows the seed, and cools the summer scorch. No, I'm not knocking the benefits and beauty of the rain. I am, however, a bit disgruntled by its timing.
Let me explain.
I'm an evening walker. I used to walk in the mornings, started my day off fresh with a hearty three or four mile jog in the brilliance of the sun's light. Somewhere along the way, things changed. Life changed. My jogs turned into walks, my schedule obliterated by the urgent and necessary. My schedule, these days, not so necessary, less urgent than my previous one, yet new habits have taken over where old ones once reigned. And so, I now walk in the evenings. There's nothing profound or deep buried in this reality. It's just how it is.
For the last several weeks, the rain has accompanied me on my walks. I may start out dry with blue skies and a smattering of gray-bottomed, cloudy pillows as my companions, but I usually return to the house with a few drops of heavenly dispensation on my clothing. In all my years of living on the East Coast, I've never experienced such predictability. And so tonight (with my son's promised forecast for sunny skies and lower temps), I began my customary stroll around the neighborhood. This time I took my umbrella . . . just in case. Good thing. My "just in case" rolled in about the time my feet rounded the corner on Fordham Drive.
Buckets of rain, absorbing through my cheap umbrella, making sure I knew it meant business. I wasn't going to escape the wetness. Instead, I was forced to endure it . . . again, all the while praying that anyone in my household might look out the blinds to notice my predicament and run to my rescue. They didn't. Instead, they stayed dry in the comfort of our home while I willfully pushed through puddles and streams and soggy socks, all the while hating the rain and wondering why it seems to prefer my walking hour rather than the other twenty-three that fill up a day.
I know what you're thinking. I'm thinking about it too. Why not change the time of your walk, Elaine? Why risk the rain at night, when the morning promises more dryness? Why not the certainty of the day rather than this new predictability of the evening?
Why, indeed?
I don't have a good answer for you. I won't even tell you that "into every life a little rain must fall." You get it. You know about the rainy season—those times when we cannot choose the climate surrounding our hearts and we must press through the rain because there's no other option. That's not what I'm talking about here. What I am wondering about are those times when you and I have a choice . . . to walk in the rain or to walk in the sunshine. What about those times in our lives when we stubbornly choose the rain over the sunshine? When we refuse a change of habit and heart and cling tightly to our way over a better way? Why walk with the clouds when the sun is available?
I've had a lot of rainy days as of late; I cannot predict all of the clouds that will move in and out of my life, nor the precipitation they'll bring with them. I can, however, predict a few of them—those evening showers. Accordingly, I can make a choice to avoid them . . . to move my walking to daytime hours. In doing so, I'll avoid some wetness, some heartache as well.
I don't always have to get wet. You don't either. Sometimes we get to choose when we walk. Sometimes we have an option . . .
The sunshine or the rain.
Seems to me a better choice to enjoy the sun while it is shining brightly overhead rather than to be caught in the rain with regret. And therein lies a thought or two worth considering. As always . . .
Peace for the journey,


My friend, Melanie Dorsey, has also written about "choosing" today. Join her in worship by clicking here.