"My frame was not hidden from you when I was made in the secret place. When I was woven together in the depths of the earth, your eyes saw my unformed body. All the days ordained for me were written in your book before one of them came to be." (Psalm 139:15-16).

"Mom, when I was born was I zero?"
I knew what she meant even as she spoke these words from her tender heart. Three other children had prepared me for such a question. She wanted to know when we began to count her days. Did her days begin on August 5, 2002, or did some other time span factor in? I was quick to respond.
"Honey, you have never been a zero. We began to count your days long before we saw your face. God began to count your days even before then."
She stared out the window, her curiosity satisfied, as mine began its ascent.
When does life begin? Is there ever a point of "zero-ness"? A moment of nothing that suddenly explodes into everything? How would you respond to such a question? Your answer embodies your theology.
Long before Amelia made her entrance into our lives, she stole the stage of her Father's thoughts. I never imagined having a daughter. If it had been up to me, there would have only been three. But in a moment unbeknownst to me, God imagined her. He determined her entrance. He determined her exit. All of her days he determined…before one cry resounded from her lips.
For some mysterious reason, he chose the confines of my womb to house her unformed body, as he carefully put frame and flesh to his wild imaginings. He fashioned her in my likeness and implanted within her emotions of the same severity. He knew this would bring me delight, as my three sons bare only a slight resemblance. Indeed, she is cut from my cloth by the same hands Who cut me from my mother's. Who knitted me together and adorned my life with splashes of untamed color and limitless possibilities.
He set eternity into her heart long before I would hear its pulse (Ecc. 3:11). Indeed, who can fathom what God has done from beginning to end? His thoughts are not my thoughts. They are higher and far more sacred than mine. They are innumerable and vast…outnumbering the grains of the sand (Psalm 139:17-18). And yet it is those thoughts…that one thought in the mind of my God…that shatters my known realities and brings me to surrendered knees every time I think upon it.
Human life has never been a "zero." Those who speak chronologically…politically and correctly…well, they give us a starting point. Life begins at birth. But I have never quite understood political correctness. I speak the language of my Father, and I believe that life begins before birth. I believe that life begins before conception. Life begins in the thoughts of God.
In the genesis of all beginnings, God hovered over his waters. Somewhere in the vast brushstrokes of this earth's conception…between seemingly "nothing" and everything…God's breath began to move the waves in rhythm with his will. Somewhere there…in the mind of the most mysterious and yet One and only accessible God, we were in his thoughts. We were the intended outcome of his six day extravaganza. The first five days were simply a prelude to our unveiling—to our center stage moment that received a "very good"…from the lips of our Audience.
He knows the thoughts he thinks toward us. Thoughts of peace, and not of evil. Thoughts of an expected end. Plans and a future filled with prospering hope and possibilities (Jeremiah 29:11). He determines the times set for us and the exact places where we should live. The generation in which we will live. He did this so that we would seek him (Acts 17:26-28). So that we would reach beyond our known realities and search for deeper Truth. Better Truth. Truer Truth. The only Truth that matters in the end. For in the end…
Jesus is the Way…the Truth…and the Life. No one comes to the Father except through him, and I want to meet my Father…face to face. So I will accept the unknowns of this life, knowing that one day I will have my answers. For all of the mysteries that he holds hidden within his heart, there is one mystery that is perfectly clear within mine.
I am not a zero. Never have been. Neither have you. You are the creative genius of a God who ordained all of your days before one of them came into being. Your life took planning. Even if your parents did not plan your existence…your God did. He has spent an eternity watching you take shape in his mind, and now he is pleased to introduce you to his world. You are the sixth day punctuation point of your Father's heart. Never underestimate your beginning. Never "get over" Who awaits you at your end.
In closing, I ask you to consider, once again, the question of my daughter's heart.
"Mom, when I was born was I zero?"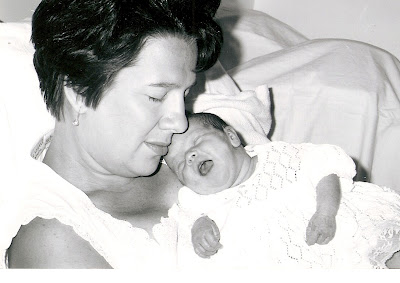 What do you think? Does she look like a zero? Search your heart, even as I have searched mine. Do so with some fear and trembling under the mighty guidance of your Creator. Casual pondering leads to casual theology. And so I pray, alongside you…
Father, search my heart. Deepen my understanding of my beginning. Give me a sacred theology, one that most closely resembles who you really are. Let me not be swayed by earthly opinion…by tainted religions and philosophies that demean the process of your Creation. Give me your perspective on human life. A higher and clearer perspective that values your thoughts more than man's limited realities. Shake my realities, Lord, until they fall in line with the Truth. Thank you that I have always been your constant thought and never a zero. May you always be my Constant. Beginning to end…all of my days belonging to you. Amen.
peace for the journey~elaine
(all rights reserved.)
You might also like: